Twitter has experienced significant transformations over the past year. These changes encompassed the leadership shift when Elon Musk assumed control, staff reductions, and the current ongoing process of potential rebranding. Given Musk's affinity for the crypto sector, many in the community had high hopes. Nonetheless, the alterations made so far appear to be relatively minor, with Musk's main emphasis being on the rebranding aspect.
On July 23, Musk suggested that the platform might undergo a rebranding, potentially becoming the "X" platform. This move marked an initial stage in its intended evolution into an all-encompassing "everything app." The proposed image re-invent, as indicated in a series of tweets and a poll, may entail alterations such as adopting a black color scheme, eliminating Twitter's iconic blue bird logo, and officially changing its name to "X."
Additional figures, including Linda Yaccarino, who currently serves as Twitter's CEO, have also disclosed that X represents the future of boundless interactivity. Yaccarino emphasized that this vision would rely on the capabilities of artificial intelligence to drive its realization.
Furthermore, Yaccarino highlighted that the rebranded platform would accommodate various media formats. Alongside, it would incorporate payment and banking functionalities. Notably, this aligns with Musk's purported interest in facilitating cryptocurrency support on the platform.
Also Read: Twitter's X To Become Half of the World's Financial System: Elon Musk
Is Crypto Twitter not on board?
As mentioned earlier, the crypto industry was betting big on Dogecoin [DOGE] and other crypto assets garnering significance on Twitter. However, all that Musk did was replace the iconic Twitter bird logo with Dogecoin's doge for a brief period. Apart from this Twitter partnered with eToro to let users trade stocks, and crypto as Musk pushes the app into finance.
The app remains plagued by cryptocurrency-related scams and bots, an ongoing issue that has not subsided. Numerous users reached out to Musk, bringing attention to this persistent problem.
Meanwhile, prominent figures within the cryptocurrency industry, such as crypto blogger Tiffany Fong and podcast host Peter McCormack, expressed their intention to continue referring to the platform as "Twitter" despite the potential rebranding.
Additionally, a multitude of speculations emerged in response to these developments. Some observers highlighted the timing of Musk's decision to rebrand Twitter as "X," which coincided with XRP obtaining legal clarity. This led a few individuals to interpret it as a show of support for the altcoin.
That's not all. A completely unrelated cryptocurrency known as the X Token started experiencing a surge in value. In the past 24 hours, the asset witnessed a staggering growth rate of 1283%. It's important to note that this asset has no connection whatsoever to Twitter or Elon Musk. The asset surged from a low of $0.00002126 earlier today all the way to $0.00037565.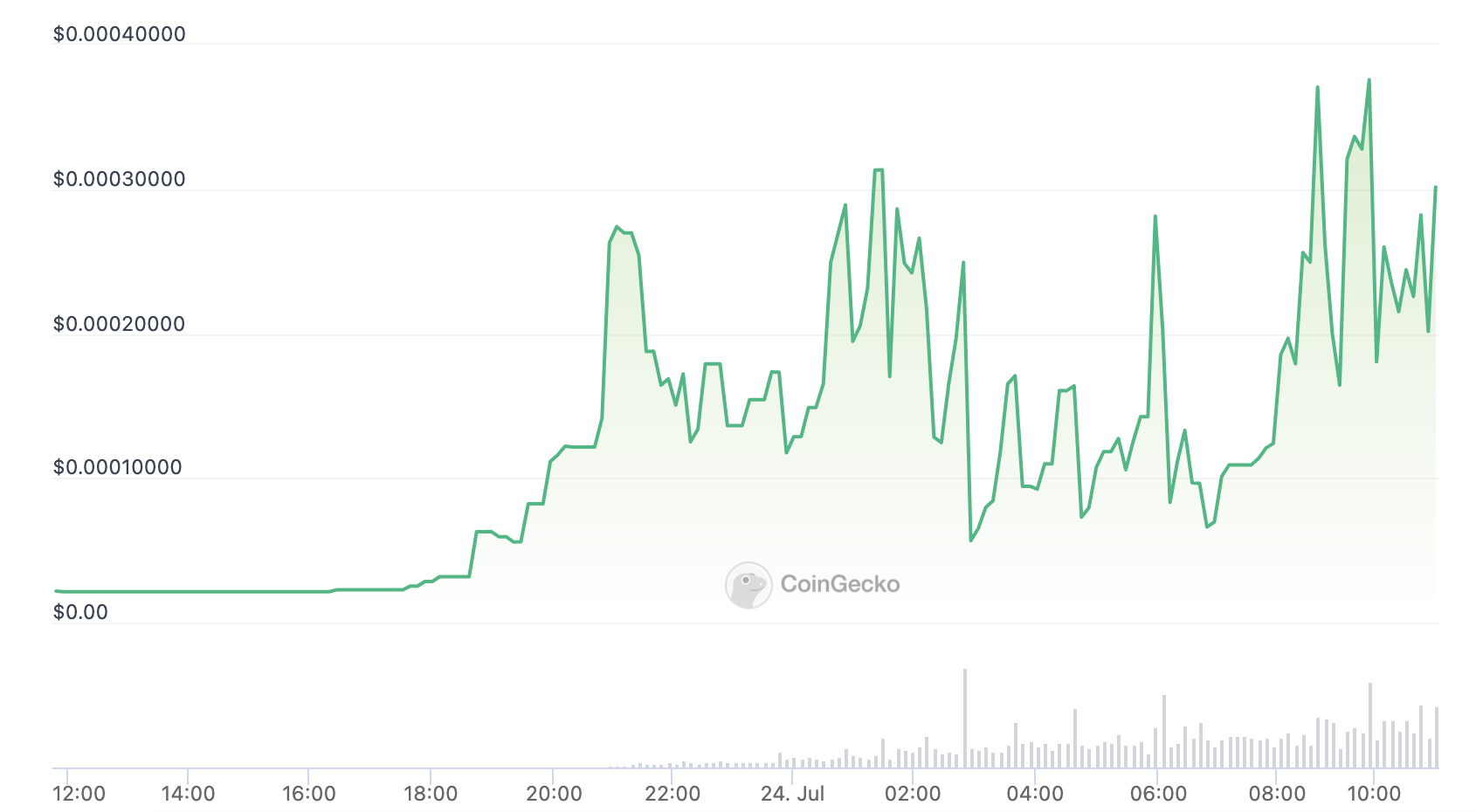 Also Read: Ripple XRP Surges 30% as Judge Declares a Non-Security