In May, the U.S. dollar index was seen making amends to its downtrend by inclining step by step. Index's reading rose by nearly 3.7% in just three weeks. However, DXY has now been gradually nullifying the aforementioned uptrend by shedding value, as forecast in a recent analysis article.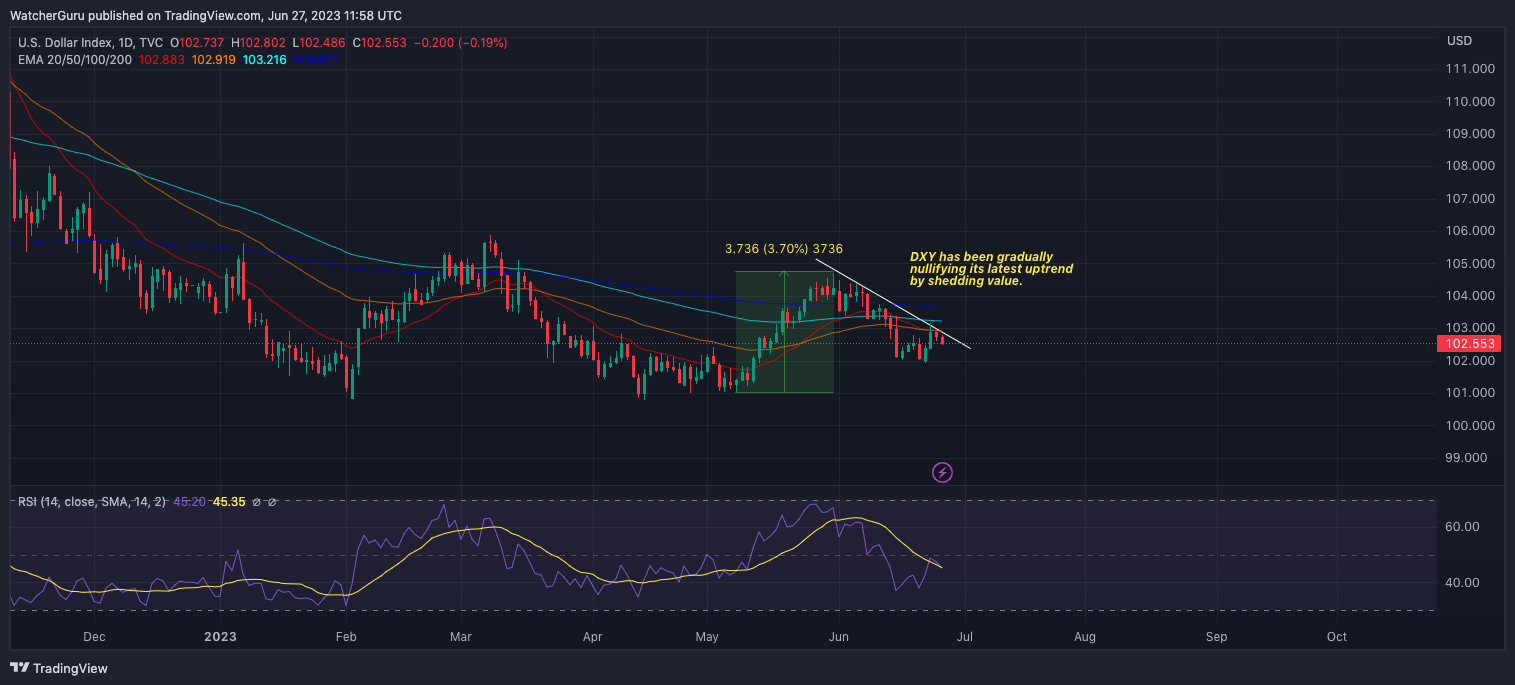 Also Read: U.S. Dollar Has 'More Room' To Strengthen: Goldman Sachs
Despite the short-term hiccups, several from the industry, including Goldman Sachs believed that the U.S. Dollar has more room to strengthen. In fact, a recent survey pointed out that even central banks around the world expect the U.S. dollar to dominate over the next ten years.
According to the Official Monetary and Financial Institutions Forum's [OMFIF] findings, apex banks managing a total of $5 trillion worth of assets expect the dollar to continue to decline as a proportion of global reserves at a "gradual" pace. Nevertheless, the U.S. dollar will still account for 54% of the total in 10 years' time, per the survey. For context, the same currently stands at 58%.
Commenting along similar lines, Nikhil Sanghani, Managing Director at OMFIF said,
"The sense of de-dollarisation is in line with the historic trend over the last ten years. Reserve managers are telling us there's unlikely to be a major trend from that path."
What about the Chinese yuan?
The survey results further pointed out that 16% of reserve banks intend to increase their U.S. dollar exposure in the next couple of years. Contrarily, only 10% plan to slash it down. However, the picture is different when the timeframe is increased. A net 6% of central banks have reportedly said that they expect to bring down their dollar holdings.
There have been many claims of late stating that the Chinese yuan will likely replace the U.S. dollar in the years to come. However, the latest study found that only 13% of central banks plan to increase holdings in the yuan. The figure is down from more than 30% last year.
Nevertheless, on the 10-year timeframe, 2/5th of the central banks that took part in the survey said that they intend to add to their yuan holdings. In turn, they've forecasted that its share of global reserves will increase from about 3% to 6% by 2033. Leaving aside the currency battle, the survey found that not even one of the 75 central banks expected inflation to return to 2% in the next one or two years. The report noted,
"Reserve managers have little confidence that their colleagues on monetary policy committees will get inflation under control."