On one hand, Hong Kong intends to establish itself as a digital hub. On the other, China is looking to augment its regulatory oversight when it comes to digital assets.
According to Xuan Changneng, the Deputy Governor of the People's Bank of China, the new form of finance and other novel technologies should reportedly not be accepted and recognized just like that. With respect to crypto specifically, Xuan said,
"The digital economy has changed the format of financial services, but it has not changed the financial model itself. Cryptocurrencies lend themselves to risks relating to fraud and unlawful transactions."
The regulator went on to further add that the United States "failed" on its part to regulate crypto assets.
Also Read: Crypto Didn't Play a Direct Role in Bank Failures: U.S. Treasury Official
Risks, swings and mismatches
According to the Deputy Governor, cyclical swings in the digital financial sector, micro-credit risks, and liquidity risk mismatches "still exist." Here, it should be noted that not all exchanges have high liquidity. A recent report from Kaiko noted that Binance "facilitates the plurality of its volume during U.S. trading hours." That being said, it appears that traders are drawn toward this exchange because it has better liquidity. According to researchers at Kaiko,
"Liquidity is paramount in crypto, particularly for institutions that are building or selling large positions or trading frequently."
At the time of Kaiko's analysis, Binance's spreads were 36 times tighter than Binance.US and 8 times tighter than Coinbase's. In fact, the exchange had the tightest spread for both BTC-USDT and ETH-USDT. For smaller trading desks, however, liquidity remains to be unusually thin, owing to regulatory uncertainty. Recently, Research and Data Analyst James V. Straten tweeted,
"The biggest issue at the moment is the liquidity situation in crypto. Bitcoin liquidity is at a 10-month low, this will push the price up or down quite dramatically."
Well, dramatic price movements are not uncommon in the crypto space. However, it should be noted that the volatility remains to be fairly low at the moment when compared to November 2022's highs.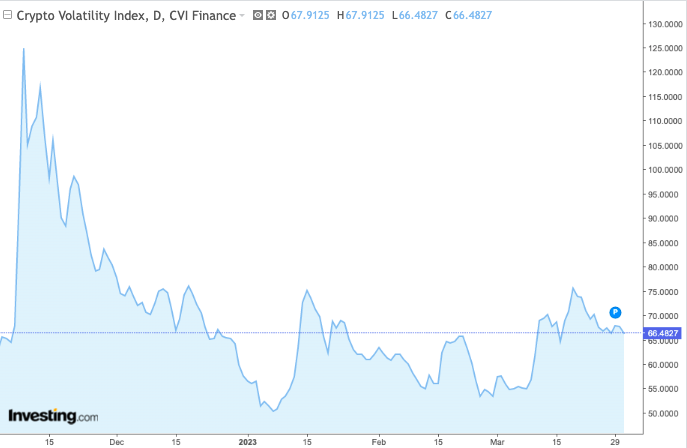 Source: Investing.com
Also Read: Hong Kong Fund To Raise $100 Million For Crypto Startups
Yet, it should be borne in mind that Bitcoin has gone through "several stages of volatility bursts" throughout Q1 2023. From a technical perspective, the largest crypto has registered a host of long red and green candles so far this year, bringing to light the random volatility influxes.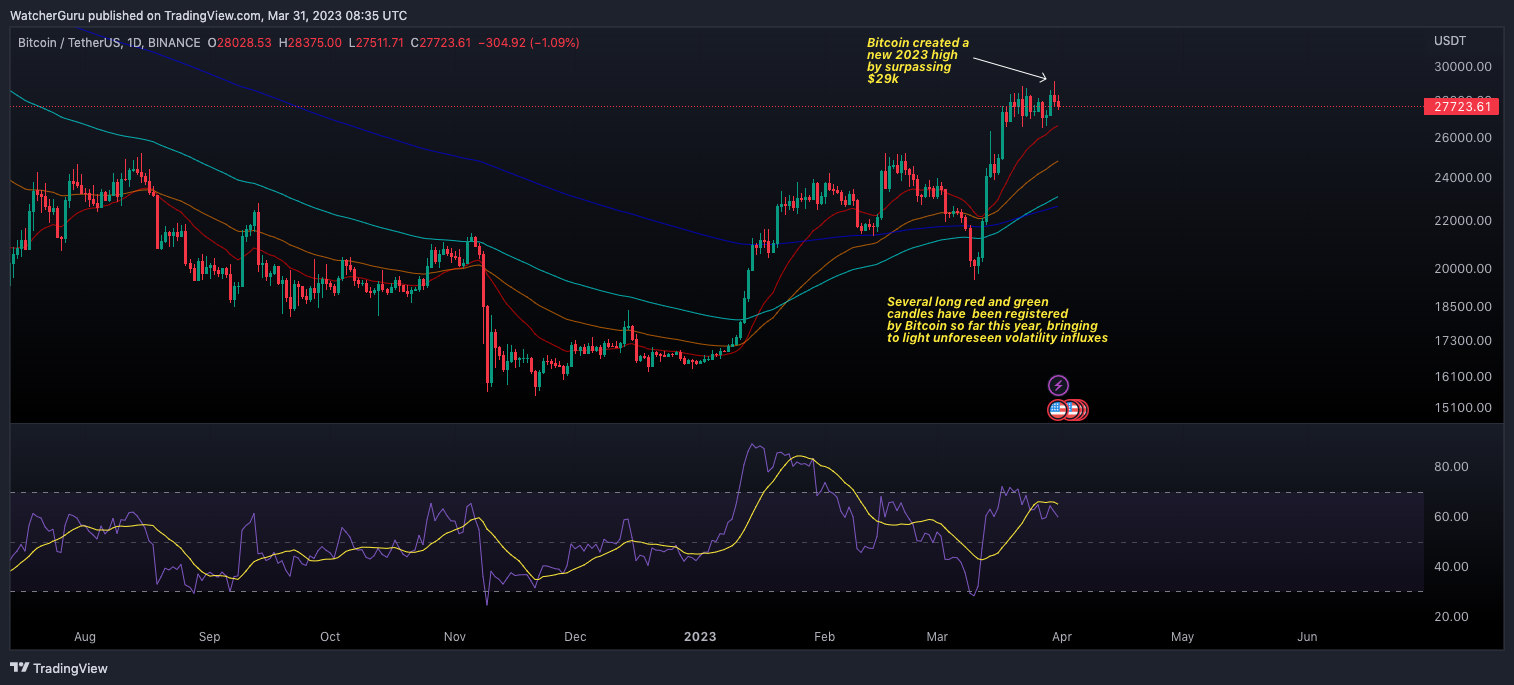 Also Read: Hong Kong Regulators to Assist Crypto Firms with Banking
Regulatory by-product
Owing to the uncertainty and risks, regulations can be expected to be bolstered in China going forward. Specifically, Xuan said,
"The quality of regulatory oversight over the digital economy will be improved. In this era, the demands on financial regulators are higher."