The United Kingdom has shown a growing interest in regulating the crypto sector. As part of this regulatory approach, the Financial Conduct Authority [FCA] in the UK has released a cautionary list naming 143 crypto exchanges. Investors have been advised to exercise caution and refrain from using these firms. Notably, this list includes prominent exchanges such as Huobi/HTX and KuCoin.
In the warning list, the regulatory body pointed out that nearly all financial companies operating in the UK are required to obtain authorization or registration from the FCA. The notice further suggested that the list features firms that are suspected of operating without the necessary green signal from the FCA. Apart from this, the warning list does not provide much information. However, it comes with the straightforward advice to refrain from engaging in any business with the listed firms.
This recent action by the country aligns with the FCA's broader objectives to regulate and control the promotion of high-risk financial products and mitigate the gamification of trading firms.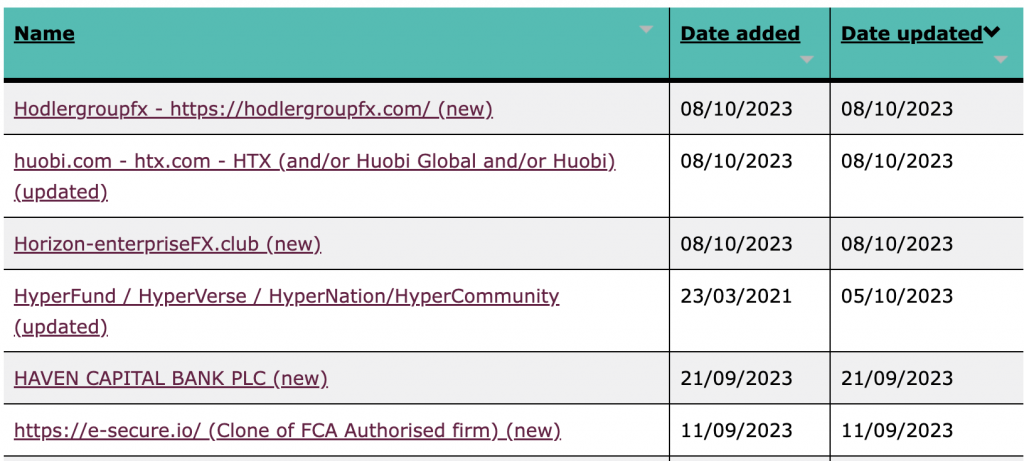 Furthermore, it's important to note that the regulations will be extended to include crypto-related firms, irrespective of their geographic location. For instance, neither KuCoin nor Huobi have their origins in the UK, with their founding in Singapore and China, respectively. The regulatory authority will begin to update its online list of violators more often. FCA will be adding new infractions to the list on an hourly basis as they are identified.
Also Read: UK Crime Bill to Allow Freezing Crypto Assets Faster
Potential Criminal Charges Loom for Non-Compliant Crypto Firms
In July, Jayson Probin, who heads crypto financial promotions at the FCA, warned that non-compliance could lead to the filing of criminal charges. He added,
"We will take robust action against persons illegally promoting to U.K. consumers. This may include, but it is not limited to, placing firms on our warning list requesting take downs of websites, social media accounts, apps and all other promotions that are in breach, and enforcement action."
This development follows closely on the heels of Binance's launch of a new domain made for UK users. In this move, Binance has teamed up with Rebuildingsociety. It is an FCA-regulated entity authorized to review and approve crypto-related marketing and communication materials in line with S21 regulations. Furthermore, the partnership ensures that only Binance products and services complying with UK regulations will be accessible to users.
Additionally, OKX and MoonPay have taken a comparable approach. OKX also released a statement regarding FinProm compliance. In their statement, the exchange revealed that they had trimmed down their list of available tokens to around 40 assets and incorporated risk warnings into their user interface.
Also Read: Chase Bank to Ban crypto-Related Payments For UK Customers