Uniswap is set to launch on Polygon's (MATIC) zero-knowledge Ethereum Virtual Machine (zkEVM). Uniswap holders have until 4:42 pm GMT, April 14, to vote on the proposal. However, the proposal has reached its 40 million vote threshold, currently at 42.4 million. It is interesting to note that no single member has voted against the proposal yet.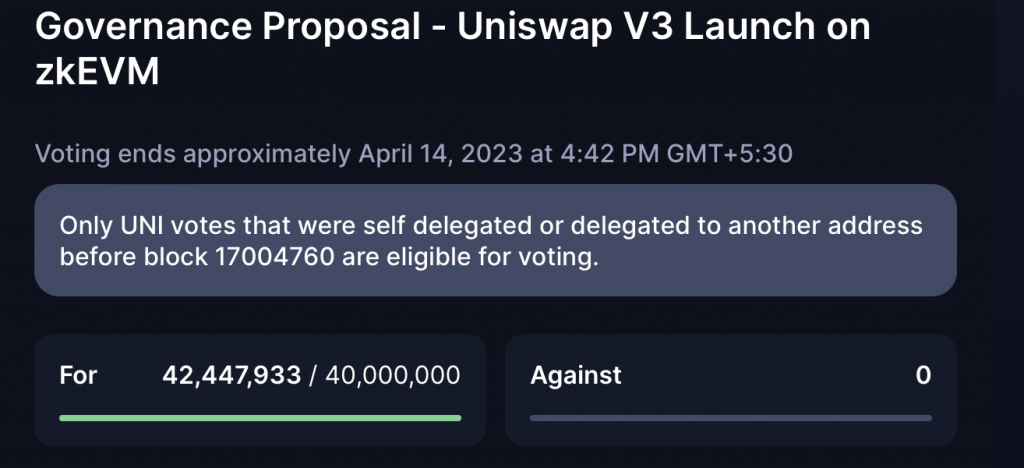 The proposal received a majority vote from all 191 Ethereum addresses. With almost 7 million votes apiece, the Ethereum infrastructure provider ConsenSys and the financial modeling platform Gauntlet took the top two spots in the voting.
Polygon Business Development Lead Jack Melnick wrote the proposal. Melnick explained that this is the right moment for Uniswap V3 to be available on Polygon's zkEVM, as it is equivalent to EVM. There would be no need to recompile EVM smart contracts.
What are the advantages of Uniswap being on Polygon zkEVM?
According to Melnick, the integration will offer off-chain transactions validation and quick finality. Additionally, he added, launching on Polygon's zkEVM is now a "priority" due to the high level of adoption that the company has been able to achieve.
Melnick mentioned a few crucial on-chain indicators when asked what criteria will determine if this deployment succeeds or fails. Melnick mentioned "Uniswap's Total Addressable Market across TVL, unique interacting wallet, volumes, and integration with partner dApps."
Polygon (MATIC) has seen incredible growth over the last couple of years. The project, with the launch of zkEVM, has proven to be a worthy contender to the goliath, Ethereum (ETH).
Polygon's native currency, MATIC, is currently facing fresh resistance at $1.2453, with support at $1.1265. The asset has risen 5.5% in the last 24 hours, and by 7.7% in the last 14 days. However, MATIC is still down by 59.55% from its all-time high of $2.92, attained in December of 2021.