The last couple of months has been quite bizarre for the crypto industry. Bankruptcies, arrests, and the bear market has been the theme of 2022. Now, Unlike the rest of the year, October has emerged as the month with the highest crypto scams and hacks. It is important to note that we are still in the 2nd week.
The decentralized finance [DeFi] wing of the crypto industry seems to be the most vulnerable side in the space. Yesterday, Solana's Mango Markets, Temple DAO, ParaSwap as well Rabby Wallet were all compromised. Mango Markets was drained of a whopping $100 million. As a whole, about $115 million was stolen from these DeFi protocols yesterday.
As per Chainalysis's latest report, the total value of hacks in October surpassed that of March 2022. The report read,
"After four hacks yesterday, October is now the biggest month in the biggest year ever for hacking activity, with more than half the month still to go. So far this month, $718 million has been stolen from #DeFi protocols across 11 different hacks."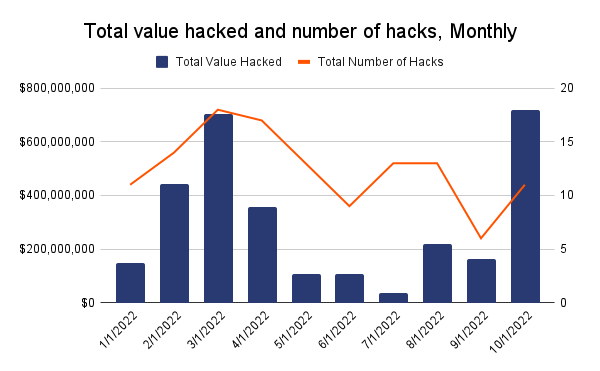 The 2021 bull market paved the way for a slew of attacks making it the biggest year for hacking. However, Chainalysis believes that 2022 had the potential to surpass 2021 considering the magnitude of hacks that have been taking place. Hackers have managed to pocket $3 billion so far through 125 hacks.
Crypto Cross-Chain Bridges a hacker's favorite?
Throughout 2022, several cross-chain bridges were subject to attacks. Starting from Harmony's Horizon Bridge to the Ronin network hack, DeFi has certainly been a hackers' favorite. As seen in the chart below, hackers made the most through cross-chain bridges as opposed to other means.


The report also noted how things were very different just a couple of years ago. Back in 2019, for instance, hackers had their eyes on centralized exchanges. This further led these exchanges to double down on the security aspect. While the DeFi space was let loose, it has sadly succumbed to several attacks.