A Washington DC court issued a formal mandate today asserting its August ruling that the SEC needs to reconsider Grayscale Investments' Spot Bitcoin ETF application.
The U.S. Court of Appeals for the D.C. Circuit made the decision following the SEC's decision not to appeal the Ripple XRP case decision. Judge Neomi Rao said that the SEC failed to give valid reasoning to deny Grayscale's application for a Spot Bitcoin ETF, despite approving similar products. However, the SEC can still look to provide one that is valid.
The mandate filed Monday reads: "In accordance with the judgment of August 29, 2023, and pursuant to Federal Rule of Appellate Procedure 41, this constitutes the formal mandate of this court."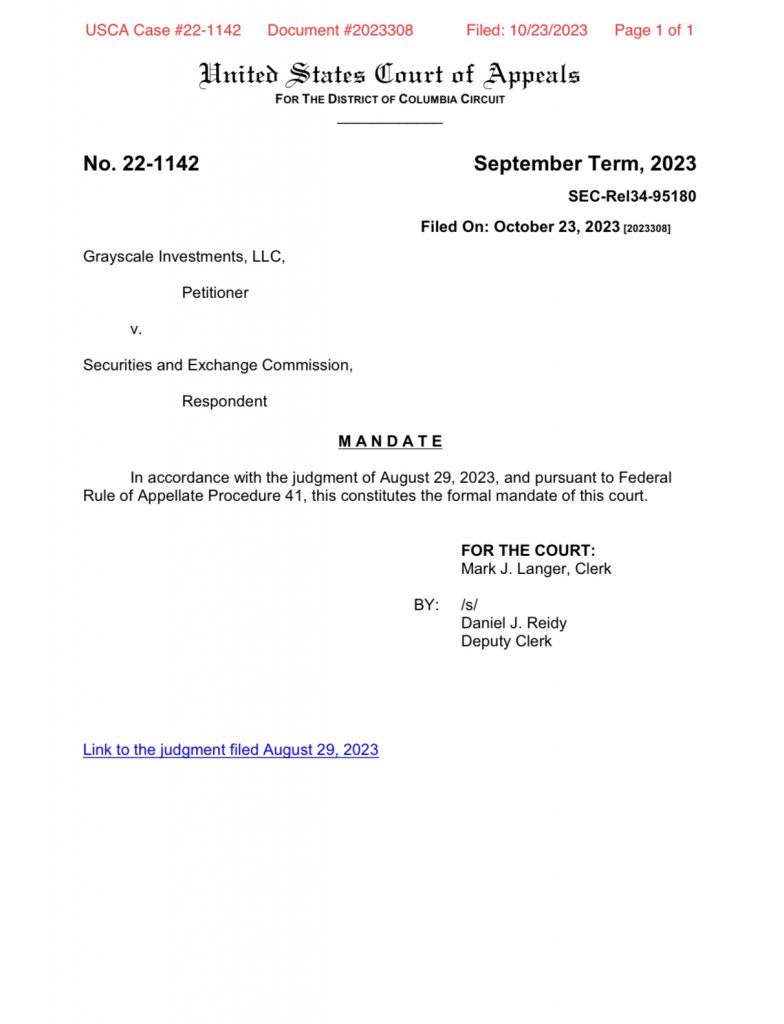 Previously, Grayscale showed its proposed bitcoin ETF was similar to already approved bitcoin futures ETFs. Therefore, they should have "the same likelihood of detecting fraudulent or manipulative conduct in the market for bitcoin and bitcoin futures," the court says.
Also Read: Coinbase is Confident Spot Bitcoin ETF Will Be Approved by SEC
Other big-name asset managers are seeking approval for spot bitcoin ETFs from the SEC. These include BlackRock and Fidelity, amongst others. The latest decision by the US Court is another step in the right direction for multiple financial firms to get approval for Spot Bitcoin ETFs, which would make implementing crypto in bank transactions much easier.