While Bitcoin (BTC) and other major cryptos have gone up in value since January 2023, VeChain (VET) has gone lower. The token peaked on Feb. 21 and has been on a downtrend ever since. VET is currently down by 4% in the last 24 hours and by 15.7% over the previous week. Hence, VeChain price predictions by crypto experts have been mixed.
VeChain (VET) is currently facing resistance at $0.01622, with support at $0.01455. The token is trading very close to its support level, and may even break very soon. If current support levels are broken, VET might fall to a low of $0.01332. VET briefly touched this level on June 10, but recovered soon after. However, worries about VeChain (VET) falling to new lows are very much alive.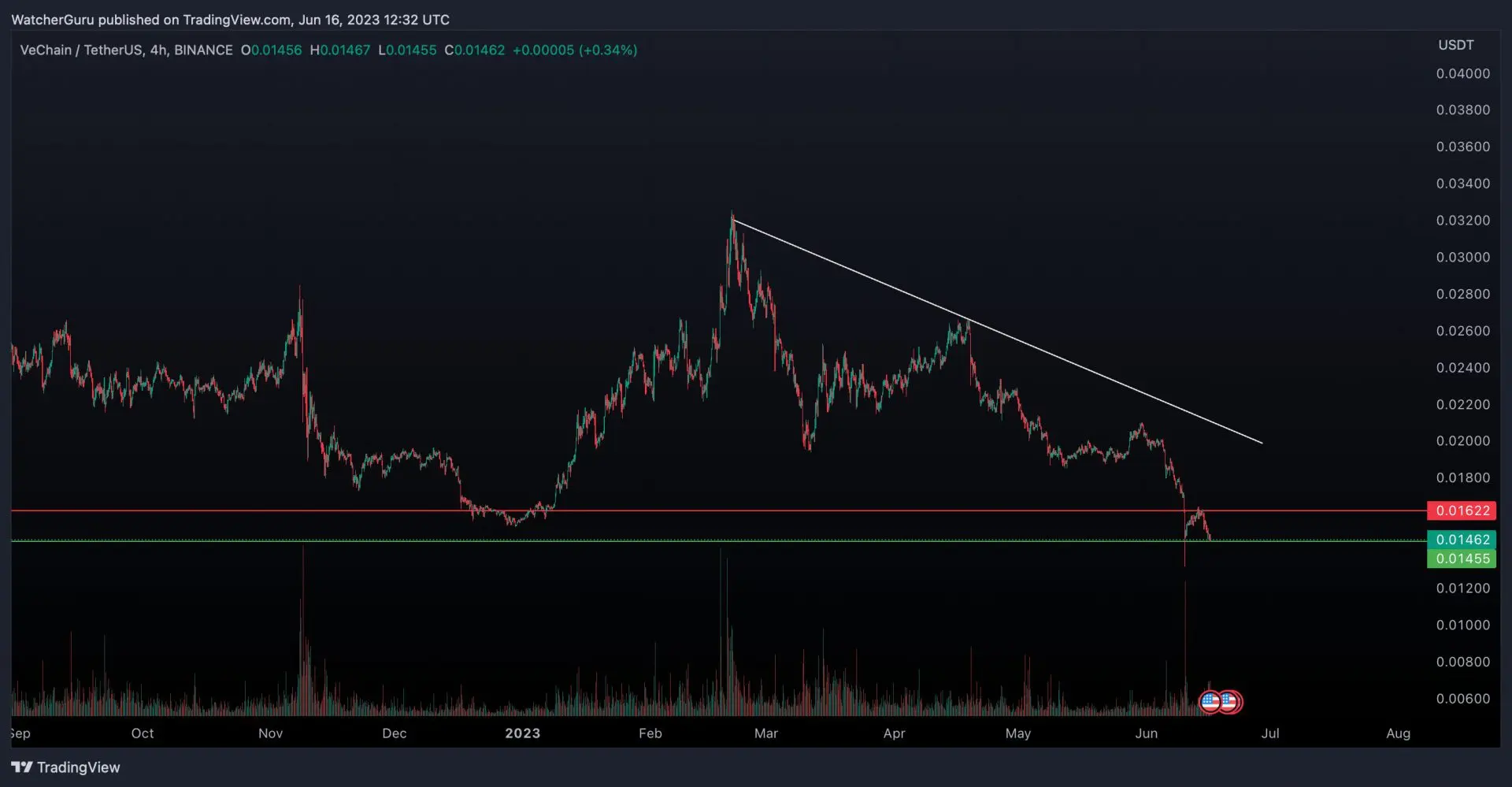 VET's current predicament could be attributed to the regulatory pressures from the U.S. SEC (Securities and Exchange Commission). The agency has filed two lawsuits against industry heavyweights, Binance and Coinbase. The regulatory scrutiny has caused some fear among investors, especially in regard to altcoins. The SEC lawsuit specifically mentioned some tokens as unregistered securities such as Cardano (ADA), Polygon (MATIC), etc.
VeChain Price Prediction: Can VeChain recover?
Given the atmosphere of uncertainty that looms over the crypto industry, a quick recovery for VeChain (VET) seems unlikely. Binance's troubles seem to be getting bigger as the exchange faces fresh allegations in France, over alleged money laundering. Moreover, the world's largest exchange exited the Netherlands today as it failed to obtain a license.
Nonetheless, VeChain (VET) continues to make moves in the industry. The project recently announced a partnership with Frac. VET's "blockchain tools are being used to power Frac, a fractional asset trading platform that uses NFTs to fractionalize and trade high-value premium assets as fungible tokens.
However, the announcement was not enough to move VET's prices in the right direction. At press time, VET was trading at $0.01465129, down by 0.3% in the last hour. Price predictions for the VeChain (VET) token aren't as bullish now as they may appear for other cryptos.