Most top cryptos were trading in red on Tuesday. Among the 100 largest assets, only one—Toncoin—had registered a double digit appreciation. The next two top gainers rose by 6%-7% each, while the subsequent pair registered marginal upticks in 1.6% to 0.7% bracket.
As shown below, VeChain occupied the second position. After noting a 6.9% daily gain, the $1.8 billion worth market capped asset was trading at the brink of $0.027 at press time.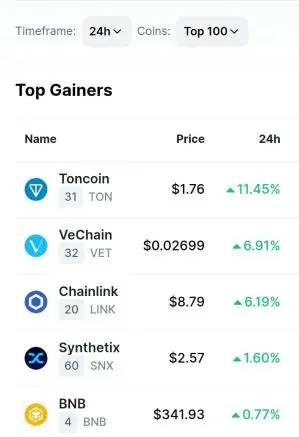 Data from LunarCrush revealed that VeChain engagements on social apps like Twitter and Reddit noted a rise of around 1% over the past week. As a result, the total engagements stood at 92 million at press time.
This metric, as such, helps in gauging community participation by measuring the depth of interaction across social posts. Thus, the current state of the social engagement metric hints that the community is excited and is, perhaps, looking forward to VeChain's upgrade.

Also Read: VeChain continues to add 'real' value: Are investors interested?
VeChain gears for its Mainnet Hardfork
The foundation took Twitter to announce that following the successful vote on VIP-220, VeChainThor's "most significant" mainnet hardfork was ready for deployment. The foundation also asserted that the Proof-of-Authority (PoA) 2.0 consensus mechanism upgrade would be "game-changing" for VeChain.
With respect to the date announcement, the Twitter thread noted,
"The final phase of 'Proof of Authority 2.0' (POA2.0), the integration of finality with VIP-220, goes live at block height 13815000, expected 17 Nov., 8:10am UTC+0."
The said upgrade is set to solve tradeoffs between the Nakamoto and the BFT (Byzantine Fault Tolerance) consensus and improve chain security. Post the upgrade, system performance will not have to be sacrificed to achieve block finality. The upgrade will also help the blockchain tick the sustainability box.
Concluding the thread, the foundation noted,
"With this implementation, VeChain takes a big leap towards our goal of facilitating global MassAdoption of our blockchain technologies, our objectives to become the de-facto platform for Sustainability & spearhead economic Digital Transformation."