The past few days in the crypto market have been characterized by minor deviations and relatively horizontal price movements. After a tepid February, investors have been expecting a bullish March and a positive quarterly close. On Wednesday, every three out of four coins in the top hundred were trading in green. As a result, the aggregate crypto market cap stood at 1% higher, at $1.08 trillion, when compared to the previous day.
Shiba Inu and VeChain were among the cryptos trading in green. The respective assets were up by 3.18% and 4.82% on the daily chart. In fact, both SHIB and VET investors have been in quite a comfortable position of late.
SHIB incline from the start of the year's lows and managed to cling to its peak in early February. The same translated into a 96% return. VET's case seemed to be similar and mirror-like. VET was able to extend its rally until February 20th, resulting in a 107% increase.
After attaining their 2023 peaks, both assets underwent corrections. With not enough momentum in the market, they have been consolidating, or trading flat of late. At press time, their year-to-date returns stood at 54% and 79% respectively.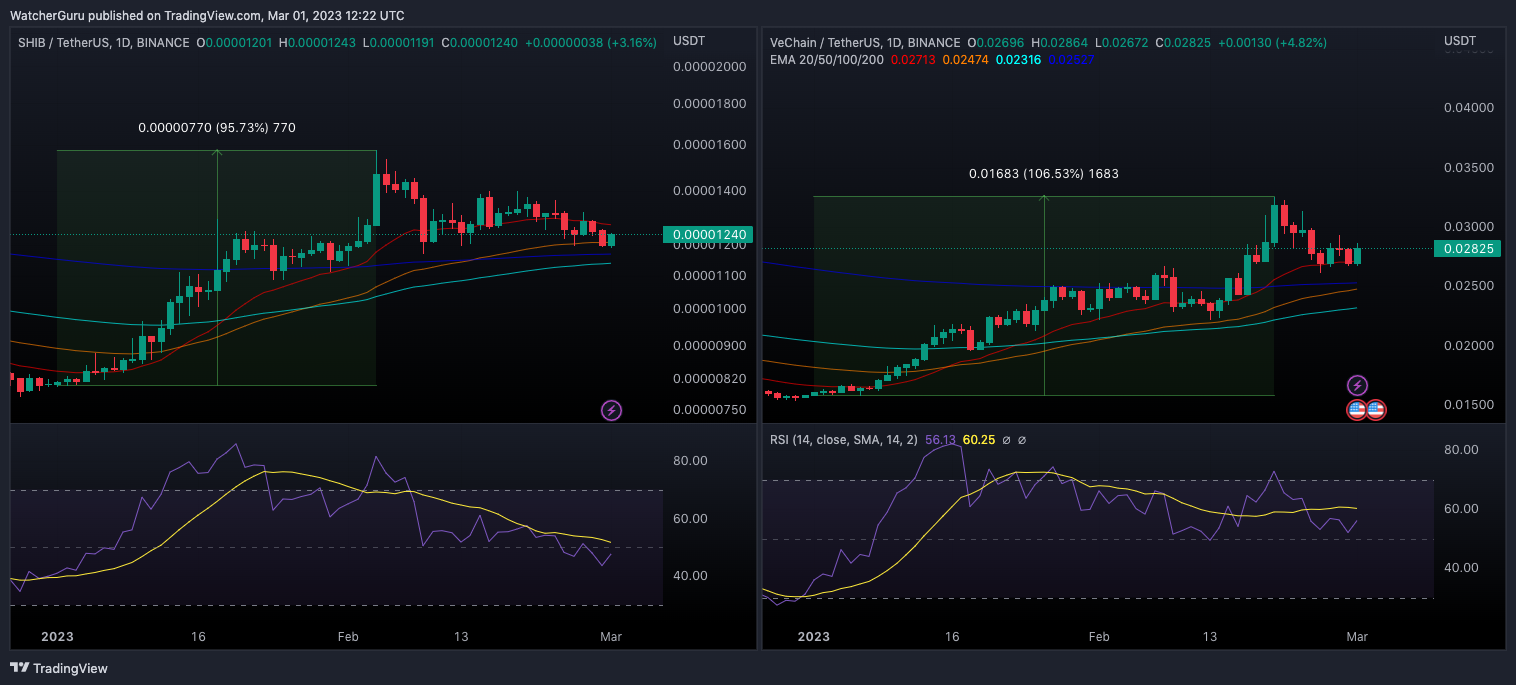 Also Read: HEX Rises 155% In February, Dogecoin Drops 16%
Shiba Inu, VeChain Risk-adjusted returns
To analyze the actual state of investors, let's peek into the assets' Sharpe ratio. Basically, this ratio is one of the most commonly used methods to measure risk-adjusted relative returns. 
If the attached charts are observed, it can be seen that this ratio peaked for both Shiba Inu and VeChain in early February. SHIB's number then noted a dramatic downfall, while VET's number gradually declined, slightly recovered, and then again dropped.
However, at press time, both Sharpe ratios were in positive territory. SHIB's number was hovering around 0.84, while VET's number was almost 2x, at 1.56. Conventionally, the greater the Sharpe ratio, the better the risk-adjusted performance of an asset.
Thus, given the current market conditions and the returns fetched via price inclines, it can be said that VeChain investors are in a better position when compared to their Shiba Inu counterparts.