Vitalik Buterin criticizes Su Zhu's alleged $50 million yacht purchase, stating that there are better ways to burn $50 million. Vitalik spoke on the rumors about the purchase of a $50 million yacht by the Three Arrows Capital co-founder, Su Zhu. He made fun of the alleged purchase amidst the hedge fund going through financial trouble.
He expressed his reaction in one of his recent tweets. Vitalik wrote that instead of throwing $50 million on a yacht, it is a better choice to become Gitcoin grants matching partner. Gitcoin is an open-source project funding platform.
Vitalik states that there are far more honorable ways to burn $50m
He suggested crypto firms invest their funds in Gitcoin grants for the emergence of new Web3 projects instead of spending money on wasteful zero-sum crap.
"IMO all donors to the gitcoin matching pool deserve to get big beautiful statues in the metaverse honoring their contributions."

Vitalik Buterin
The insider information has been spreading like wildfire that Su Zhu used to show off the pictures of the yacht to impress the investors. FatMan initially tweeted about a verified source who confirmed to him that Su Zhu owned a $50 million worth yacht.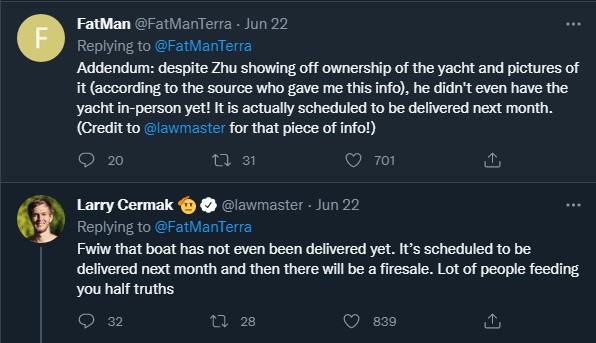 Apparently, the yacht was purchased with borrowed money, and 3AC has been unable to cover it beyond the down payment. Larry Cermak, VP of The Block, replied to FatMan's tweet, saying that the yacht has not yet been delivered to Su Zhu. He also added that the yacht is set to be delivered next month. FatMan later updated his findings, giving credit to Larry.
Autism Capital provided additional info on the yacht, stating that the yacht was a San Lorenzo 52STEEL that cost him $43,173,390.
"It has five decks and is considered Mauro Michieli's crowning achievement as a designer. It has stunning whites and beiges and smells of fresh eucalyptus."