Web3 is frequently characterized as the forthcoming progression of the internet. It sets itself apart from its counterparts due to its decentralized structure. The domain has gained significant recognition, prompting numerous leading video game companies to explore the Web3 landscape. In fact, about 29 out of the top 40 video game companies based on market capitalization, equivalent to 72.5%, have entered the realm of Web3 to varying degrees.
According to a recent study, well-established companies including Microsoft, Tencent, Sony, and Nintendo, along with others, have been delving into the blockchain gaming sector. Their involvement spans various activities. This includes direct investments in Web3 gaming projects and active participation in the creation of blockchain-driven games. It also encompasses the hiring of professionals for positions related to blockchain technology.
For example, Microsoft has chosen to engage in strategic investments in WeMade, a blockchain-driven game development firm. This strategic decision allows Microsoft to mitigate potential negative publicity in case the blockchain game faces difficulties. On the other hand, seven firms, which account for 24.1%, have been actively building blockchain-based games.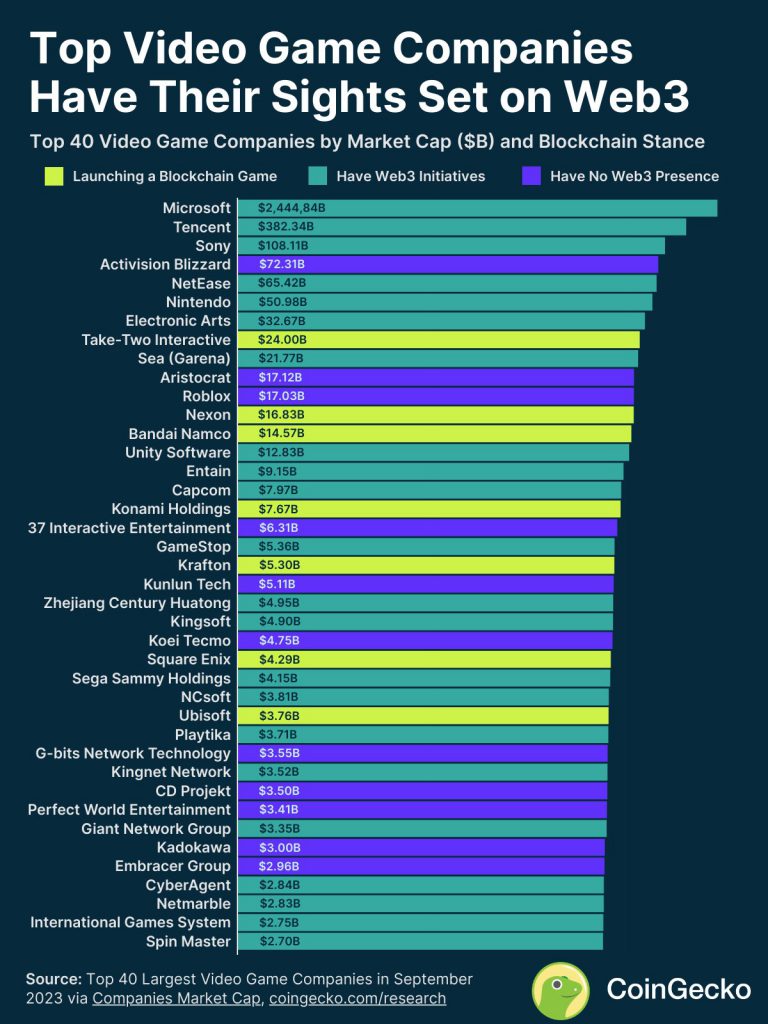 Although the aforementioned list appears encouraging, concerns about Web3 games surpassing the Web2 era continue to emerge.
Also Read: Web3 Gaming Continues to Dominate Defi Despite 8% Plunge
Analyzing the growth of Web3 gaming
In the midst of the ongoing downturn in the cryptocurrency market, both investors and startups are delving further into this sector. They are addressing various questions. These revolve around how Web3 gaming can serve as a catalyst to attract the next wave of users to the cryptocurrency space and the broader Web3 industry. CoinGecko highlighted that, despite its existence for several years, the realm of blockchain gaming has not yet witnessed a groundbreaking product capable of sparking widespread adoption. While pointing out its nascency, Ed Chang, head of gaming at Ava Labs, instilled hope. Chang said,
"We believe that all games can leverage blockchain elements, whether it's truly owning your items, earning rewards for playing, or building payment rails for microtransactions, creators, and modders."
But the path is expected to be rather difficult. Tiffany Dong, a senior associate for gaming at the Solana Foundation, pointed out that the primary challenge lies in the ongoing exploration of how to structure Web3 games. The industry is currently debating whether to place greater emphasis on the "play" aspect or the "earn" aspect.
Also Read: AI, Crypto Represents an 'Important' Opportunity for Web3: Coinbase