In a surprising development, the cryptocurrency market witnessed a general decline with most assets, including Bitcoin [BTC], experiencing significant losses. Bitcoin's price dropped back to the $26,000 range, setting a bearish tone for the overall market. However, Justin Sun's Tron [TRX] stood out by moving in the opposite direction, exhibiting a contrasting trend amidst the market downturn.
TRX become the top gainer today following a 7.01% daily rise. The asset was trading for $0.07743 at press time. The network recorded increased trading activity over the last couple of hours. According to recent data, the 24-hour trading volume of TRX surged by 115.81% bringing the final number to $479,026,771.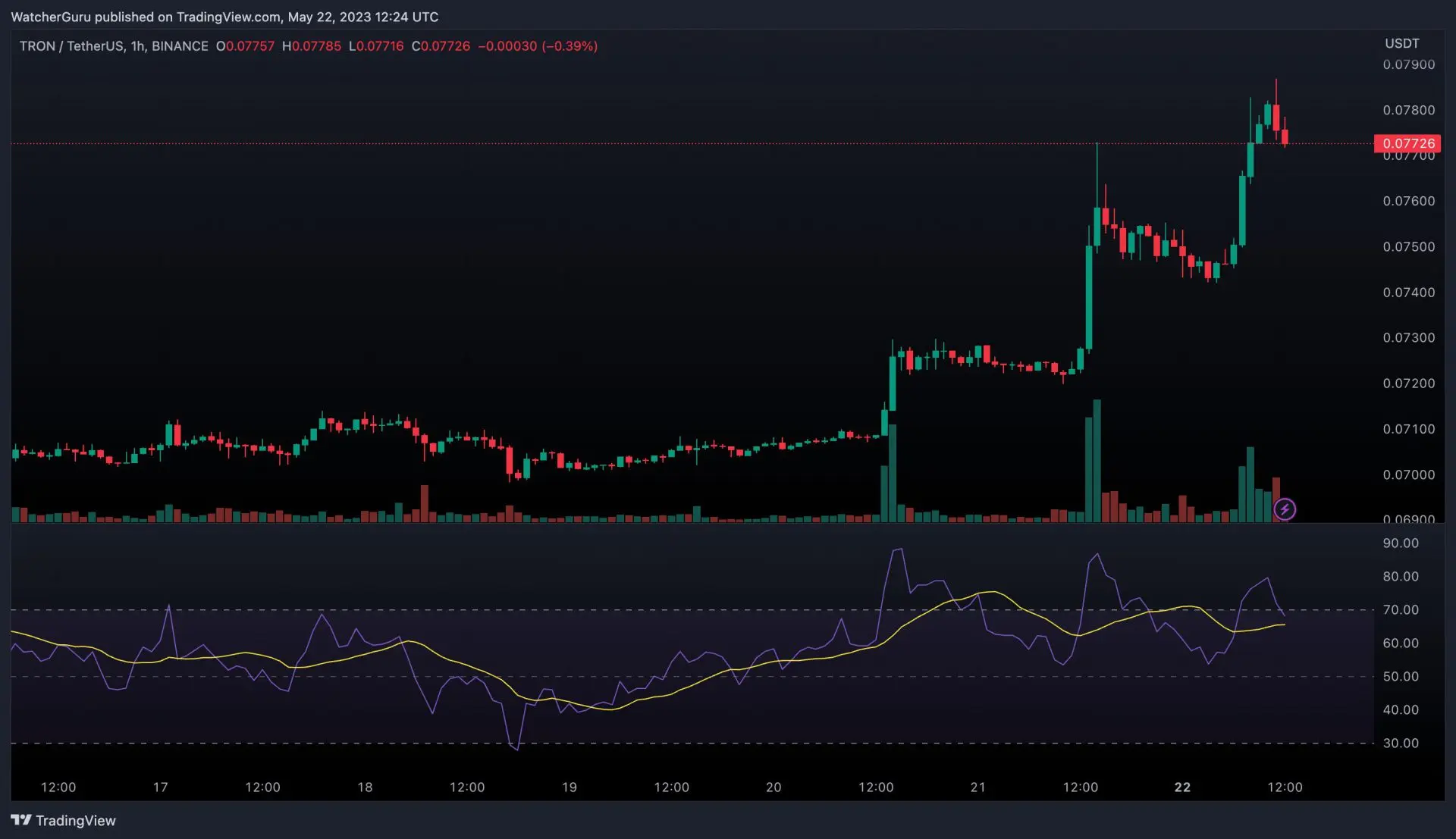 As seen in the above chart, TRX has been on an upward trajectory over the last couple of hours. The altcoin was extensively purchased according to the Relative Strength Index [RSI] indicator. The RSI marker can be seen rooming in the overbought zone.
The recent uptrend followed in Tron's TRX price was reportedly attributed to a rumor circulating on Twitter. Discussions and speculation gained momentum regarding Tron's potential to become a legal tender in Hong Kong. According to the hearsay, there are anticipations that TRX might obtain legal status starting from June 1. Thanks to this and its price rise, TRX became the talk of the crypto town.
TRX records $1.3 Million short liquidations
Based on recent data from Coinalyze, the Tron network experienced significant liquidations amounting to about $1.5 million within the past 24 hours. Out of this total, $1.3 million was attributed to short liquidations, while long liquidations accounted for a more modest sum of around $172.7K.

These liquidations, particularly the higher amount connected with short positions are linked to bullish sentiment in the TRX market. This sentiment could be fueled by traders closing their short positions, leading to increased buying pressure and a positive outlook for TRX.
TRX becoming legal tender in Hong Kong remains unsure. However, the news and speculation around this possibility have been positively impacting the price of the altcoin.