The majority of assets in the crypto market are moving sideways at the moment, with Bitcoin [BTC] revisiting the $26K range. Nonetheless, the king coin managed a modest rebound. Amidst this period of consolidation, there was one specific cryptocurrency that stood out by capturing all the gains. XRP, the sixth largest digital asset, emerged as the winner in today's market. At press time, XRP was trading for $0.4583 following an 8.02% daily rise. Earlier today the asset surged to $0.4596 marking its weekly high.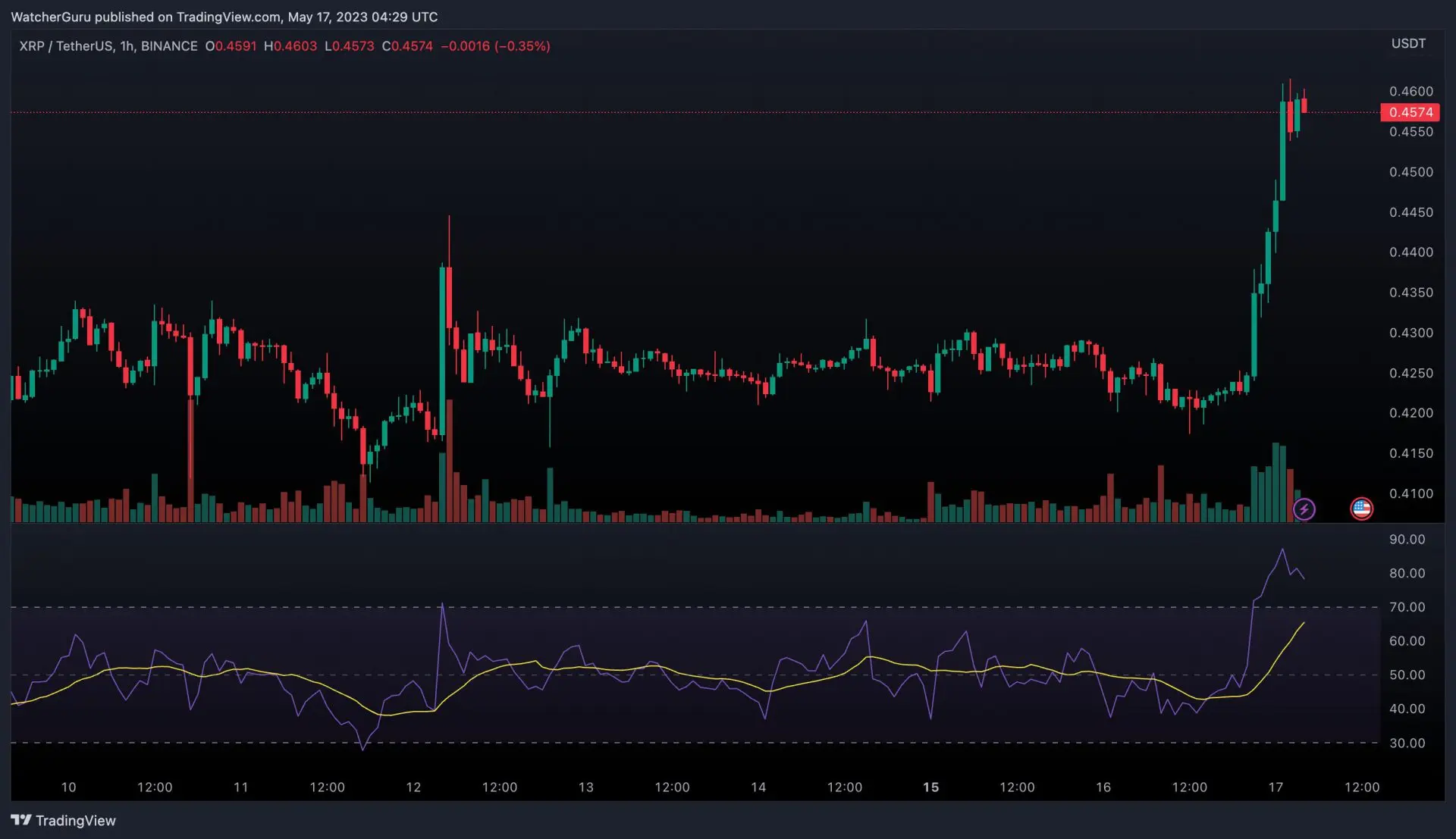 The asset's upswing is evident in its one-hour price chart. In addition to this, the Relative Strength Index [RSI] indicator highlighted how there was increased buying pressure in the market. XRP is currently being overbought.
But what instigated XRP's uptrend?
The U.S. Securities and Exchange Commission [SEC] and its case against Ripple has been going on for several years now. Just as the community bets on its conclusion, a delay is often imposed. The earlier surge was in light of a positive development around the same case.
Today, Judge Analisa Torres of the U.S. District Court for the Southern District of New York rejected the SEC's request to keep the Hinman Speech documents sealed. The SEC had previously filed a motion in December 2022, seeking to seal internal emails, text messages, and expert reports related to the speech. The SEC argued that these documents were irrelevant to the case.
Judge Torres, however, dismissed the SEC's request to seal the documents and highlighted that the materials were considered "judicial documents." These documents are typically presumed to be accessible to the public unless there are compelling reasons to keep them confidential. Therefore, Judge Torres emphasized the importance of public access to these materials.
The document in question dates back to June 14, 2018, and it pertains to a speech given by former SEC official William Hinman. The SEC's current allegation against XRP is that, it is a security. However, in the speech, Hinman disclosed that the SEC does not consider Bitcoin [BTC] or Ethereum [ETH] as securities. This revelation has been significant in the context of the case. The CEO of Ripple, Brad Garlinghouse celebrated this win by taking to Twitter and notifying the community.