Projects in the crypto space usually thrive with the succor received from community members. For long-term success, it is quite crucial for, both, new participants to step into the ecosystem and old users to stick around. Things have, however, started going slightly off-track for SushiSwap lately.
User-count dip
The average number of new users entering into SushiSwap's ecosystem has massively dunked of late. Around the Christmas period last year, this number massively shot up to 9.5k. But post that, the same began its south-bound journey and merely reflected a value of 2k at press time.
As can be seen from the snapshot attached below, the current levels are at a yearly low and are quite synonymous with January 2021's figures.


Further, even the user retention numbers weren't that appealing at press time. The number of old users shrunk by close to 1500 in the week between 27 December and 3 January.
In effect, the transaction numbers did witness a dip from 26 December's 25.k to 3 January's 19.4k. On the macro frame, however, the wound did not seem to be that deep. Thus, it can be deduced that the ones within the ecosystem are quite actively engaging in transactions.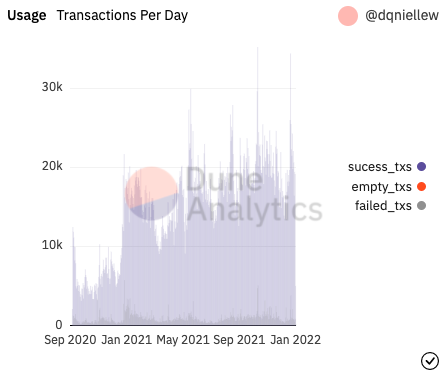 The catch
Despite the transaction count remaining intact on the macro-frame, the USD transfer volume on the monthly window has been witnessing a decline since November. As can be seen from the chart attached below, this month's projected volume [orange] when combined with the actual volume so far [purple], is notably less when compared to last month.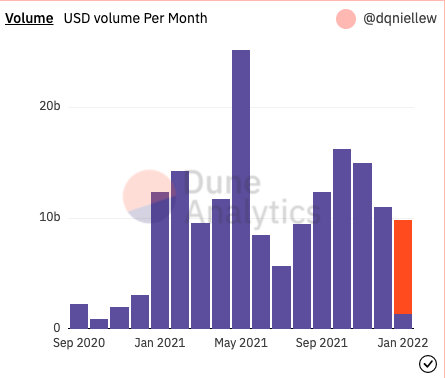 Making sense of the mayhem
SUSHI's price created a local peak of $10.684 on 30 December but was seen trading in the $8 bracket at press time. So, only if the state of the aforementioned on-chain data improves, SUSHI would be able to seamlessly re-commence its rally. Else, it wouldn't take much time for it to swap to its downtrend mode.