The U.S. dollar has been put under the limelight for an array of reasons. BRICS undoubtedly tops the list after its de-dollarization initiative. Amidst this, Stanley Druckenmiller, a billionaire investor, disclosed that he has shorted the U.S. dollar. He believed the Federal Reserve would soon need to lower interest rates due to a setback in the economy. In what he described as the most uncertain phase of his career, he claimed the move is his lone confident trade while speaking at an event. He added,
"One area I'm comfortable with is I'm short the US dollar. Currency trends tend to run for two or three years. We have had a long [run] higher."
The investor believed that the dollar would continue to decline. Druckenmiller pointed out that Fed will take action to counteract the impacts of a downturn in the economy. However, if interest rates decrease the value of the dollar will tag along.
While it is certainly bad for the dollar, Bitcoin [BTC] and other investments could take the front stage. The weakening of the dollar is highly sought after by many governments across the globe at the moment. As they work towards it, individuals are likely to shift their focus onto alternate investments like Bitcoin.
There are two pertinent ways how Bitcoin could benefit from the dollar fiasco. With the dollar taking a backseat, traditional investment tools like stocks and bonds are likely to underperform. Investors would then go hunting for other investment opportunities. In addition, the value of commodities including digital assets is expected to rise if the dollar continues to fail. This is because of the fact that Bitcoin is considered to be a hedge against greater financial downtrends.
Bitcoin to thrive as centralized systems crumble
It looks an upswing could be on the card for Bitcoin. Along with the aforementioned points, the downfall of the First Republic Bank certainly put things in perspective. As the bank crumbled, Bitcoin managed to rise by 6% over the last 24 hours. The asset which had recently dipped below the $30K zone, was back at $28K.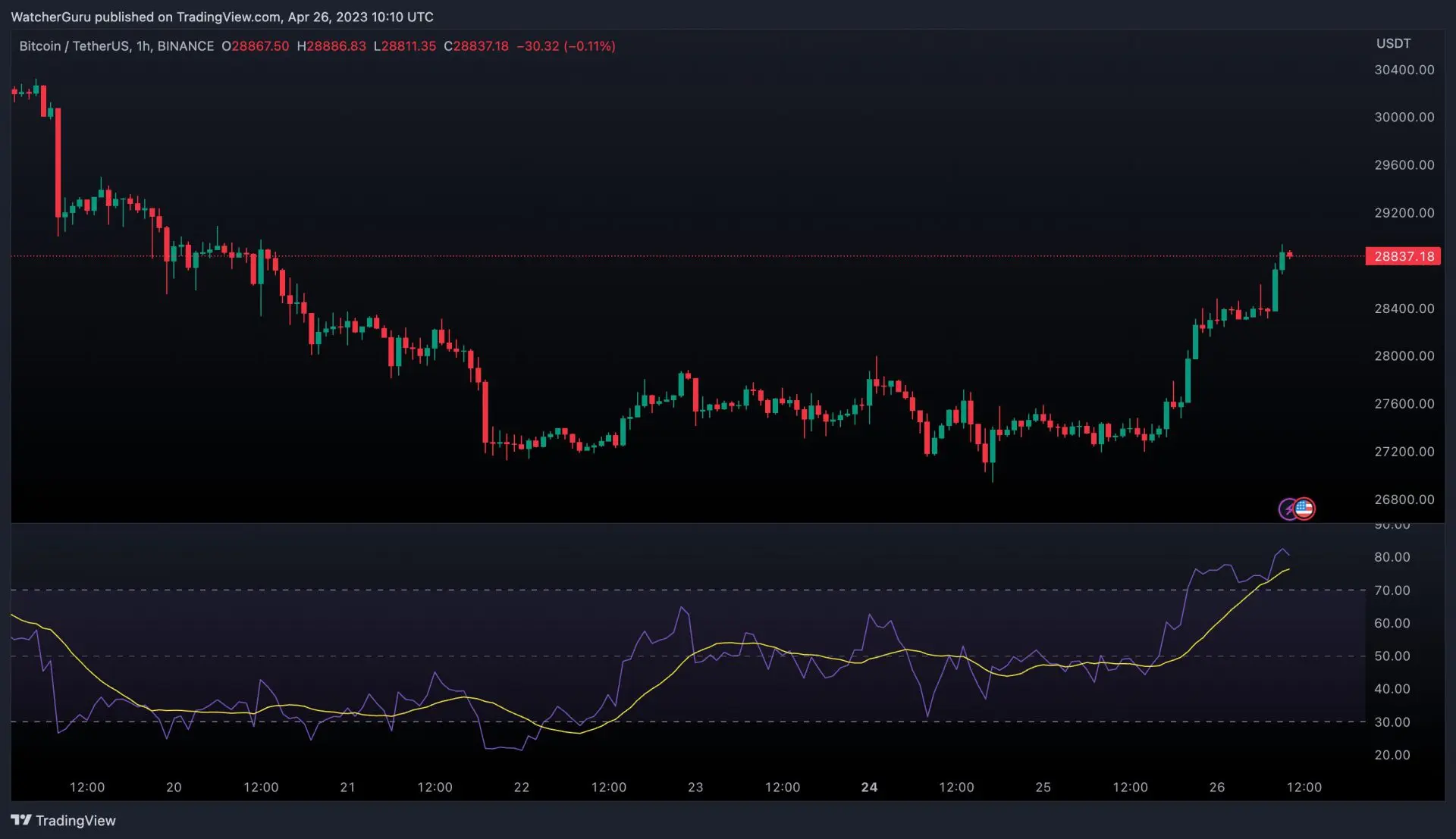 As seen in the one-hour chart of BTC, the asset witnessed a drastic rise over the last couple of hours. The Relative Strength Index [RSI] indicator further revealed that the king coin was being overbought at the moment. Crypto Twitter began pointing out how Bitcoin was doing much better than stocks as well. All of these signs certainly incline toward how BTC may enjoy bullish days ahead.