Fiat currencies like the Pound Sterling and the Euro have been shedding value of late. Earlier this week, GBP had dropped down to an all-time low level of $1.03. EUR, on its part, had also been trading around at its 20-year lows against the US Dollar at that time.
Read More: Pound Sterling drops against the U.S dollar to All-Time Low
Owing to the said crash, people have started steering towards other assets including crypto. In fact, per people from the community, this is the time for Bitcoin to step up. Digital currency investing and crypto asset management firm Grayscale's executive Barry Silbert, for instance, recently tweeted,
"Bitcoin is about to become the safe haven asset. Nowhere else to hide"
It is worth noting here that recent data from Messari revealed that investors have been selling their Euros and Pounds for Bitcoin lately. As illustrated below, the daily volume of the BTC/EUR pair and BTC/GBP pair recently noted a sharp spike, echoing Silbert's perspective.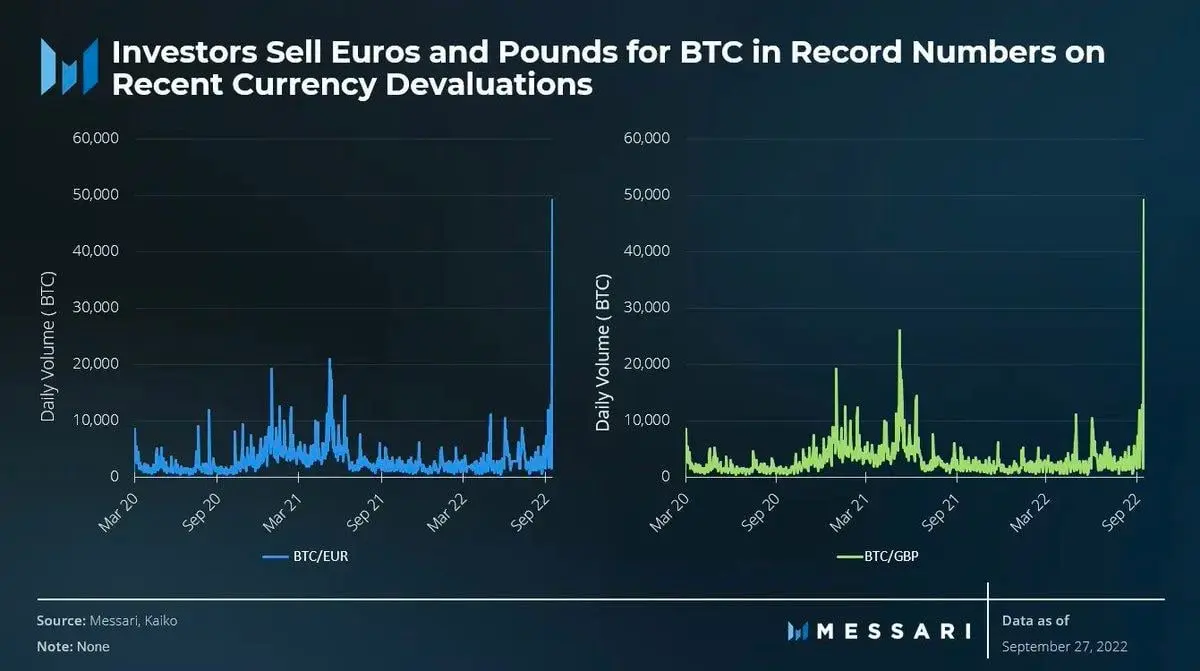 Well, investors have a valid reason for parking their funds in Bitcoin. The macroeconomic conditions around the world remain to be choppy and geo-political tensions have been mounting alongside. Amid all this, the largest crypto has been able to outperform top fiat currencies.
In the period between 20 September to 27 September, Bitcoin managed to fetch investors 6.3% returns. The Yen, Yuan, Euro, and Pound dropped by 0.7%, 2.2%, 3.5%, and 5.3% respectively. In fact, even gold's value slashed down by 1.7% in the said period.
Per many, this is just the beginning. Crypto Banter's Ran Neuner, for instance, recently tweeted that other currencies are lined up in a queue to collapse and we are about to see "a mass exodus" from fiat. Retrospectively, Bitcoin has the chance to beef up, for it is now an "accessible alternative."
Others from the space like Natalie Brunell perceive fiat currencies to be Ponzi schemes. Elaborating on why in a recent interview, she said,
"The biggest Ponzi scheme in history is fiat. Because if you need ever-expanding credit in order to produce smaller and smaller amounts of economic growth and productivity, what else it that, but a Ponzi scheme?"
With trust shown by investors already, the current conditions remain to be quite favorable for Bitcoin to reign over the world of finance.
What lies ahead for Bitcoin?
October has mostly been an extremely bullish month for Bitcoin, for it has fetched an average return of +22% to investors. In fact, when zoomed out further, Q4 has historically been a good quarter for Bitcoin. As illustrated below, investors have earned negative returns only thrice [in 2014, 2018, 2019] so far in this quarter.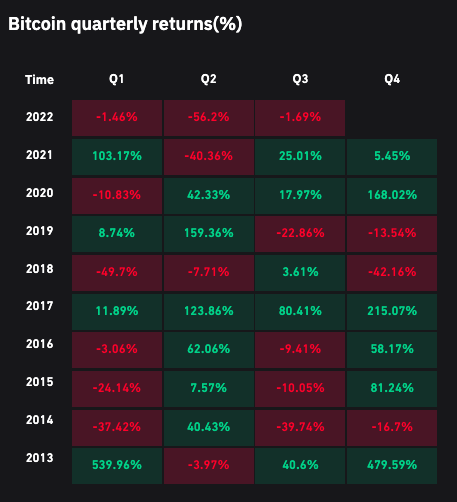 With Q1, Q2, and Q3 returns remaining in red for this year, traders expect a turnaround in Q4. So, if the sentiment of market participants gets even more refined going forward, the odds of Bitcoin's reviving will notch up.