Fantom has started making noise yet again. At press time on Tuesday, it was the seventh-highest weekly gainer. Retrospectively, investors ended up fetching 24.55% in the same timeframe.
On social platforms like Twitter, "$FTM" was trending, indicating that people from the space were keenly keeping an eye on the Altcoin and discussing it. In fact, data from LunarCrush confirmed, as Fantom-related social engagements have risen by ~8%.


The current price at which Fantom is trading has historical significance. When FTM was priced around $0.4 last time, it ended up surging by a whopping 755%. At the moment, a similar theory has been floating around on social media.
If not replicated, history usually rhymes at least. So, should investors prepare for another astronomical Fantom pump? To answer that, let us deep dive into the market conditions.
Is this the time to rejoice for Fantom investors?
The last time FTM's pump materialized, the macro cryptocurrency market was en-route creating its double peak in 2021. In fact, that was the time when the said Altcoin went on to create its ATH beyond $3. However, this time, the market is still stuck in its consolidation phase. Thus, given that FTM shares a fairly high positive correlation with Bitcoin and Ethereum, its bullish prospects could be hampered by their correction.


Additionally, during 2021's pump, Fantom managed to climb past all its EMAs on the weekly, In fact, only after establishing them as support, was it able to rally higher. Fantom's incline so far in 2023 has been made possible because of the assistance received from its 2021 support level. However, it is yet to clear all its EMA hurdles. Only when that happens would the doors to an uptick open.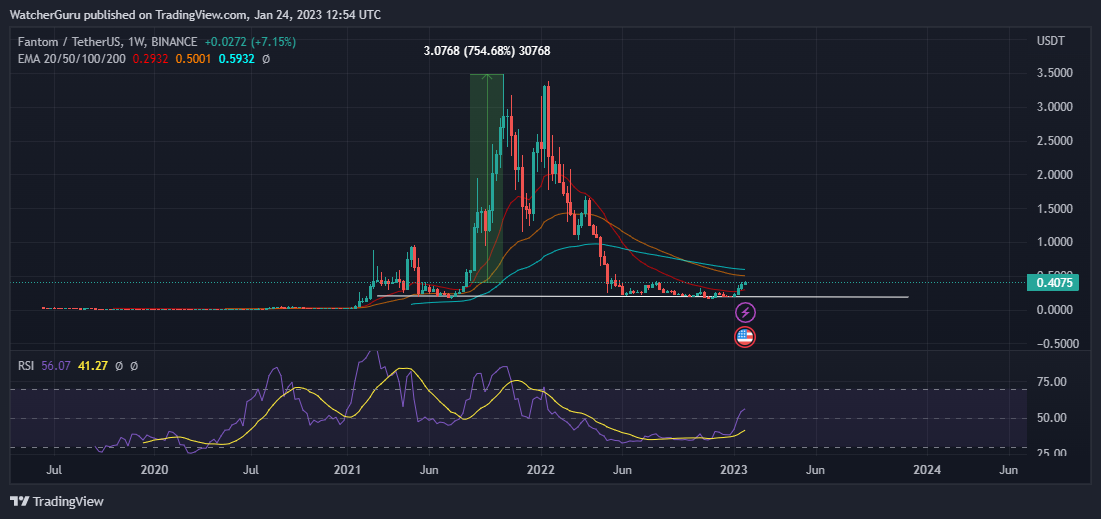 From the on-chain perspective, FTM does not have any major threat. One of its strongest supports lies in the price band between $0.2344 to $0.340. In the said cluster, around 11.16k addresses have together bought 1.15 billion Fantom tokens. This likely means that investors scoped up FTM when its price was hovering around its lows in order to hold it over the long term.


Well, Fantom seems to be gearing up to unleash itself. However, investors need to bear in mind that an exponential surge will not be possible straight off the bat for FTM. Only when all the stars are aligned, such a pump would transpire.