On 8th August 2022, the US Treasury Department imposed sanctions on USDC and ETH addresses linked to Tornado Cash. The mixer, as such, was involved in few recent hacks in the DeFi world, including the Wormhole attack in February, the Ronin network hack by the North Korea-affiliated Lazarus Group in March, and the Horizon bridge attack in June. The body revealed that individuals and groups had used Tornado Cash to launder more than $7 billion worth of crypto since 2019.
Read More: Ethereum-based Tornado Cash Sanctioned by US Government
War on privacy?
Crypto mixers, on their part, aid in obscuring transactions, thus making it difficult to trace back the funds' OG source. Decentralized mixers, like Tornado Cash, usually act like a bag where a bunch of individual users drop their crypto and wait for the protocol to mix it. After the mixing is done, cryptos are redistributed back randomly, making it almost impossible to tell who received the assets. So, users who prefer a high level of anonymity and do not wish their transactions to be tracked down usually utilize mixers.
Now, per the US treasury department, Tornado Cash has "repeatedly failed" to impose controls to stop its platform from being used to launder funds by malicious cyber actors, and thus, imposed the sanctions.
Crypto, in its very essence, was created deleverage powers from regulators and give it to the people. Hacks, attacks, and thefts are undeniably by-products of decentralization. But the chief product continues to honor the virtue of autonomy. In a world where DeFi is pushing the envelope and trying to become mainstream, the newly imposed sanctions do come as a spoilsport.
The albatross hangs around privacy tokens' neck now
And now that the government has targeted a protocol that enriches users' privacy, there are talks going on that privacy coins like Monero and Zcash could probably next on the crackdown list.
Unlike Bitcoin and Ethereum, privacy tokens use a cryptographic process to ensure that transactions ain't linked back to wallet HODLers. Retrospectively, they become untraceable. Over the years, interest in privacy tokens has seen an incline from a particular set of users who prioritize confidentiality. The tokens have implicit qualities and multiple use cases that aid in catering to the said needs of investors. Thus, the conviction flag still flies high, emphasizing that users still expect the demand across the board of such tokens to rise.
How've Monero, Zcash been faring of late?
Right after the sanction news broke and pessimism w.r.t. the concept of privacy started spreading, people started betting that tokens from the said genre would start peeling off in value. Surprisingly, that hasn't been the case.
At press time, Monero was trading in green, after rising by 3% over the past 24-hours. Zcash, on its part, was the second highest gainer in the top 100 list, and had appreciated by 13% in the same daily timeframe.
In fact, both the tokens have been in their recovery mode since mid-June. From the 18 June lows, Monero has been able to climb up in value by 78%, while Zcash has appreciated by 54%.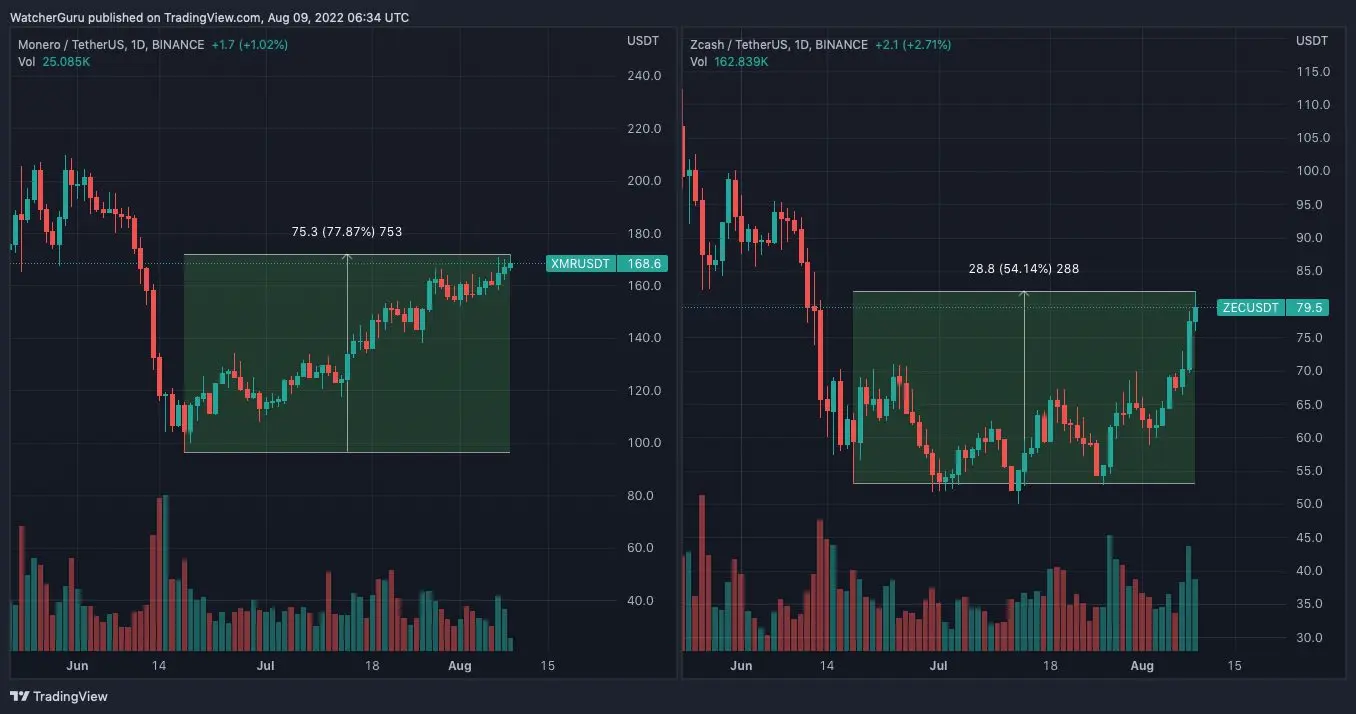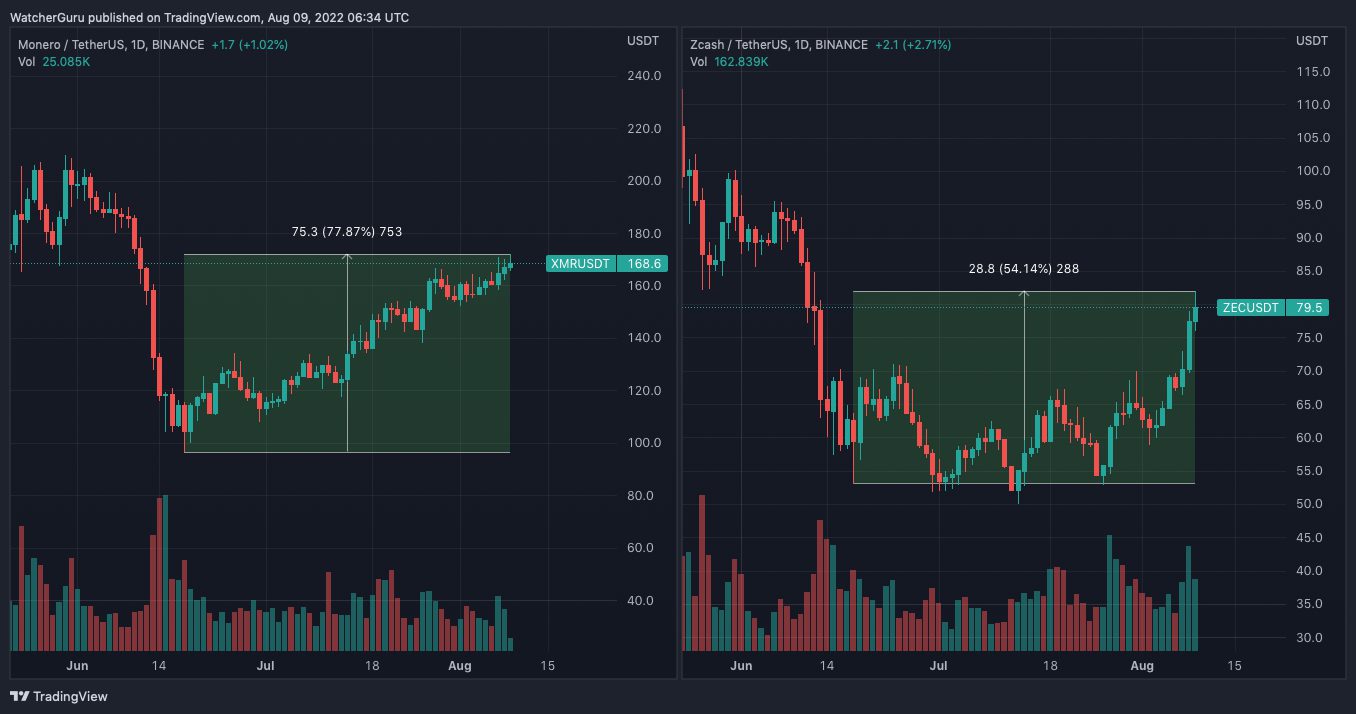 Development wise also, there has hardly been any stagnation. The community is evidently hyped for Ethereum's Merge and Cardano's Vasil hardfork. As a result, upgrades of other networks have been overlooked upon of late.
The Monero network, on its part, is set to undergo a hardfork on 13 August. The same would essentially increase the ring-size, improve verification performance, reduce wallet sync time, and fix critical security patches. Zcash, on its part, has also been faring well on this front on the macro frame.


Final thoughts
Keeping the price rise in mind, it can be assumed that the tokens are far from becoming redundant, for their demand is on the rise. Alongside, the improving development activity emphasizes on the fact that developers are striving to shield the long-term future of the said projects by keeping them relevant. The same, to a fair extent, also gives the surety that the projects will not be abandoned.
So, fundamentally, there is no threat for Monero and Zcash. In such a situation, if privacy tokens are targeted next, it'd just pour water over their attempts to survive and thrive in the space.