The Ethereum [ETH] network has not sidelined its upgrades despite the condition of the market. The Merge saw the network shift from proof-of-work [PoW] to proof-of-stake [PoS]. Following this, the community has been eagerly waiting for the Shapella hard fork. This upgrade is highly anticipated as it will allow validators to withdraw funds from the Beacon Chain.
According to the core developers of the Ethereum network, the Shapella hard fork is expected to occur on the mainnet in April. On April 12, at 10:27 p.m. UTC, epoch 194,048 will mark the implementation of Shapella.
Furthermore, Tim Beiko, the lead developer of Ethereum's core protocol, carried out a discussion among members of the Ethereum Foundation that resulted in the confirmation of the epoch, slot, along with time.
As mentioned earlier, withdrawals will be a significant part of this upgrade. Withdrawals will be made possible by Ethereum Improvement Proposal EIP-4895 by "pushing" staked Ethereum from the Beacon Chain to the Ethereum Virtual Machine [EVM].
Currently, the Beacon Chain has 17.81 million staked Ether. This implied that $31.6 billion may be gradually unlocked over time. The hard fork will further permit both partial and complete withdrawals. Therefore, numerous precautions have been put in place to prevent the market from being overrun with Ether.
Ethereum inches closer to the overbought zone
It looks like this news pushed the price of ETH upwards. Moreover, the altcoin was trading at $1,788 with a 4% surge, at press time.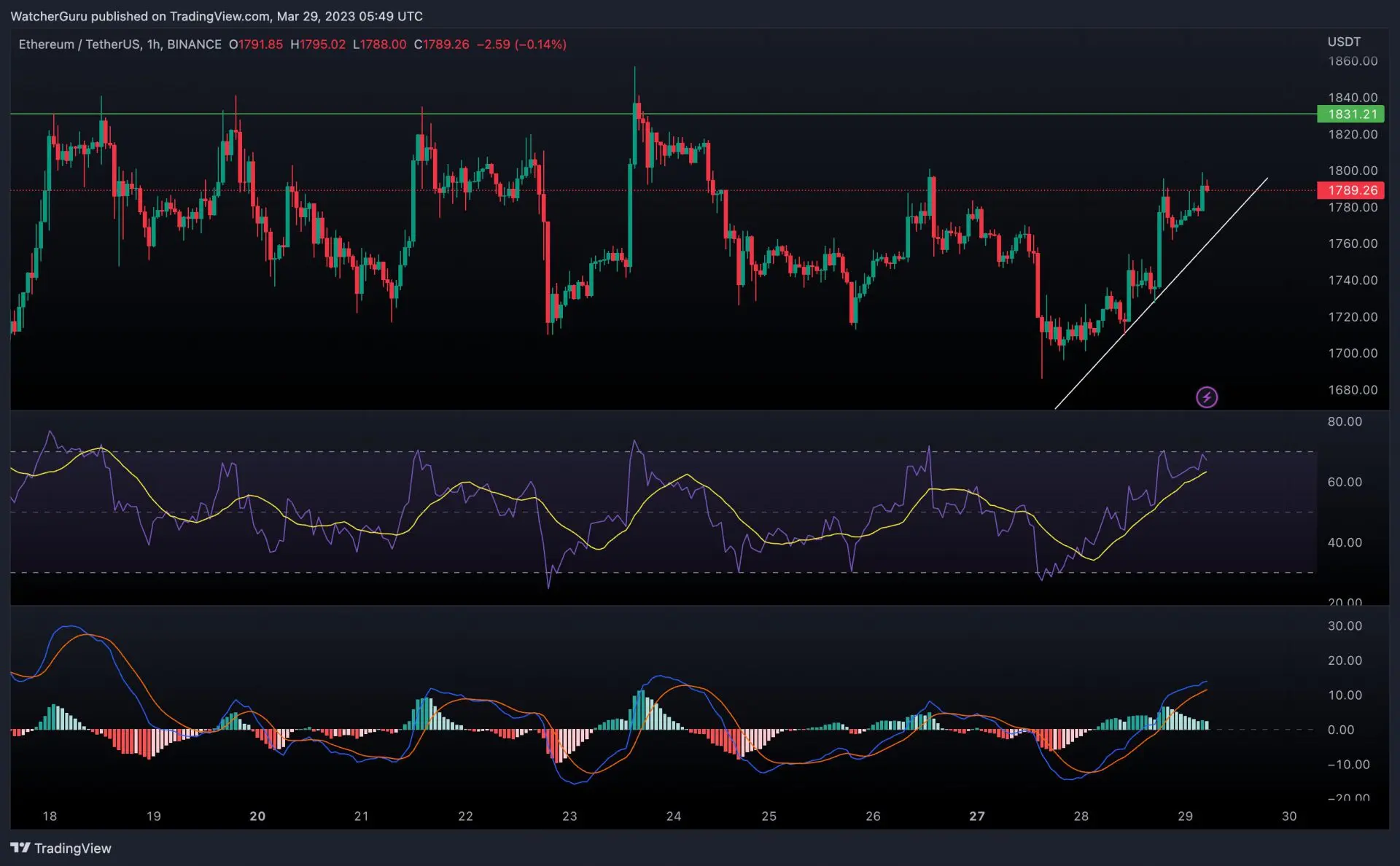 As seen in the above chart, the buyers were swarming the ETH market. The Relative Strength Index [RSI] indicator noted how the altcoin was close to being overbought. The RSI marker was currently at the 70 median. Additionally, the MACD indicator also formed a bullish crossover. In the one-hour chart of the asset, the signal line was below the MACD line. Furthermore, several speculated that this latest news about Shapella my boost the price of the second-largest crypto.