Pepe Coin rose to popularity right after its launch and managed to entice traders and investors into its arena. As reported recently, market participants were seen selling other popular community-favorite tokens like Shiba Inu and diverting funds towards Pepe Coin. Leaving aside the meme boat, Pepe Coin has also been able to give competition to OG crypto assets like Bitcoin.
A recent analysis by LunarCrush revealed Pepe Coin has been the flag-bearer of the social engagement activity. In fact, during the weekend, its numbers were even higher than Bitcoin. This means the frog-themed coin is currently experiencing active community participation in social posts, making it even more relevant.
Kyle Doane, a trader at digital-asset manager Arca, recently told Bloomberg that meme coin booms essentially start during frothy periods. It is at this time when traders who've earned profits are ready to endure more risk. These market participants typically let go of some of their Bitcoin holdings to divert funds into meme coins. Doane emphasized that when the "craze" period sets in, it could lead to a drop in Bitcoin's price.
In fact, the historical trend seems to be quite interesting. As shown below, bursts of activity in meme coin trading in the past have overlapped with market tops in most cases. That has been followed by multi-month price fall phases.
Consider these examples: The meme token trade volume spiked in May 2021, owing to Musk's SNL appearance. Investors hoarded Dogecoin in mass, and right after, Bitcoin's price started tumbling down and continued correcting till July. Likewise, the hype associated with Shiba Inu started blossoming in Q3-Q4 that same year. Bitcoin went on to create a peak and then started tumbling down eventually.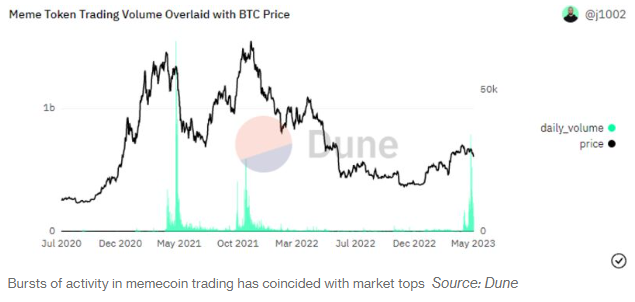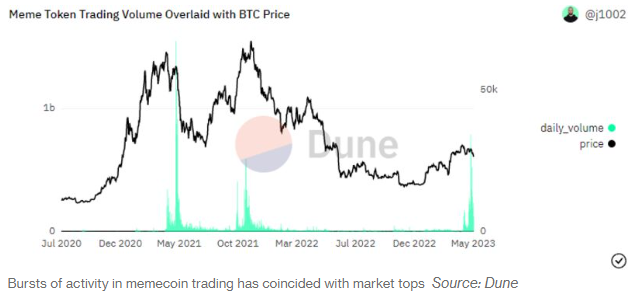 Also Read: Is Selling Shiba Inu for Pepe Coin a Better Strategy Right Now?
Tread with caution
At this stage, it is interesting to note that Bitcoin active addresses have been on the rise. In fact, both, sending and receiving addresses have inclined. However, it should be borne in mind that the sending addresses have inclined by more than 1% over the past day, while the receiving addresses have risen by 0.8% only.
In fact, the last value of the number of senders stood at 5.5k, while that of receivers reflected a value of 3.3k. Senders are conventionally considered to be sellers, while receivers are considered to be buyers. Thus, the current state of affairs indicated that participants abandoning BTC at this stage, are more than the ones accumulating it.


That being said, it doesn't mean that investing in memes is a better option now. It is equally essential to exercise caution. Drawing parallels with "musical chairs," Joe Rotunda, Director of Enforcement Division at Texas State Securities Board, said,
"When the buzz disappears and the hype dissipates, the value tends to plummet and investors can suffer significant losses. It's like musical chairs – when the music stops, investors often can't find a safe place to land. Except investing isn't a game, losses can be far too real."