The past month has been quite monotonous for Bitcoin. The largest crypto asset has mostly remained sandwiched in the narrow $1000 range between $16.3k-$17.3k in the said period.
However, traders have gradually started stepping back into Bitcoin's arena. A recent report from Arcane Research pointed out that the CME open interest climbed towards the end of last year. As shown below, CME's OI surged above 80,000 BTC in December 2022. Yet, it has not left behind any directional cues. Pointing out why, the report noted,
"… the growth has been accompanied by a flat futures basis. Thus, it is challenging to infer any directional information related to the recent increase in active institutional participation."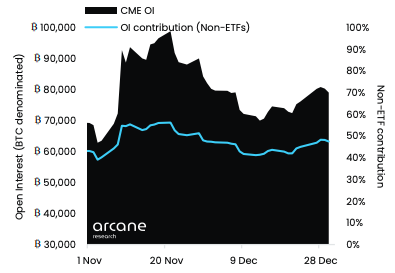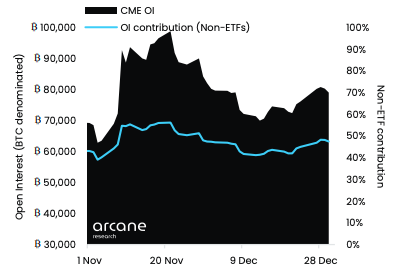 CME Gap Dictates Bitcoin's Movement
The CME gap is quite an interesting trading notion. Technically speaking, it is the difference in the futures contracts' trading price of the new week's open when compared to the previous week's close.
The CME market, on its part, is not open all the time—24/7*365—like the spot crypto market. It follows the usual exchange working hours and also closes on holidays. As a result, the formation of gaps on its chart is not very uncommon.
On December 31, 2022, Bitcoin CME futures closed at $16.52k. Post the New Year break, it opened at $16.66k, and as a result, a gap was formed. On most occasions in the past, CME gaps have been bridged within a few days. Having said that, it should also be noted that there remains a few unfilled gaps from the previous decade as well.
As shown below, the latest gap was filled a few hours back by Bitcoin. Right after closing the gap, the asset reversed its course and started making upward strides. At press time, BTC was trading at $16.845k on CME.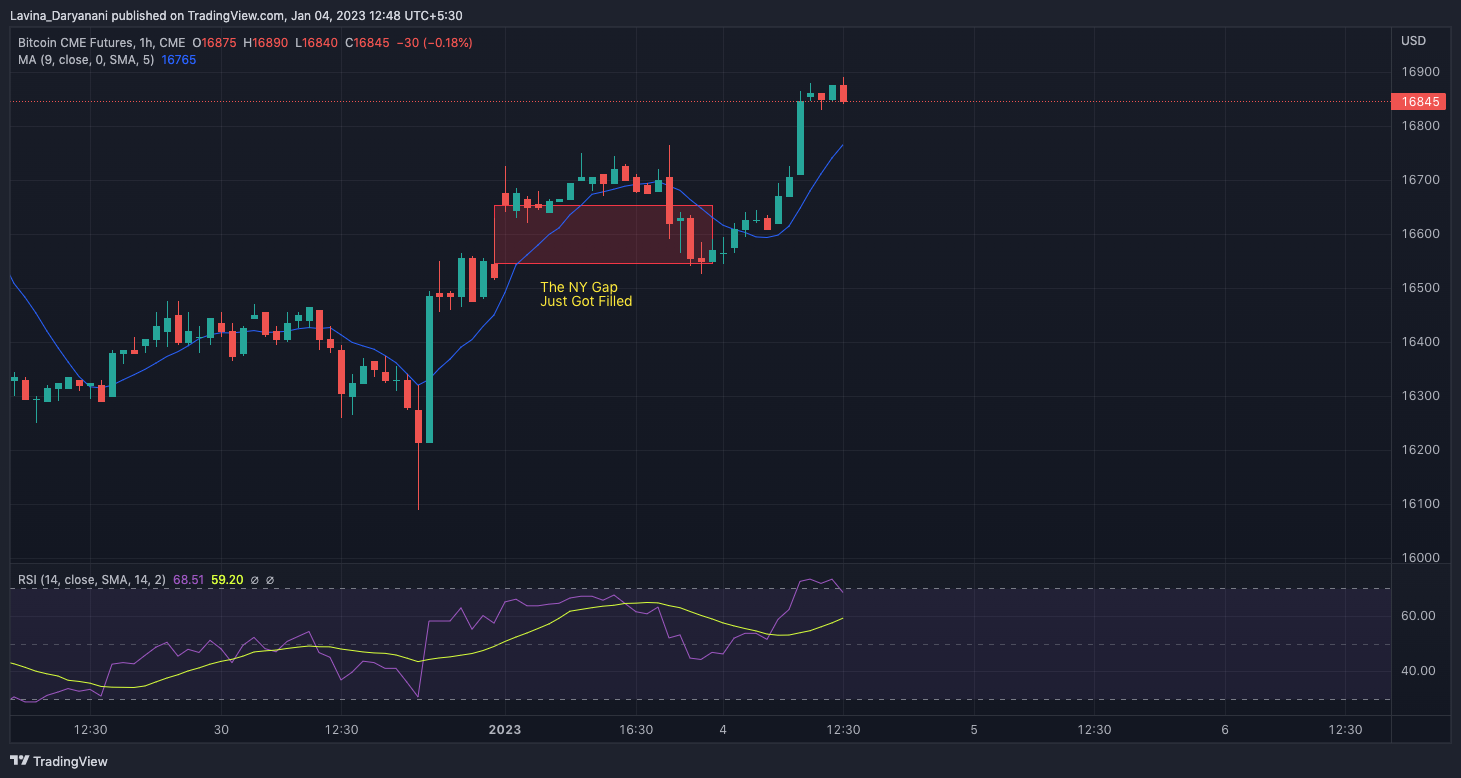 What Next?
Despite the recovery initiated, many from the space feel that the asset's price has not yet bottomed out. At this juncture, it is interesting to note that Bitcoin has an unfilled gap of around $9.6k-$9.7k from 2020. As a result, there are high odds of the price falling down to this level to do the unfinished job of closing the gap before heading higher.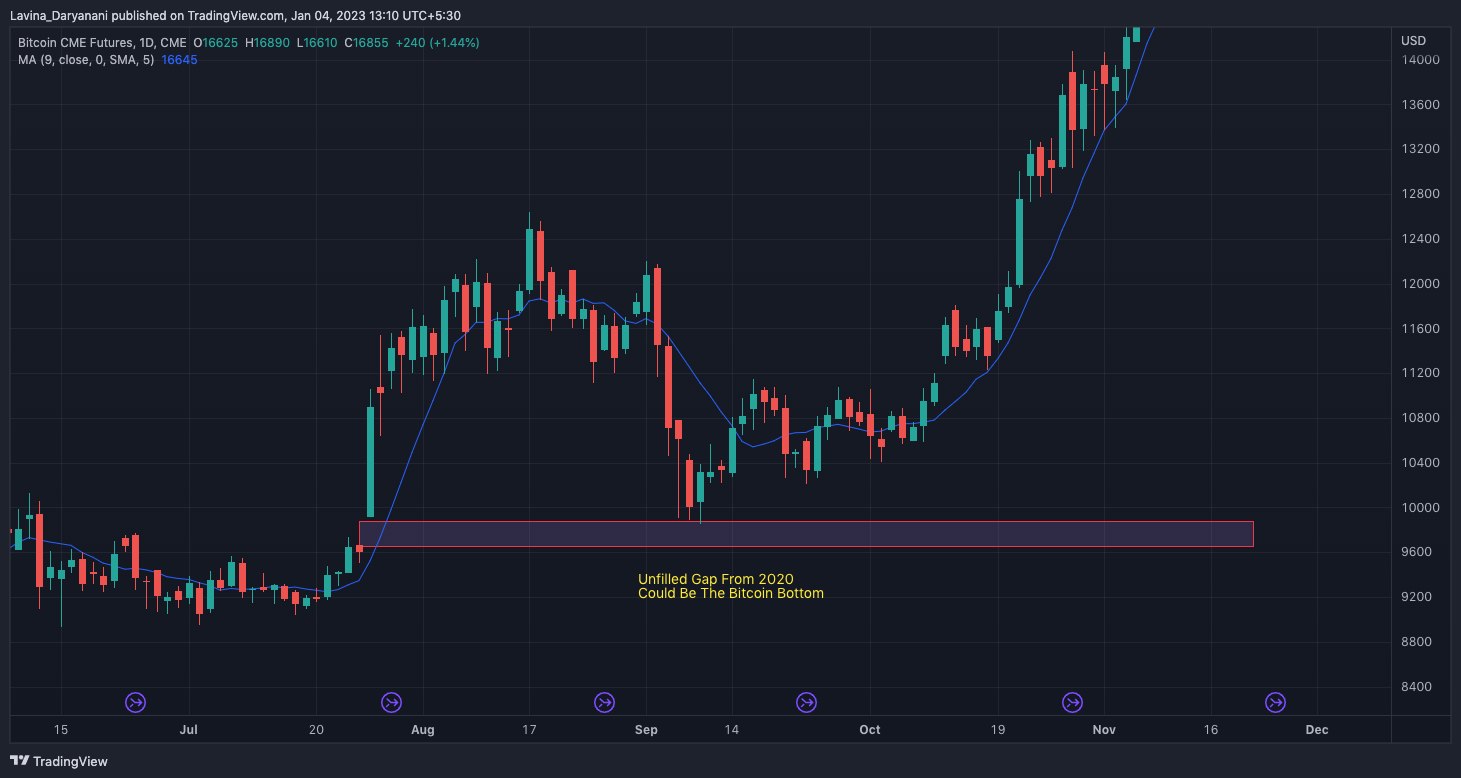 A recent Twitter poll conducted by analyst Benjamin Cowen pointed out that the community majorly expects the asset to bottom in the $10k-$15-k bracket. Of the 17.7k votes received until press time, more than 53% of them chose the said option. The rest remained divided. Even so, respondents were positive that the said CME gap will be filled by Bitcoin.
Another scenario that could later pan out during the year is the asset heading to $28k and $36k to eventually fill other gaps created last year. Either of the said level could perhaps be the high for 2023.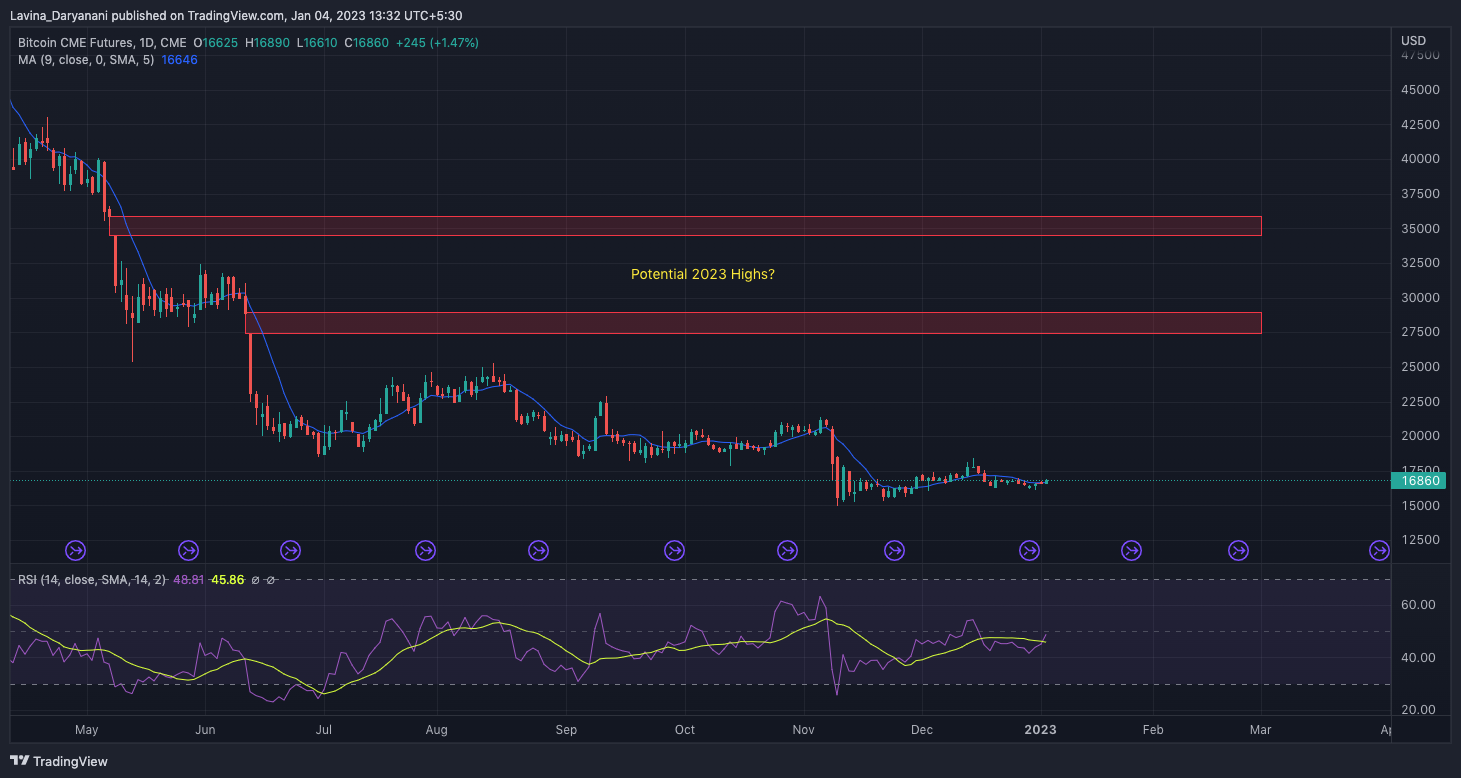 Technical and Fundamental Analyst 'Mikybull' is on the same page and expects something similar to materialize this year.