According to "EGRAG CRYPTO," XRP is still in its accumulation phase. However, the analyst claimed that the token has the potential to reach $50, in a rally he termed as "Valhalla."
The analyst used a color-coded indicator (Red, yellow, white, and green) to evaluate the fluctuations of XRP. According to Egrag's analysis, the token has to break through the lower yellow region, which stands in as a strong resistance level, to progress towards higher price levels. This area is located beneath the $0.73 region.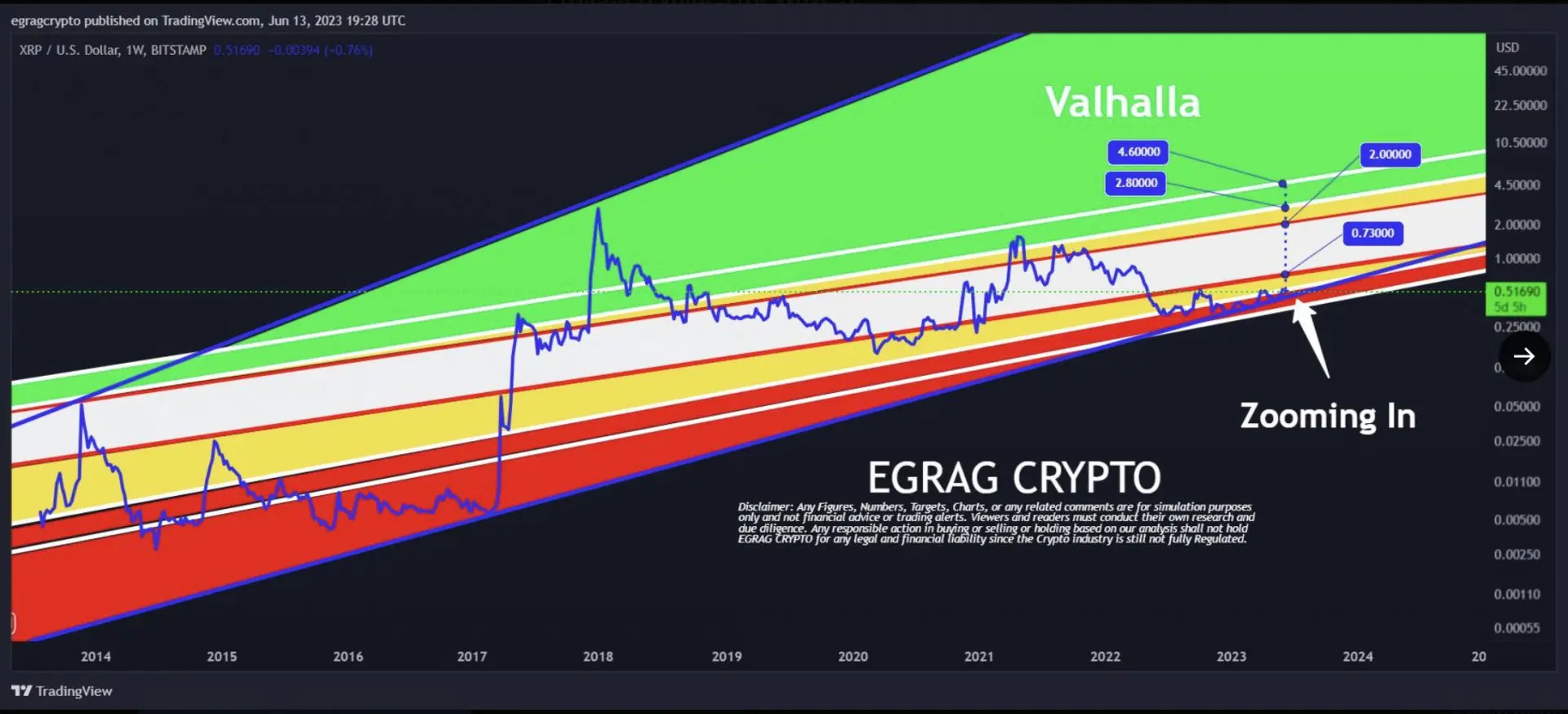 Egrag highlighted how crucial conviction is for XRP to enter what he refers to as the "white" area. This white region, which spans from $0.73 to $2, represented a region where the price of XRP might sharply increase. However, there is a chance of a slump up until the first quarter of 2024 unless XRP breaks past the resistance level (yellow region).
Egrag emphasizes that there is still a lot of room for XRP to rise toward the bottom of what he refers to as the "Valhalla region." He says that Wave 1 will be marked by such movement. The low end of the Valhalla region falls within the $2.8–$4.6 price range. According to Egrag, Wave 3 typically lasts 1.618 times as long as Wave 1, and occasionally even 2.618 times as long. Egrag offers two possible values for Wave 3 based on these projections: $12 and $50.
Can XRP realistically reach $50?
If XRP reaches $50, it represents a ~9600% rise. However, much of the token's gains are hooked to the SEC vs. Ripple lawsuit. A Ripple victory could potentially skyrocket XRP prices. Moreover, Ripple lawyer John Deaton believed that the SEC has a very slim chance of winning. The attorney, who represented XRP holders in the suit, believed that the token's price will begin to rally soon. He said that people who don't buy now will end up buying the asset for $1, and FOMO (fear of missing out) won't kick in until prices reach $2.
However, reaching $50 does not seem likely in the short term. Moreover, even in light of the Hinman documents, which is a central piece of evidence in the Ripple lawsuit, XRP fell 3.4% in the daily charts. Many were expecting the price of the asset to go up, but that was not the case. It is possible that the larger crypto market needs to cool down before XRP can make some serious moves. Nonetheless, Egrag does say that the Valhalla rally could happen after Q1 2024. At press time, XRP was trading at $0.512531, down by 0.2% in the last hour.