XRP made notable strides in the crypto market, leading to substantial gains. Within the last 24 hours, open interest on futures contracts linked to XRP exceeded $1.1 billion. This achievement marked another milestone, surpassing the $1 billion mark set the previous week and establishing a new record high for the year.
Open interest is the number of unsettled futures contracts. This has experienced a 21% increase since earlier this week. Among these positions, the largest share of about $459 million is held on the crypto exchange Binance. Bybit was next in line at $304 million and Bitget followed suit with $263 million.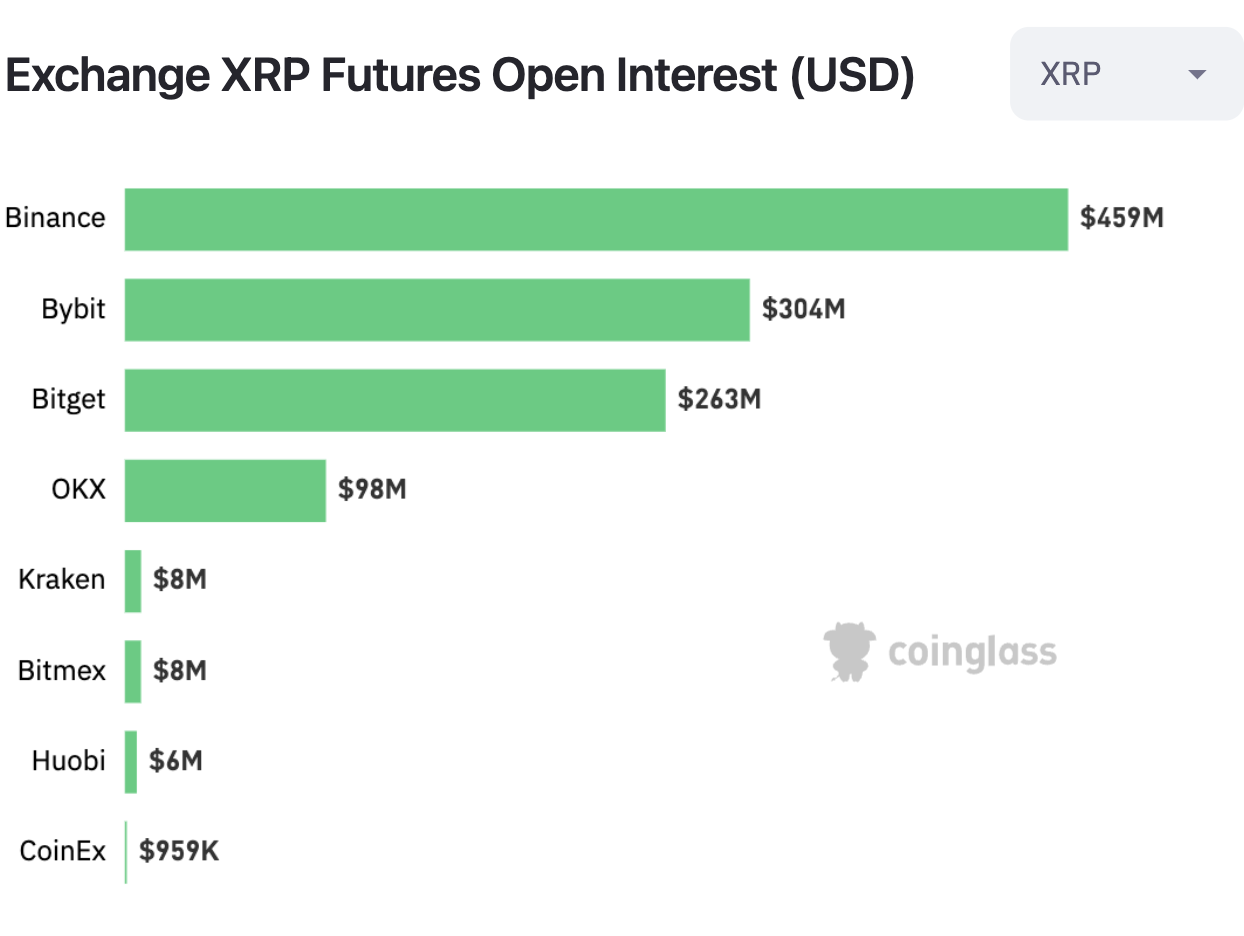 A higher open interest indicates a surge in investments or bets on various assets. This signifies the influx of new funds into the financial market. Typically, this suggested an expectation for the current trend to persist.
In parallel, the price of XRP experienced an astonishing surge of 67.42% in the past few days. At press time, the altcoin was trading at $0.7952, reflecting a 6.14% increase within a day. Furthermore, the asset's market capitalization rose to $41.82 billion, positioning it as the fourth-largest crypto in the market.
The current upward momentum observed in the XRP network is attributed to a recent ruling by a U.S. court, which stated that the sale of XRP on exchanges should not be considered an investment contract.
Also Read: US Judge Rules Ripple XRP is Not a Security
Is SEC causing more chaos than clarity?
French Hill [R-Ark.] and Dusty Johnson [R-S.D], two Republican members of the U.S. House of Representatives, voiced their dissatisfaction with the Securities and Exchange Commission's [SEC] approach to crypto regulation. In a letter addressed to SEC Chair Gary Gensler, they criticized the agency for relying on enforcement to regulate the market. They further alleged that the timing of the SEC's actions was deliberate, aiming to overshadow and undermine the ongoing efforts to establish comprehensive legislation in the crypto field. Addressing the Ripple lawsuit, they wrote,
"This approach does not result in compliance and customer protection, but instead creates further confusion, as demonstrated by the recent summary judgment."
Hill and Johnson noted that the actions of the SEC were hindering the progress of Congress. They pointed out that certain actions taken by the Commission seemed to be intentionally timed to align with relevant legislative activities in Congress. This calculated timing appeared to be aimed at causing maximum publicity and political impact.
Also Read: XRP Futures Faced $58 Million Liquidations After Ripple Win