XRP is facing a difficult time in the charts. It reached a monthly low of $0.91 on November 26th, as its market cap dropped down to $44.5 billion. While it remained 7th in the rankings, its market value might be dropping due to lack of positive sentiment. However, it may change in the short-term as few recovery signs were observed. XRP registered trading volumes of $3.3 billion over the past 24-hours.
XRP 1-hour time frame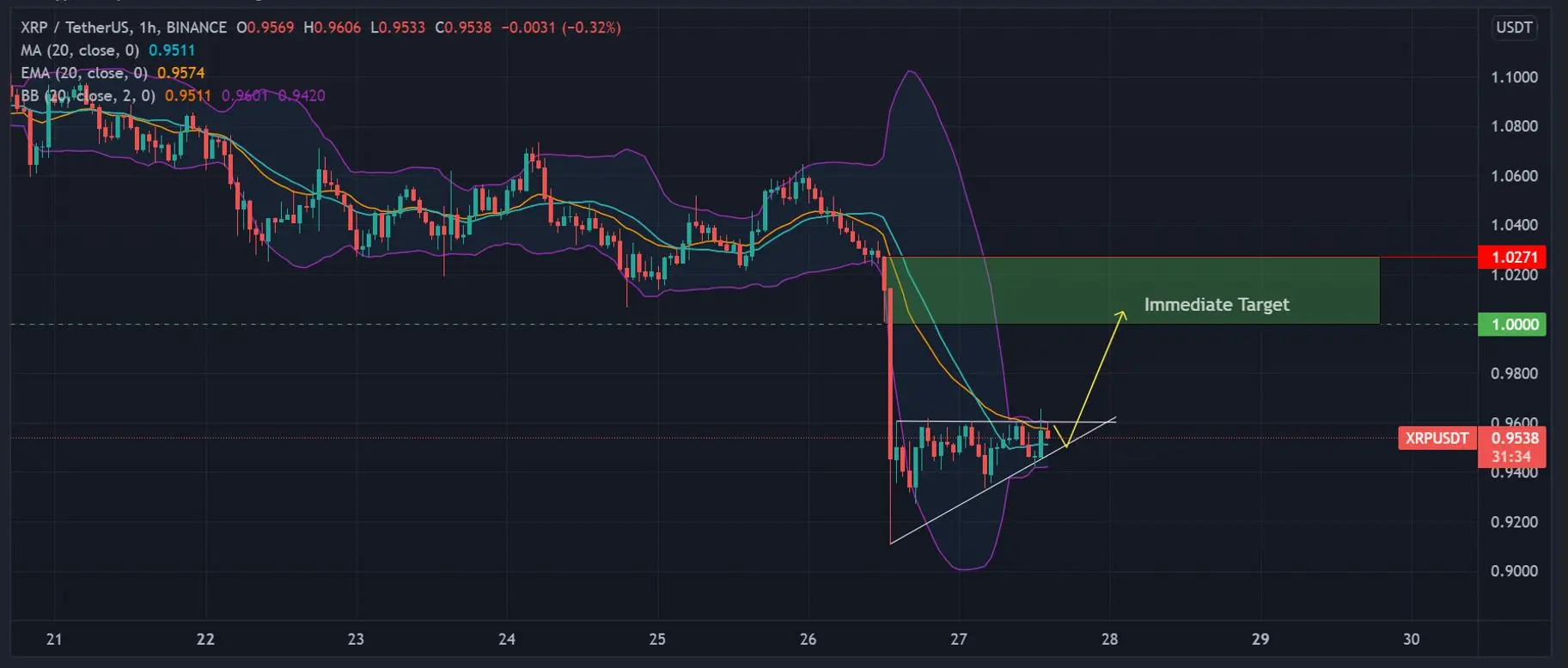 XRP reached a local bottom of $0.91 on 26th November, but it did not close a candle under the value. Over the past few hours now, it is consolidating within the trendlines of an ascending triangle. Ascending triangles are a bullish pattern and a breakout above the parallel trenline leads to a recovery trend. Above all, XRP is primed for an immediate recovery upto to $1.
For instance, a bullish crossover was observed between the Exponential Moving Average(orange) and Simple Moving Average(blue). In other words, the trend is already indicative of a short-term bullish recovery.
Moreover, Bollinger Bands are converging in the charts, which means volatility may explode for the token at any time. Therefore, considering it breaches above $0.95, the $1 price range is an immediate target.
Market Indicators


All the market indicators appeared bullish on the short-time frame. Relative Strength Index suggested rising buying pressure. The indicator completed its re-test at the oversold region and now buying momentum was increasing. MACD suggested a bullish reversal, as the MACD line(blue) completed a crossover with the signal line(orange).
Similarly, On-balance volume suggested that selling pressure is exhausted in the short-term. Present XRP holders are looking to hold at the current price range.
Whales are moving
With XRP's price hitting a local bottom, an XRP whale appeared to buy the dip. According to Whale Alert, close to $119 million worth of XRP moved to an unknown wallets from NEXO exchange. A total of 124,988,000 XRP tokens were moved in the process.
Overall, XRP may move towards $1 over the next few hours, as the trend and market conditions are favorable.