In a recent notice, Crypto exchange Coinbase announced it would no longer support Bitcoin Cash, XRP, Ethereum Classic, Stellar Lumen, and their associated networks. The crypto exchange cited the "low usage" of the said tokens for its decision.
However, Coinbase went on to clarify that the said call did not mean investors' existing assets would be lost. They clarified that any unsupported asset that users HODL will still be tied to their address(es) and be accessible via their Coinbase Wallet recovery phrase.
De-listings by prominent exchanges usually stir pessimistic sentiment amongst users. This time, however, that has not been the case. While Bitcoin Cash and Ethereum Classic noted minor gains of upto 1% over the past day, XRP and XLM registered appreciations in the 2%-4% bracket. As a result, the latter duo were trending on social platforms like Twitter.


How have the networks been coping?
In terms of most active chains from space, Ripple occupied the fourth position at press time, while Stellar Lumens ranked ninth. Over the past 24 hours, $659 million was settled on-chain on the former blockchain. The latter, on the other hand, fostered transactions worth $21.01 million on its chain. Fee-wise, Ripple earned $387.37 in the past day, while Stellar Lumens fetched $98.71.
Despite the Coinbase delisting, both the networks' have been coping well evidently. In fact, that was further visible in terms of their address activity as well. On Stellar Lumens, this metric saw a spike from 81.3k to 86.7k over the past day, while on Ripple, the number rose from 44.6k to 54.93.
Simply put, an address is considered to be active when it becomes a direct participant in a successful transaction. Conventionally, the higher both the number, the better, for it hints towards refining participation by traders and investors. Effectively, the latest uptrend flip seems encouraging.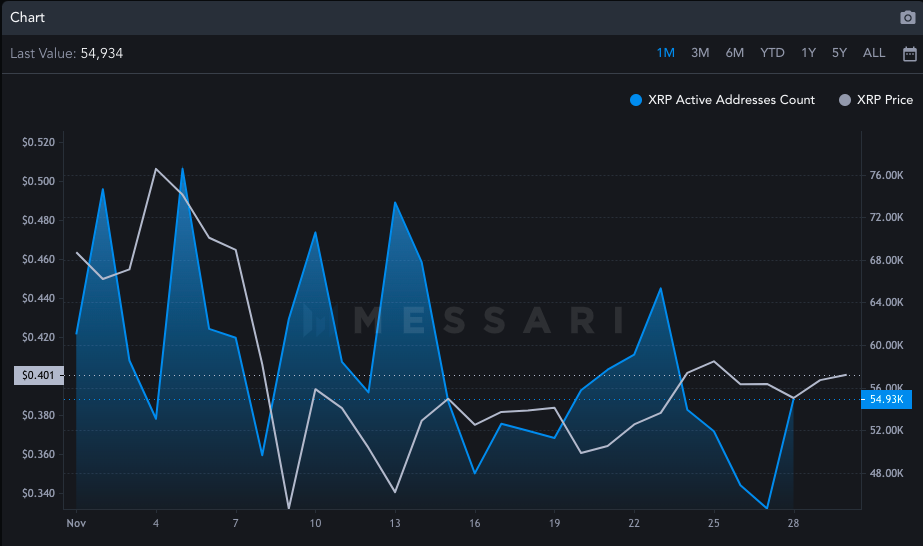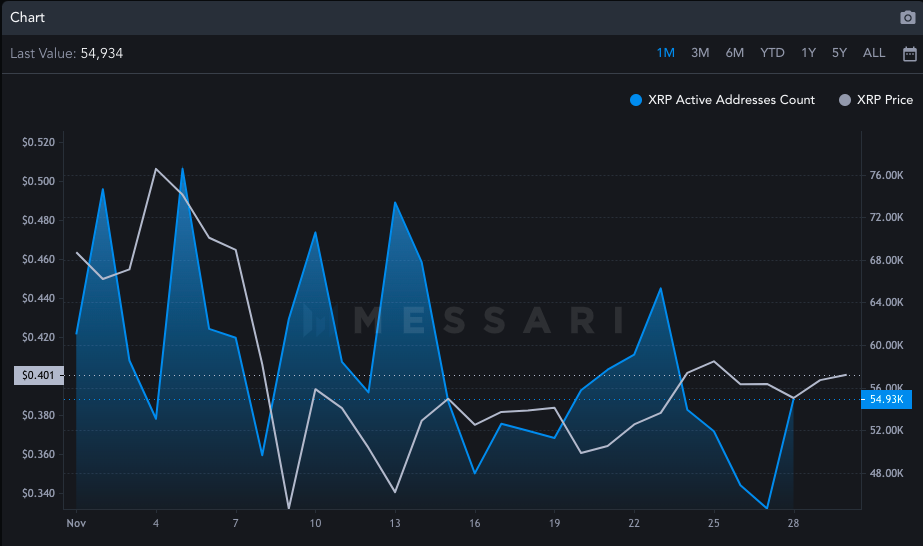 State of XLM, XRP investors
At the beginning of November, XLM created a local peak of around $0.12. Post that, however, it noted a free fall to $0.82. Since then, a slight recovery to $0.89 has been noted, but investors have not been in a very good state. In fact, the negative reading of the Sharpe Ratio [-2.15] was reaffirmed.
XRP investors seemed to be in a similar state. From November's local high of around $0.5, the asset has currently been trading around $0.4. Its Sharpe ratio reading of -0.78 suggested that investors have not been fetched with adequate returns for the risk borne by them.