The crypto-verse is home to thousands of cryptocurrencies. Zilliqa [ZIL], a small market cap crypto-asset veered below the spotlight following its 40 percent surge. While a couple of investors have been panic selling, a few others have been holding onto their ZIL hoping for a bigger pump.
The entire market was painted green following the Fed's interest rate hike. While Bitcoin [BTC] and other cryptocurrencies recorded dainty surges, Zilliqa pocketed a lot more. Just today, the altcoin soared to a high of $0.0977. This was courtesy of the 40 percent surge it witnessed. However, enduring a slight setback, ZIL was trading for $0.0889 with a 20 percent surge over the last 24-hours.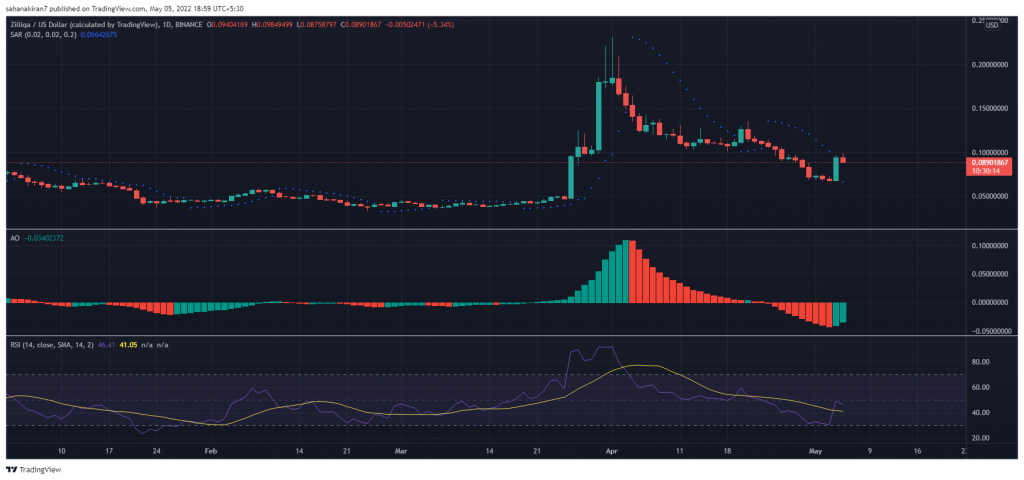 The one-day price chart of ZIL/USD still had a sense of bullishness. The Parabolic SAR indicator had just started forming a line of support below the Zilliqa candlesticks. This was followed by big bold green closing lines by the Awesome Oscillator. Both these indicators exerted bullishness in the market.
Additionally, the Relative Strength Index [RSI] indicator suggested that investors were selling their funds. The RSI marker veered below the 50 median lines into the sellers' zone. Towards the end of April, the altcoin was being oversold. Comparatively, its current level was rational.
Despite this sudden surge, the altcoin was still 65.34 percent down from its all-time high of $0.256. ZIL secured this high last year around the same time.
Zilliqa's weekly volume soars
Thanks to the asset's significant price surge, the social volume took off. Lunar Crush shared that Zilliqa was ranked No.1 in terms of social and market activity.
During press time, these numbers witnessed a boost. Zilliqa's social mentions soared by over 150 percent. The altcoin managed to secure 80.96k mentions on social media. Just today, Zilliqa was mentioned 8.08k times. The daily social volume was up by 163 percent.
Market Update
At press time, Zilliqa was dropping by 14% in the charts, and the market was collectively bleeding out. With a 38% increase yesterday, there is still a bullish presence, but bears are significantly taking over at press time, with the price free-falling in the charts.