The crypto market underwent a brutal crash during the late U.S. hours on Thursday, August 17. Bitcoin and Ethereum created lows around $25,100 and $1,550, respectively. Most other crypto assets also mirrored the bearishness. As a result, the aggregate crypto market cap slipped below the $1 trillion threshold and created a low of around $996.9 billion. A modest recovery was noted right after. However, bearish pressure was still prevalent at press time.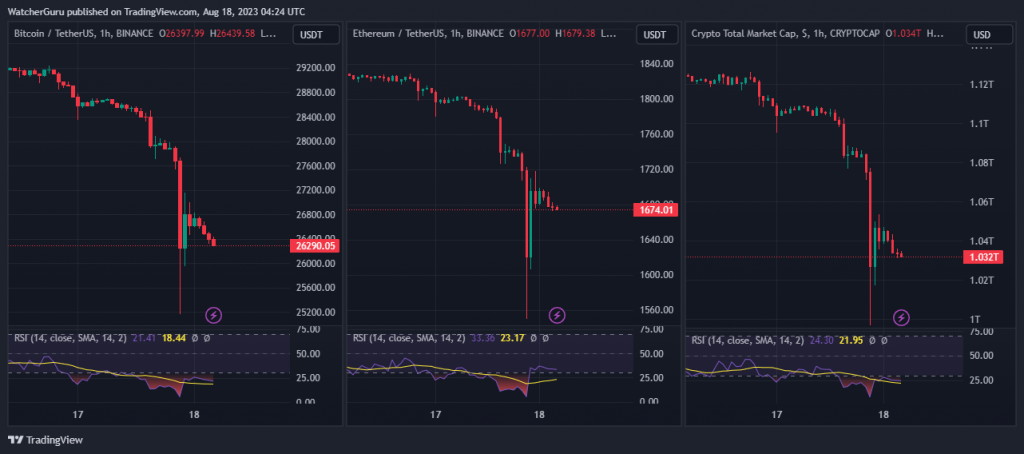 Also Read: 1005 'Virgin' Bitcoins Moved After 13 Years: Is Satoshi Back?
Owing to the sudden dip in prices, more than $1 billion worth of trades were liquidated over the past 24-hours. In fact, more than 75% of the trades were rekt in a window of merely 30 minutes. Individually, BTC trades worth $493.52 million and Ether trades worth $306.98 million were wiped out of the market.
Data from Coinglass revealed that the largest single liquidation order took place on Binance. An ETH/BUSD pair valued at $55.92 million was liquidated. Even DeFi exchanges were affected and went on to register "peak" liquidations.

Also Read: Can Bitcoin Realistically Cross $150,000-$180,000?
Did insufficient liquidity trigger Bitcoin's crash?
There have been several instances in the past where Bitcoin and other assets have registered long red candles in fairly short durations. The infamous flash crash of May 19, 2021, is one such instance. On that day, BTC lost 14.38%. The loss was much higher when viewed from the daily high to daily low perspective. From $43,584, the asset dropped to $30,000 in a single day.
However, that crash was preceded by a period where Bitcoin created a series of higher highs on the chart. In fact, a couple of weeks before the crash, the asset also scripted history by attaining a peak at $64,854. This time, the conditions were completely different. Bitcoin had been consolidating in a horizontal range for more than a month, trying to amass liquidity. However, it could not garner enough buying momentum, and eventually lost its support by around $28,585. This, in turn, triggered the crash.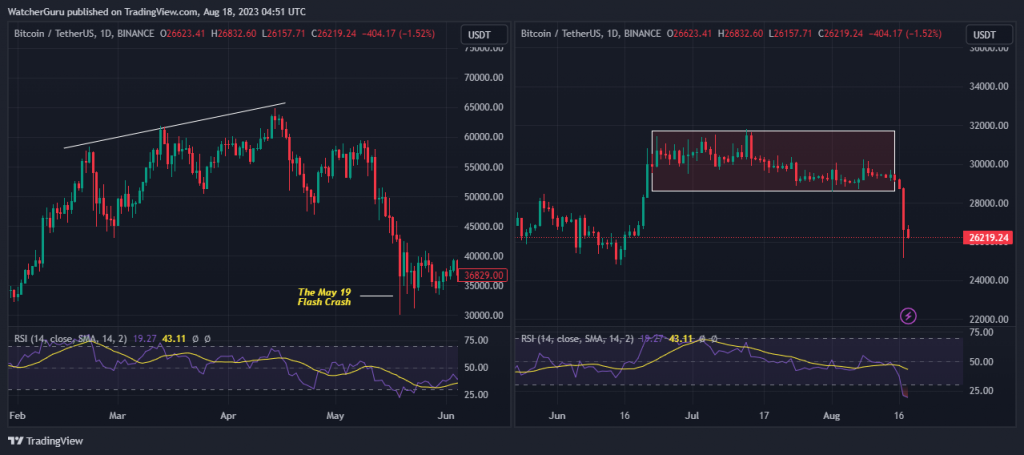 Also Read: Coinbase: Base Scammers Earn $2 Million Profit From 500 Scam Tokens