Nvidia has been all over the news over the past day. The company has been one of the biggest beneficiaries of the bubbling Artificial Intelligence [AI] hype. Nvidia recently shared a better-than-anticipated quarterly sales outlook. In fact, as reported by Watcher Guru, the company is nearing a trillion-dollar valuation.
On May 24, the shares of Nvidia were trading under $300. However it went on to almost claim $400 a day back. In effect, the world's most valuable chipmaker is now Wall Street's fifth largest company. It is only preceded by Apple, Microsoft, Alphabet, and Amazon.
Nvidia, specifically, forecasted its July-quarter revenue more than 50% above Wall Street estimate, driven by the AI frenzy. The company revealed that its sales in the three months ending in July will be around $11 billion, in contrast to the average analyst estimate of $7.18 billion. In fact, the company is also boosting its supply to cater to the rising demand of its AI chips that are used to power ChatGPT and other such similar services.
On one hand, NVDA investor bags have ballooned over the last couple of days. On the other, crypto investors have hardly fetched anything. Bitcoin's price has mostly been consolidating around $26k-$27k of late.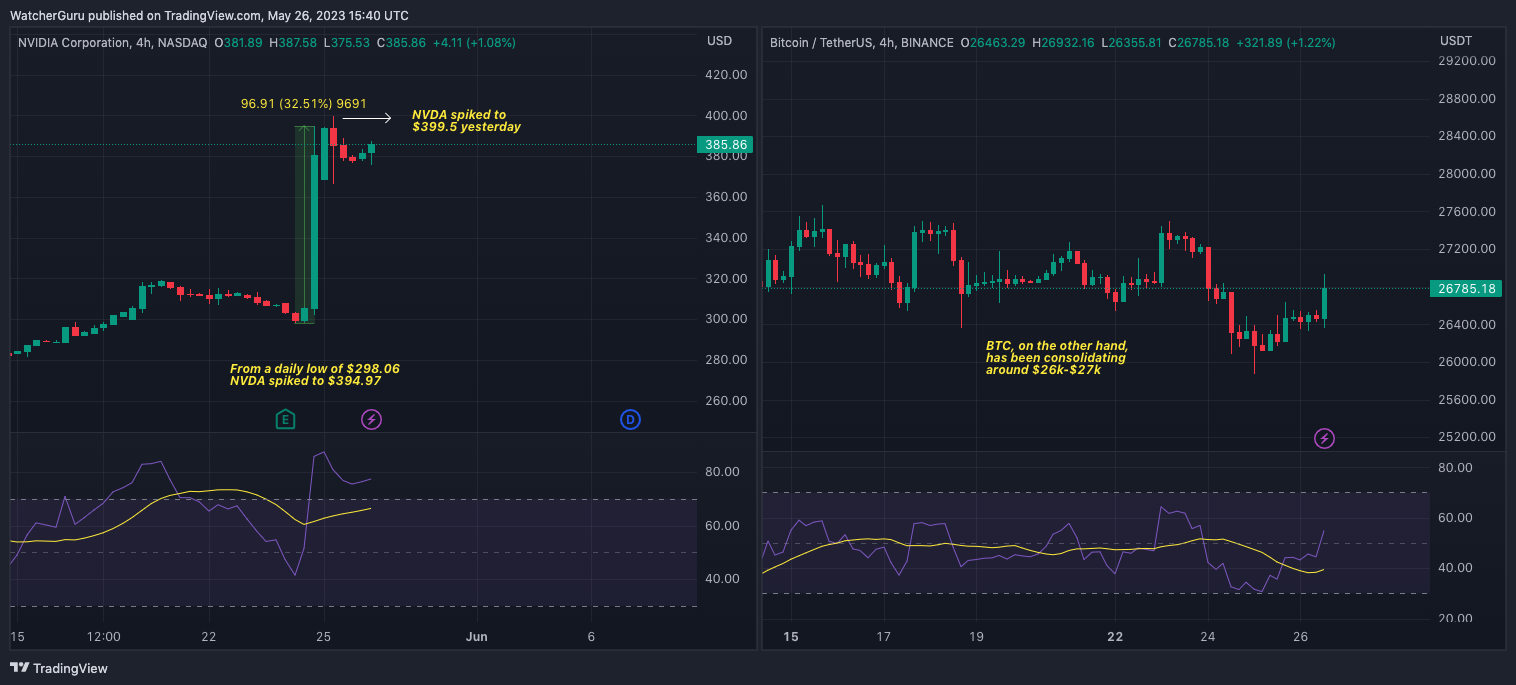 Zooming out
It's a known fact that the crypto market is currently in the midst of winter's aftermath. Asset prices have still not been able to find their feet, leading to a short-term choppy outlook. However, per most analysts, BTC is currently trading significantly below its fair price.
Drawing parallels with gold's valuation, JPMorgan strategists led by Nikolaos Panigirtzoglou recently wrote in a note,
"With the gold price rising above $2,000, the value of gold held for investment purposes outside central banks is currently valued at around [$3 trillion]. In turn, this implies a $45,000 price for Bitcoin under the assumption that Bitcoin equalizes gold in private investors' portfolios in risk capital or [volume]-adjusted terms."
Even though the odds are currently not in Bitcoin's favor, it should be noted that when zoomed-out, the king coin is the top performing asset. In the 10-year timeframe BTC, has fetched its investors 19,968% returns. In the same time period, NVDA is up by only 11,145%. Gold, on the other hand, has merely appreciated by 34%.
Last 10 Years
Bitcoin $BTC: +19,968%
NVIDIA $NVDA: +11,145%
AMD $AMD: +2,896%
Tesla $TSLA: +2,884%
Apple $AAPL: +1,168%
Microsoft $MSFT: +1,047%
Netflix $NFLX: +1,013%
Facebook $META: 908%
Amazon $AMZN: +780%
Google $GOOGL: +459%
S&P 500 $SPY: +202%
Gold $GLD: +34%
US CPI: +31%

— Charlie Bilello (@charliebilello) May 25, 2023
Also Read: CBDC: Brazil's Central Bank Picks Visa, Microsoft & 12 Others for Pilot