After noting a substantial hike during the first three weeks of 2023, the cryptocurrency market has now stepped into its correction phase. Top assets like Bitcoin and Ethereum have shed 2%-4% of their value over the past day, while meme-coins like Dogecoin and Shiba Inu have depreciated by at least 6% each in the same time frame. As a result, the global crypto market cap was trading 3% lower, at the brink of $1.01 trillion, on Wednesday.
As far as the largest meme-coin is concerned, quite a few on-chain red flags were observed. Take the case of active addresses. As shown below, the reading has been on a downtrend since Jan. 19. From the YTD high of 57.6k created that day, it is already down to 48.32k. In fact, the current number is at its lowest point since early December 2022.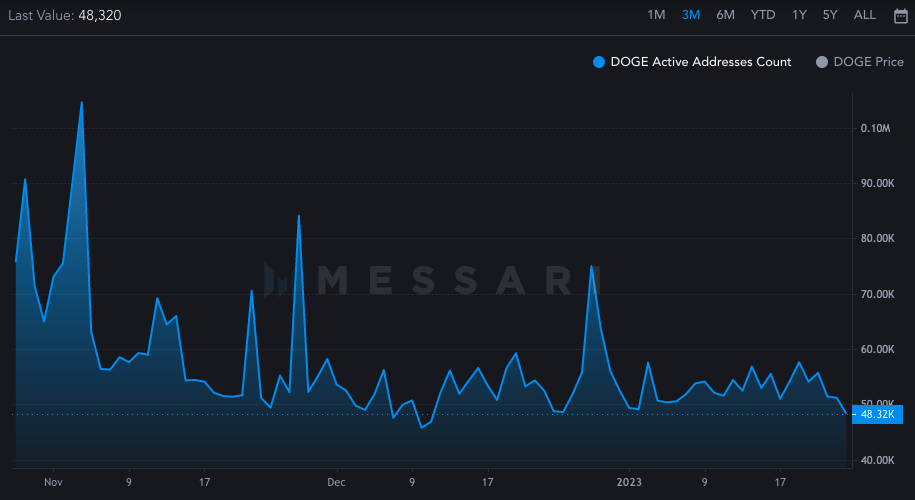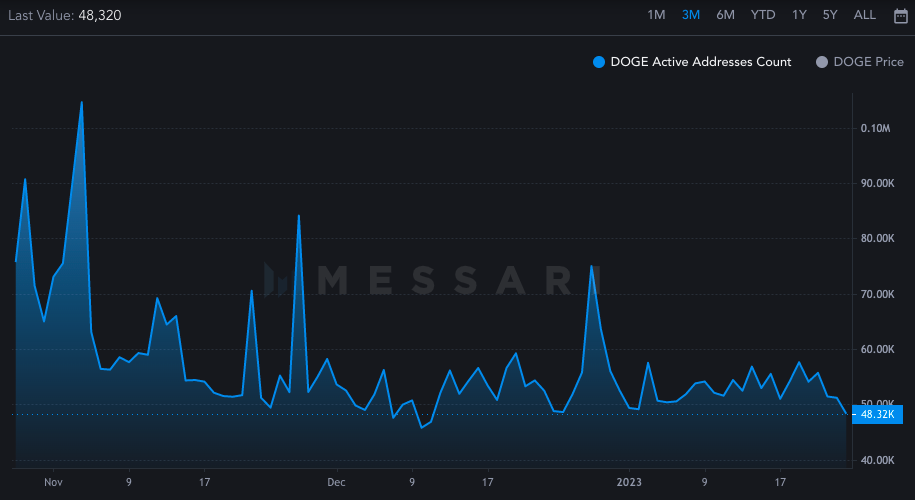 Also Read: Expert Asks Shiba Inu, Dogecoin, Bonk Investors To Be 'Especially Cautious'
The effect of the drop in the number of direct participants, i.e. active addresses, was visible with real volume. The state of this metric has mostly remained flat and has been hovering around the $100 million threshold over the past few weeks. The same brings to light the disinterest of traders and investors.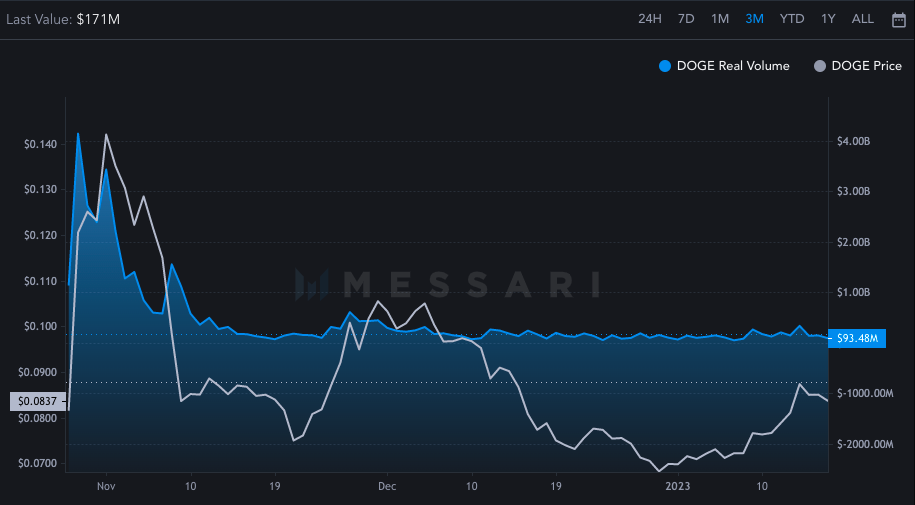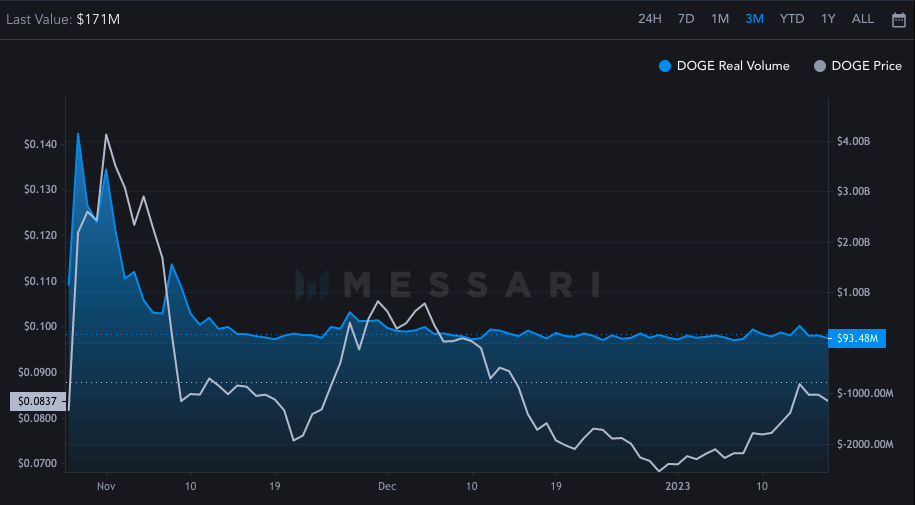 Also Read: Dogecoin Thrives Amidst 91% of 'Dead Coins' Since 2014
Is the selling pressure in the Dogecoin market rising?
Dogecoin's MVRV ratio, on the other hand, has been on an uptrend of late. When compared to Dec. 31's low of 0.79, the value of the same has already risen to 1.04. Conventionally, an uptrend on this front is not favorable because it indicates that the market cap is outpacing realized cap. In simpler terms, it means that the motive for selling in the market is increasing.


At press time, Dogecoin was trading at $0.08458, slightly above its MA [$0.08451]. If it manages to establish the same support, it could break past the 61.8% Fib level and advance toward $0.095.
However, if the current market conditions prevail, i.e. if the broader market correction extends and the selling pressure in the Dogecoin market continues rising, then a brief correction to $0.776 can be expected over the short term.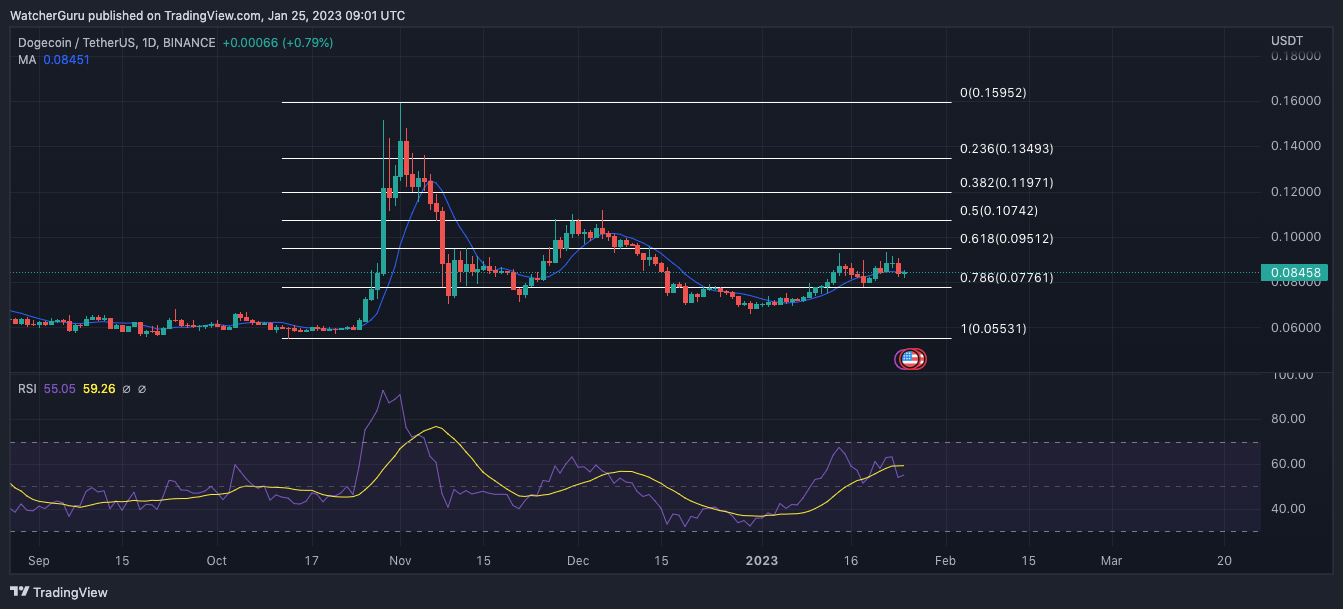 Also Read: Cardano's Market Cap Surpasses $11B To Flip Dogecoin