Scams and hacks have long been familiar occurrences in the crypto sector. Nevertheless, each fresh scam or hack manages to astonish the industry with its scale and approach. Most recently, an individual holding crypto became a victim of a phishing scam, leading to a loss of $4.46 million.
The blockchain sleuth PeckShield uncovered this fraudulent activity. They exposed that a substantial $4.46 million in Tether [USDT] had been withdrawn from a wallet linked to the Kraken cryptocurrency exchange. These assets were subsequently sent to an address ending in "ACa7." It was later determined that this wallet was controlled by an individual engaged in a phishing scam. These funds were on the move. Scam Sniffer, a firm similar to PeckShield, noted that the funds had been sent to an address linked with a fraudulent Coinone crypto-mining exchange.
Also Read: Trezor Asks Users to Stay Cautious of New Phishing Attack
USDT-related scams are on the rise
It seems like scams of this nature are on an upward trajectory. Scam Sniffer went on to reveal a Dune Analytics dashboard created by a user. This noted that incidents like these have resulted in scammers making around $337.1 million in USDT in total. It has affected up to 21,953 individuals. The dashboard further read,
"These scammers are onboarding more people to crypto than any legitimate crypto organization. All in order to steal their money."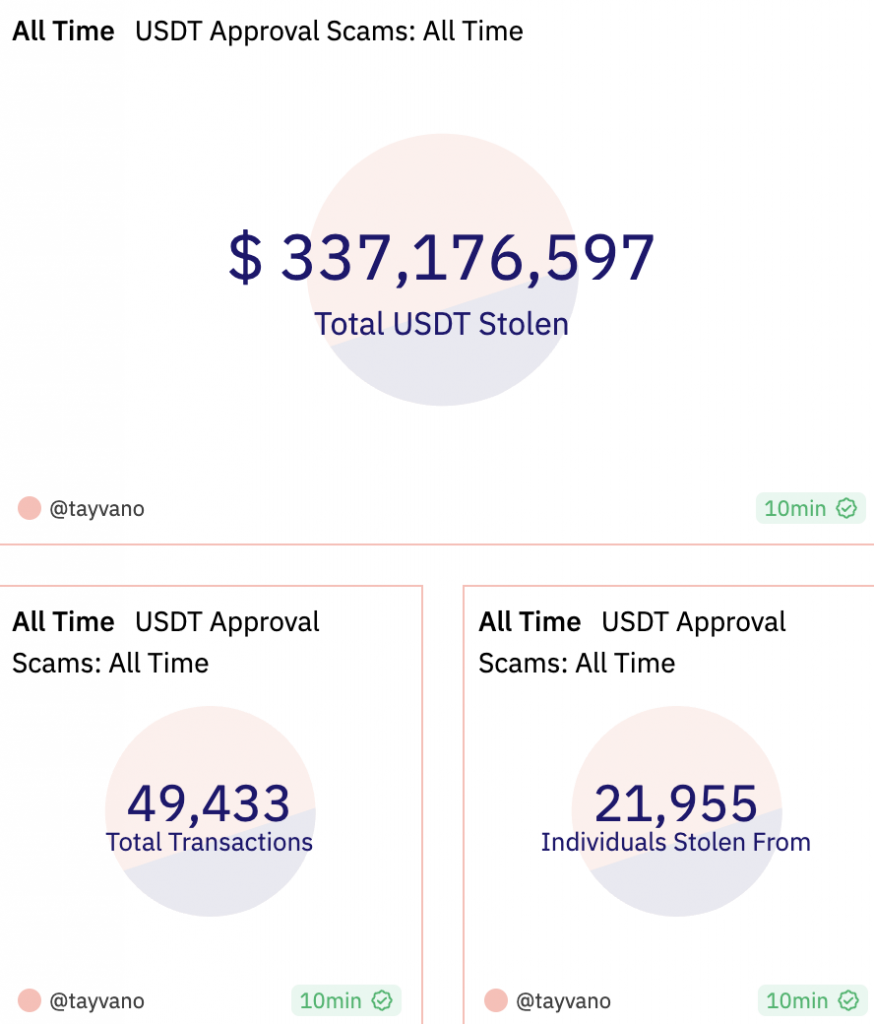 It's important to highlight that, in 2023, phishing scams will rank as the fourth most common type of fraudulent activity. In a recent example, just the previous month, a scammer executed a zero-transfer phishing attack and successfully collected $20 million worth of USDT. Furthermore, the most recent scam involving USDT aligns with Tether's decision to recommence offering its stablecoin to customers. This comes after a hiatus of under a year. Right now, the increasing effect of scams in the industry remains critical.
Also Read: Tether's USDT Stablecoin Has Peg Stability Issue, Says Analyst