According to the data available on WhaleAlert, 40 million XRP tokens worth around $14.2 million have been transferred to exchanges. The transfer took place on the 27th of July at 21:45:40 UTC. The wallet behind the transfer now has less than 100 XRP tokens.
The wallet has made several transactions on centralized exchanges. The transfers amount to 5-150 million XRP. The movements follow a pattern that is similar to those of service providers.
Moreover, XRP has witnessed a lot of whale activity in the last 24 hours.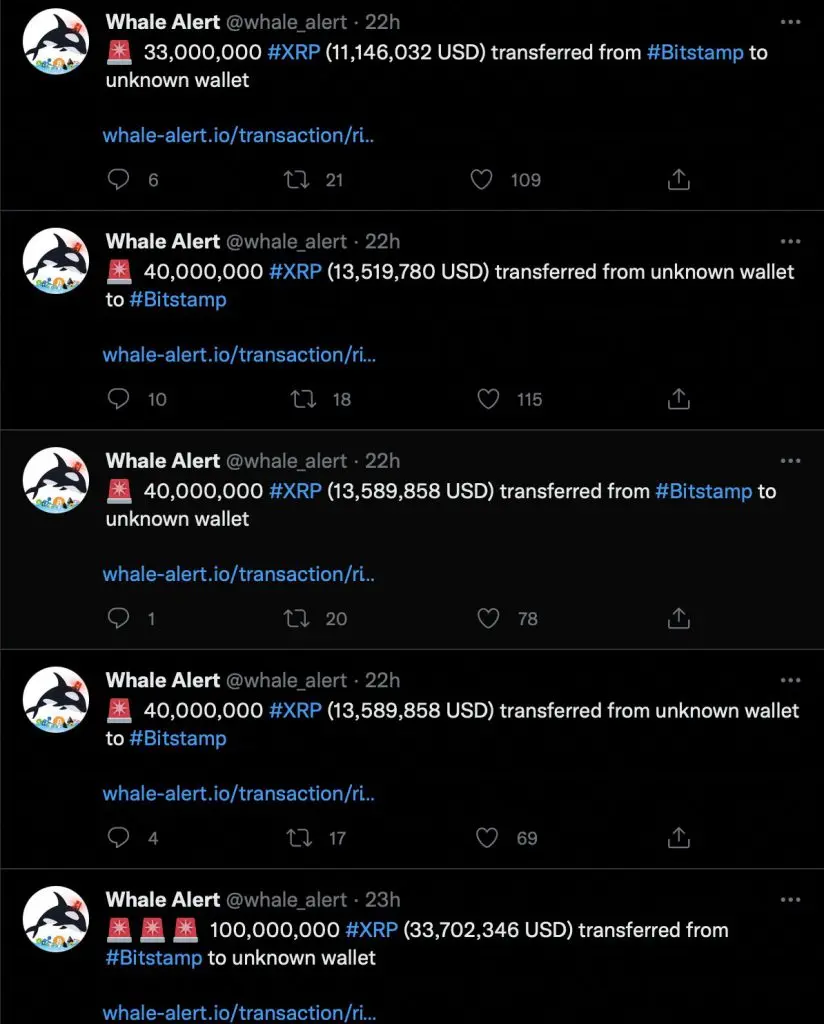 The most recent transaction involved the movement of 110 million XRP tokens from a different anonymous wallet. Nonetheless, the movements are similar to the previous whale wallet.
Why the large movements of XRP?
If the transfers are not of some service provider, it is possible that the whales are anticipating the results of the SEC-Ripple lawsuit. Many have pointed out that the results of the lawsuit might be announced sooner than anticipated. The verdict most likely will have an impact on XRP. If the verdict goes against Ripple, the token might get labeled as a security. Whales might be on the edge about the court's decision. Hence, they might be waiting to make their moves post-verdict. We can expect either a pump or a dump, depending on the same.
However, in an interview with Axios at Collision 2022, Ripple CEO Brad Garlinghouse said that if XRP was considered a security, it would be so only in the United States.
Garlinghouse stated,
"The SEC only has jurisdiction in the United States, and in some ways … How the world is operating right now is as if the case has been lost."
Garlinghouse also highlighted that most exchanges do not allow XRP trading in the U.S. He also thinks that Ripple losing the case would not change anything. Calling the situation a "status quo."
Nonetheless, the CEO does not think that Ripple will be on the losing side of the lawsuit.
He thinks so because,
"I'm betting that because I think the facts are on our side. I'm betting that because the law is on our side."
At press time, XRP was trading at $0.353537, up by 3.5% in the last 24 hours.