Judge Torres has seemingly handed Ripple and XRP HODLers a win via her latest ruling. She did so by denying the SEC's motion to revoke amici status and bar John Deaton from further proceedings. Deaton along with other XRP HODLers can now file an application to raise concerns about the SEC's expert at the summary judgment.
Also Read: Ripple vs. SEC: XRP community "looove(s)" the latest court ruling
Additionally, Attorney Jeremy Hogan also outlined how another one of the SEC's gambit has failed. And by attacking Deaton personally, per the attorney, the agency has self-opened the door to the filing of "dirty laundry."
Even though amici may file an application to brief concerns with SEC's expert at the summary judgment, it should be noted that they cannot participate in any expert challenge at the moment. Moreover, Deaton feels the judges have been quite unbiased with their rulings. Taking Twitter to acknowledge the same, he said,
"The XRPCommunity needs to continue to appreciate and respect the two judges assigned to this case. Judge Netburn has been neutral and fair to both sides during discovery. Judge Torres' decision is extremely fair and just (even though she technically denied my immediate motion).
Evidently, a lot of chatter w.r.t. the same has been going on among community members, and at press time it was noted that 'Judge Torres' was trending on Twitter. In fact, a particular user went on to claim that she's now "punching her ticket for a front row seat."

XRP HODLers making noise alongside
Now, the latest ruling has definitely rejuvenated the spirits of XRP HODLers. Coincidentally, they've also been making a lot of noise on-chain. Of late, XRP has had more than 240k addresses interact with each other on the network, the highest in almost 2.5 years. Elaborating on the same, Santiment tweeted,
"XRP Network has just hit a huge milestone. The amount of unique addresses currently interacting on the network has exceeded 247k in just a 4-hour window. This is the highest spike recorded since February, 2020. New XRP addresses created remain steady."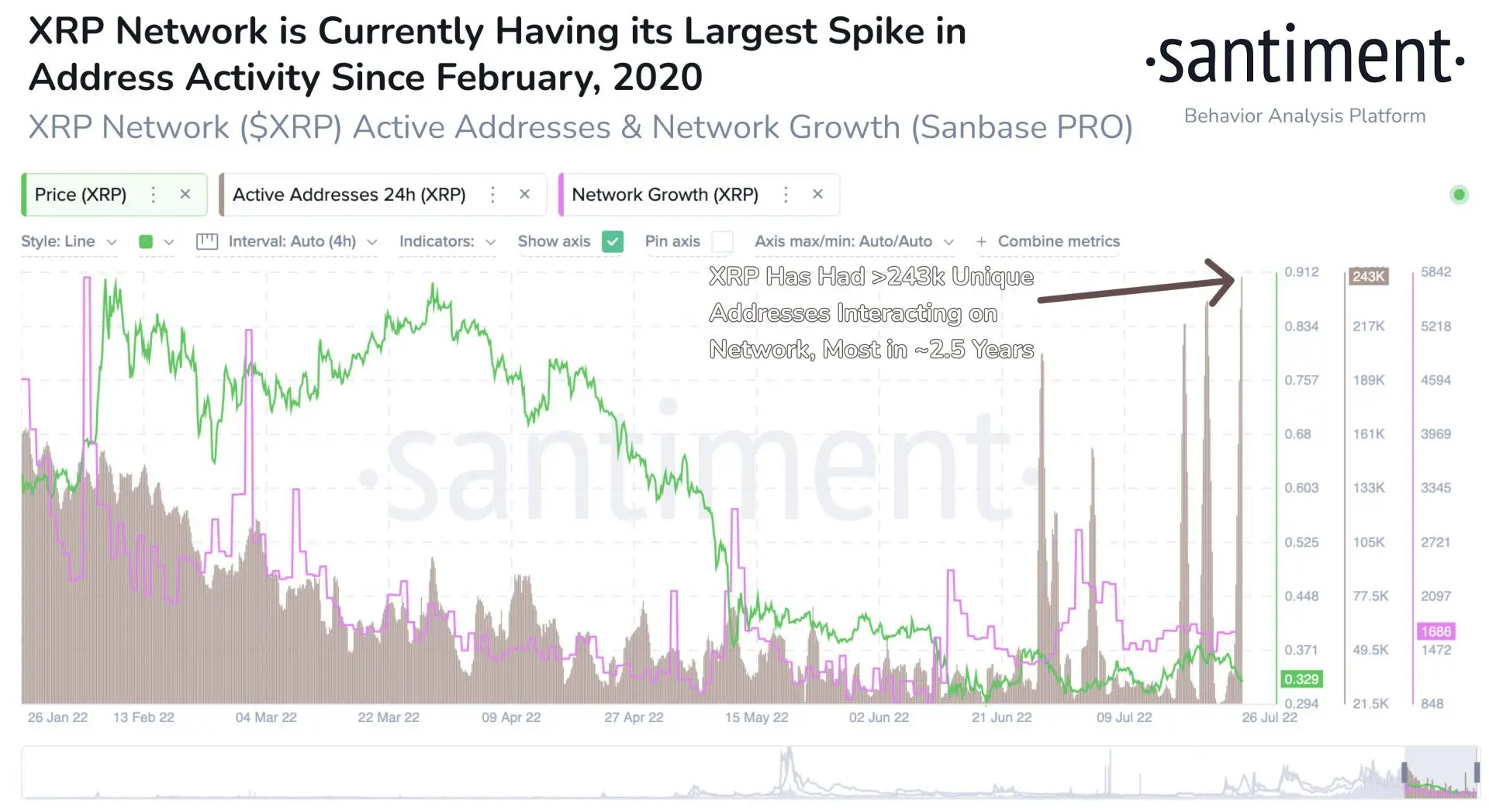 Interestingly, this puts Ripple ahead of other top networks Cardano and Dogecoin on the network activity front. Ripple's said peers had only 55.8k and 91.9k addresses active respectively at press time.