Of late, several crypto companies have been distancing themselves from Silvergate. A couple of days ago, FTX debacle survivor LedgerX stopped receiving domestic wire transfers from Silvergate. It reportedly told its clients to send funds to Signature Bank instead of the embattled lender.
Right after, Coinbase announced that it was no longer accepting or initiating payments to or from Silvergate. It cited recent developments and "an abundance of caution" for doing so. Parallelly, crypto exchange Gemini also posted a similar announcement on Twitter.
Crypto hedge fund in talks with Swiss banks
Bloomberg revealed on Friday, Mar. 3, that Digital Asset Capital Management is the latest company to steer away from Silvergate. Notably, the crypto hedge fund used the bank's "round-the-clock, real-time network" to move funds to and fro from exchanges. Digital Asset Capital Management has around $400 million worth of assets under management and is now looking to Swiss banks to help fill the void created by Silvergate.
In an interview with Bloomberg, Richard Galvin, the Co-Founder at Digital Asset Capital Management said,
"There are some banks that handle crypto transactions, but they are not crypto-focused, unlike Silvergate. It might take some time to find a banking partner. We're speaking to some Swiss banks."
Also read: Over $200M Worth of Crypto Futures Liquidated Post Silvergate Crash
Without specifying the names of the banks, the executive pointed out that the concerns pertaining to Silvergate have "raised the difficulty level" of transferring cash to crypto exchanges. He added that now it might take longer to move funds as Silvergate facilitates quick transfers between accounts, exchanges, and OTC trading desks. Affirming that the hedge fund is shrinking its deposits at the embattled bank, Galvin said,
"We were already taking steps proactively to reduce our deposits in Silvergate and find new bankers."
The Bloomberg report pointed out that Sygnum Bank AG and SEBA Bank AG were two of the most prominent Swiss banks with toes immersed in the digital-asset sector. After noting a 57.7% decline in just one day, Silvergate's stock closed at $5.72 on Thursday. During the pre-market hours on Friday, it was down by an additional 3.6% and was hovering around $5.51.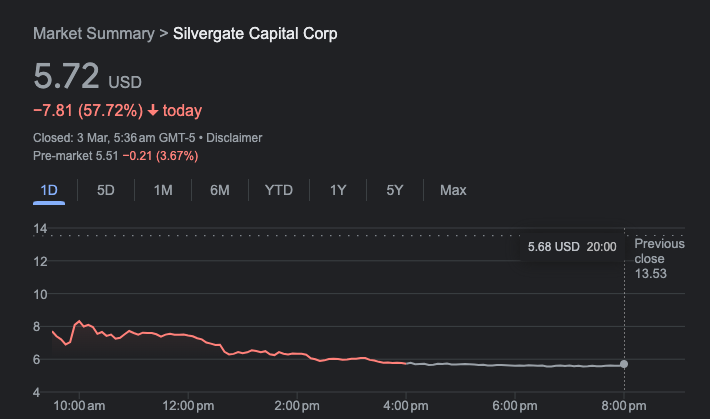 Also Read: Signature Bank to Reduce Crypto-Tied Deposits by $10 Billion