Blockchain analytics firm Nansen revisited suspicious on-chain activity between crypto exchange FTX and trading firm Alameda Research in a new report on the lead-up to FTX's implosion.
Analysts spotlighted over $4 billion worth of FTT tokens transmitted between FTX and Alameda from late September up until early November 2022. This period was just before FTX froze withdrawals.
The continuous FTT flows represented by far the largest volume of tokens exchanged between the two intertwined companies founded by Sam Bankman-Fried.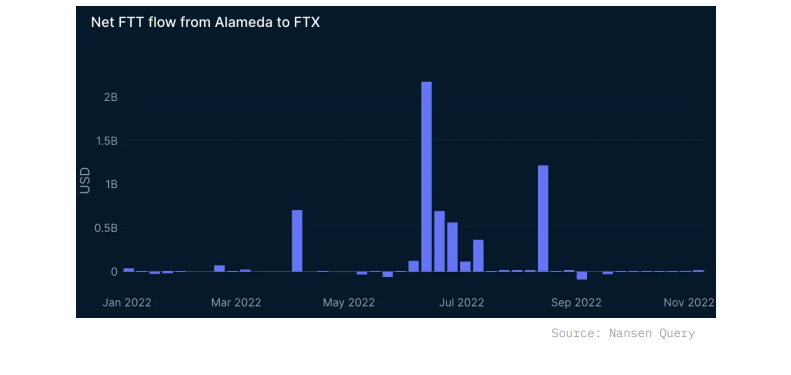 On-chain data shows $4B+ FTT token shuffling between bankrupt firms
This on-chain data underscores the dangerously close relationship between FTX and Alameda that ultimately catalyzed the catastrophic contagion.
The report also noted Alameda's FTT-heavy balance sheet, with FTX holding around 80% of the total FTT supply. This lopsided dynamic allowed the entities to prop up each other's finances.
Additionally, Nansen tied the $4 billion in FTT shuffling to loans Alameda reportedly took out using FTT as collateral. This link reveals the magnitude of Alameda's reliance on sister company FTX for financing.
Also read: SEC Asks Judge to Deny Coinbase Motion to Dismiss its Lawsuit
In totality, the on-chain evidence depicts a conspicuous degree of co-dependence and resource shuffling between the two Bankman-Fried-led firms.
While the activity was hidden in plain sight on-chain, observers failed to connect the dots before the house of cards collapsed. The saga underscores the importance of blockchain analytics in detecting financial manipulation.