Despite the recent rise in major altcoins in the last 24 hours, on-chain analytics startup Santiment believes the crypto market is still underbought.
On Tuesday, Bitcoin and other cryptocurrencies rose, reversing a recent decline. On Feb. 15, Bitcoin hit an intraday high of $44,180, Ethereum broke the $3,000 barrier, while altcoins climbed between 3% and 10%.
Several altcoins, including Cardano, have entered the green "Opportunity Zone" zone, according to the on-chain analytics firm, as average trading returns have decreased across the board. Trader earnings have plummeted as a result of the current volatility in the crypto market, as most coins have fallen from their 2021 highs.
Is Cardano underbought?
In recent months, the Cardano (ADA) network has achieved many milestones, including recently surpassing Bitcoin and Ethereum in terms of transaction volume. Despite the improvements made with network growth, one leading crypto analyst believes ADA is still undervalued.
Cardano (ADA) was only introduced to the cryptocurrency market in 2017. Despite this, the coin has continued to expand steadily. ADA reached an all-time high of $3.10 in September 2021, however that was the last time the price motion was noticeable for a long period. Despite the network's many updates in the months that followed, the ADA token's value remained underestimated. 
According to Santiment's Market Value to Realized Value (MVRV) indicator, which was provided by crypto expert Ali Martinez, Cardano appears to be undervalued at recent price levels. In a tweet, the cryptoanalyst said that Cardano has not been this discounted since the March 2020 market meltdown, according to the (MVRV) indicator.
Is this an altcoin season? 
As per the data on messari.io, altcoins seem to be rallying with Bitcoin. It's Altcoin Season if 75% of the Top 50 coins outperformed Bitcoin in the previous season (90 days). BTC has been hovering in the $42K area for some time now, whereas altcoins have already been gaining a lot of traction. Moreover, Bitcoin witnessed its highest MPI since April 2021, which is also an indicator of the miners' negative sentiment with regards to BTC. With Ethereum back at $3K, it could mean that the other altcoins will follow suit, as they usually do.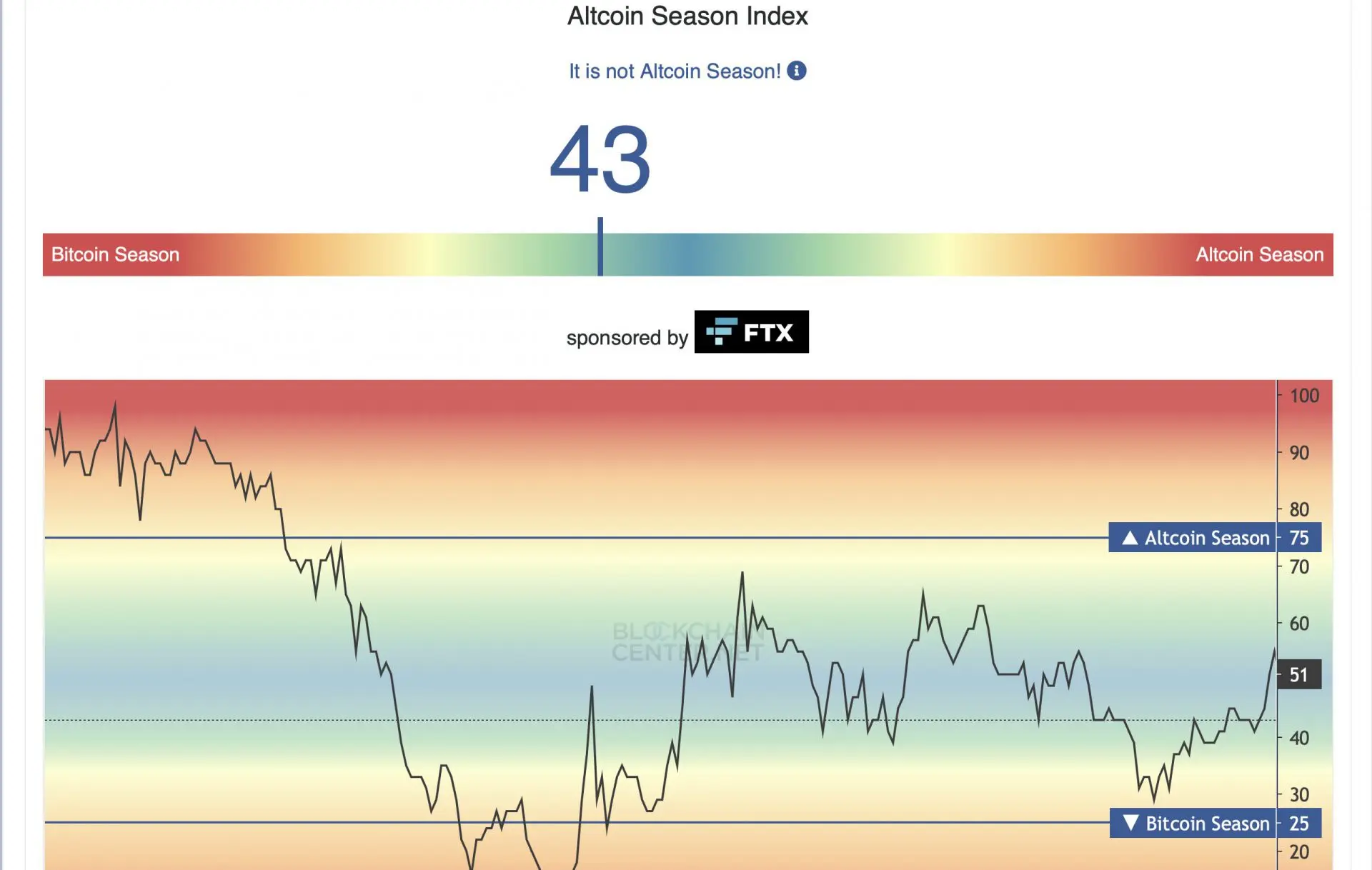 However, to have a concrete picture of whether we are in an altcoin season, we would require the trends to become a little more clear, which presently they are not. The markets are still pointing towards being in a Bitcoin season. This is also paralleled as per the data from BlockchainCenter, which is currently inclining towards Bitcoin season. While BTC is projected to continue to rise on the chart in the coming time, alts may need to take a back seat until Bitcoin's momentum switches to them.