The cryptocurrency markets experienced a flash crash on Friday after Bitcoin fell 9% and Ethereum by 6%. BTC's ascend was rejected at $25,000 and ETH at $2,000. The crash made several leading cryptos fall double digits within minutes making investors panic about an impending bear run.
However, the markets briefly turned to green on Monday sending signals of recovery. Crypto analyst Justin Bennett predicted that the recovery might be a bull trap, as the markets have more chances of heading south than north. Bennett also gave out an Ethereum price prediction warning investors that bad days might be ahead.
Also Read: Why is Ethereum Rallying This Month: ETH Price Rise Explained
Ethereum Price Prediction
Analyst Justin Bennett has predicted that Ethereum could face a brutal crash by the end of 2022. According to him, ETH could reach a low of $300, as various global factors could pull the price of cryptocurrencies down.
He shared a chart suggesting that Ethereum fell to triple digits at $960 in June without a global recession. The analyst warned that a recession could be official this year and ETH's price could go helter-skelter.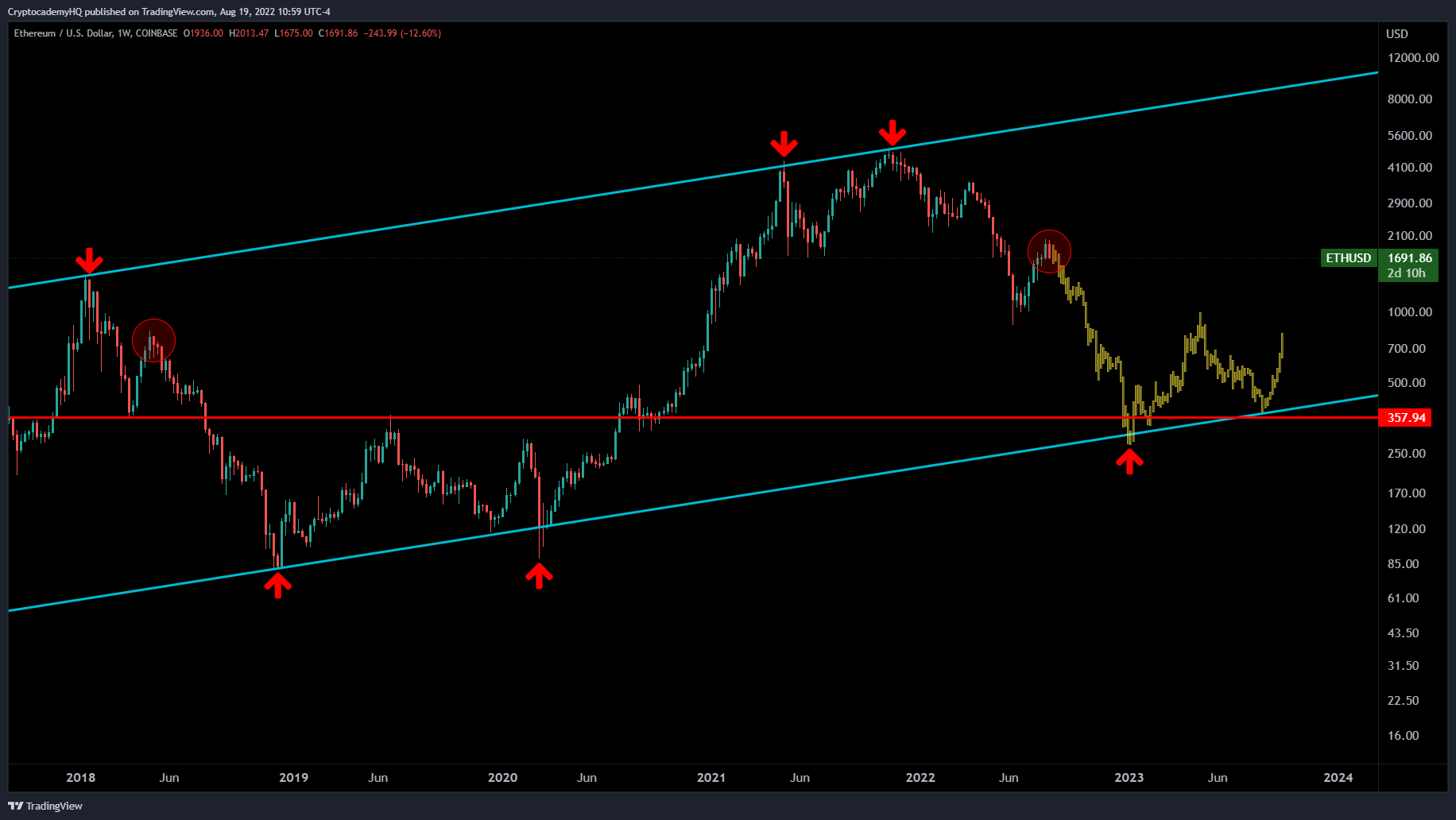 "Unpopular opinion: The ETH bottom is probably closer to $300 than $1,000. 'That'll never happen,' they'll say. It already did during the last crypto bear market. And that was without a global recession, a bear market for stocks, and inflation ripping to new highs in many developed countries," he tweeted.
Moreover, ETH is currently trading at $1,600 and according to Bennett's prediction, the crypto could fall 80% from here by the end of 2022.
Also Read: All You Need To Know About the Much Awaited Ethereum Merge
Nonetheless, Ethereum founder Vitalik Buterin confirmed that the ETH merge is scheduled to roll out on September 15. Ethereum will switch from Proof-of-Work (PoW) to Proof-of-Stake (PoS) model and the merge could make its price soar. ETH rallied from $960 to $2,000 in a month's time after the merge timeline was made public.
ETH could experience positive effects of the upcoming update, and after the merge is completed, its price could be tested.
Also Read: Largest Ethereum mining pool shows no support for the PoW hard fork
At press time, Ethereum was trading at $1,607 and is up 1.32% in the 24 hours day trade. The world's second biggest crypto is down 67% from its all-time high of $4,878, which it reached in November last year.