The state of the recent Bitcoin derivatives market was fairly dry. However, traders have started re-stepping into the arena. In fact, the futures OI has registered a substantial increase since the first week of January.
On Binance alone, the reading of the same inclined from Jan. 5's $2.44 billion to $3.16 billion towards the end of last week. As far as the aggregate numbers are concerned, data from Coinglass revealed that the BTC futures OI on all exchanges rose from $9.37 billion to $11.1 billion in the same timeframe.


Also Read: Is a "Bigger Breakout" Looming for Bitcoin, Ethereum?
Alongside Binance's rise, it is interesting to note that traders have started increasingly trading on CME as well. From the first week of January's $1.1 billion lows, the number is already up to $1.9 billion. In fact, in terms of standings, CME, more commonly known as the "institutional exchange," has glided up to the second position, bringing to light the refinement of the trade interest of large market participants.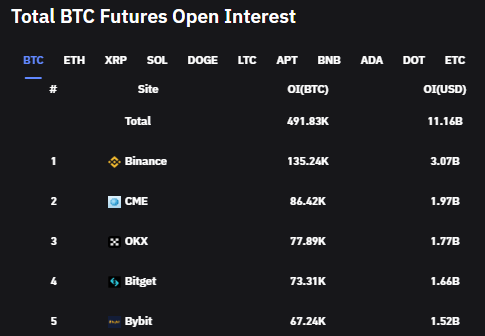 Nevertheless, over the past 24 hours, Bitcoin's long-short ratio has mostly remained neutral. As shown below, it has been oscillating in the 49%-51% bracket, giving neither bulls nor bears a clear upper hand.


Also Read: Bitcoin: What Is $1 of BTC From 2009 Worth Today?
Bitcoin options market trend
Options traders, however, seemed to be optimistic. For Friday's upcoming expiry, the number of bullish bets placed was 6010.73 BTC higher than the number of bearish bets placed. Thus, the call-put ratio comfortably stood above 1, affirming the inference.

In fact, the trend was even more visible in February expiries. The call-put ratio based on OI was revolving in the 1.79 to 3.14 bracket, re-confirming the same.
Increased participation, institutions re-entering into the space, and the overall sentiment flipping to bullish are evidently cheer-worthy trends and make the price-rise narrative stronger. However, with the macro uncertainty clouds still hanging around, the said proposition should be taken with a grain of salt.
Post noting a 10% incline over the past seven days, BTC was trading at $22.7k at press time on Monday.
Also Read: Bitcoin, 'Bitzlato' and the DOJ: What Just Happened?