A day back, the SEC sued Coinbase on account of violating U.S. security laws. The regulator contended that Coinbase never registered with the SEC as a broker, national securities exchange, or clearing agency. In effect, the SEC claimed, the crypto exchange evaded the disclosure regime set by regulators. Alongside, the agency also deemed several crypto tokens to be unregistered securities.
On the news of the said development, Coinbase shares started losing value. It shed around a fifth of its value during the pre-market hours. The same pessimistic sentiment was rolled over when the market opened. With no hardly any mercy shown by bears, COIN closed 12.09% lower, at $51.61 on Tuesday June, 6.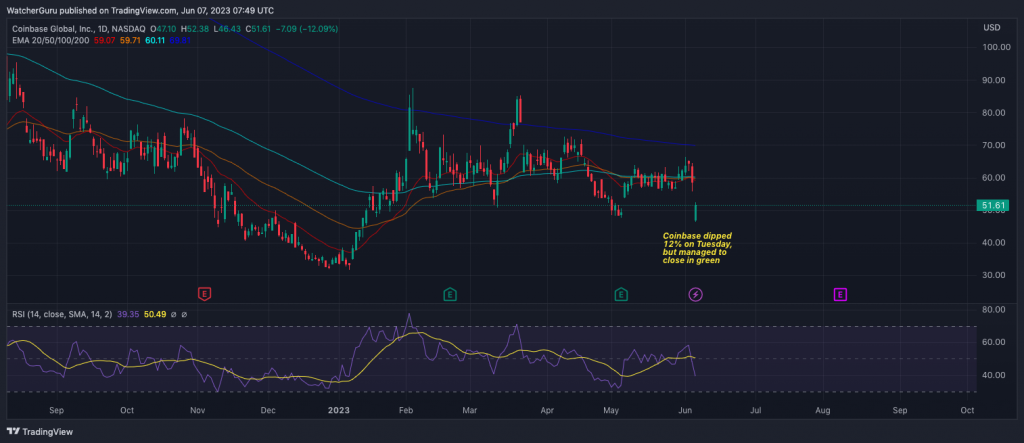 Also Read: SEC Sues Coinbase, Citing U.S. Securities Law Violations
Despite the legal drama and price dip, Cathie Wood's Ark Invest bought Coinbase shares worth millions yesterday. In batches of 329.7k, 53.8k, and 35.6k, the investment manager added shares to three funds: Ark Innovation ETF [ARKK], Ark Next Generation Internet ETF [ARKW], and Ark Fintech Innovation ETF [ARKF]. Based on yesterday's close price, all the 419,324 COIN shares were worth around $21.6 million

Also Read: Coinbase Drops 9% Post Binance Lawsuit: Company Rallies for 'Clear' Crypto Rules
Ark Invest's combined COIN holdings
The aforementioned purchase is Ark Invest's first since May 3. The latest buy has taken Ark Invest's total Coinbase holdings to over 11 million shares. Thus, Cathie Wood's firm's total COIN position is now roughly worth around $570 million.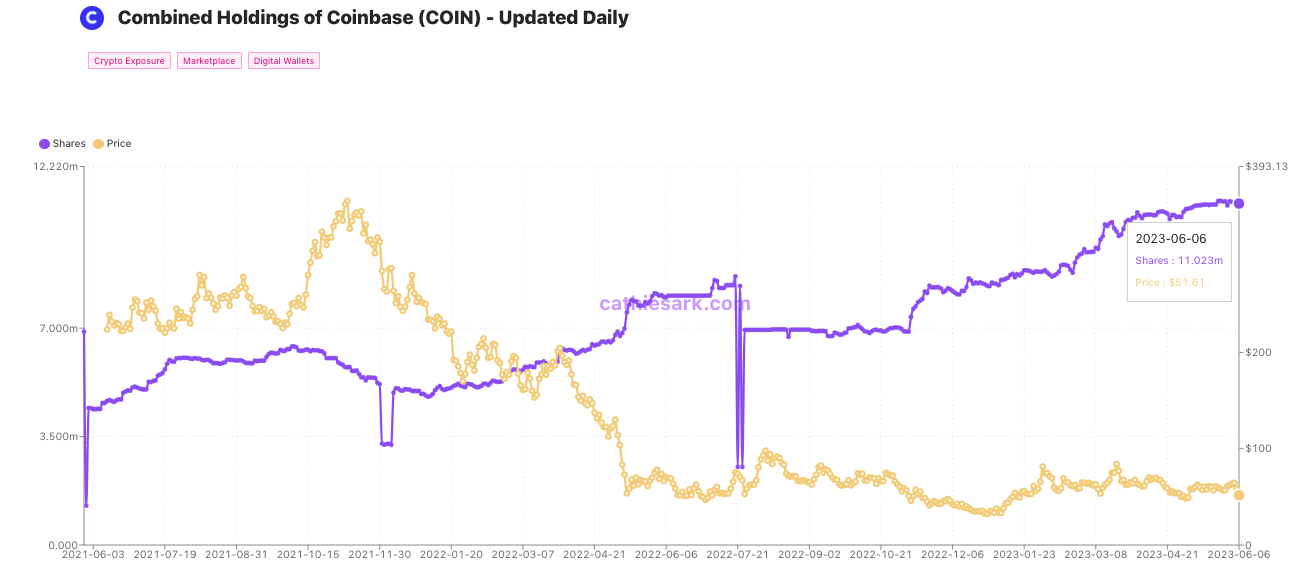 Coinbase is Ark Invest's fifth largest holding and commands a 4.68% weight in firm's portfolio. The average holding cost of shares in all the three funds currently hovers in the $239.6 to $254.6 bracket.
Alongside Coinbase, the investment firm has also heavily invested in Tesla, UiPath, Roku, and Zoom Video Communications.

Also Read: Robinhood is 'Reviewing' its Crypto Offerings: SOL, ADA, MATIC on the Radar?