A day back, the SEC filed a lawsuit against crypto exchange Binance. Specifically, the regulator sued the company and its executive Changpeng Zhao for securities law violations. The regulator also blamed the exchange for allegedly mishandling customer funds. Furthermore, it has also contended that the defendants have been lying to regulators and investors regarding its operations.
Binance's BNB was one of the worst affected victims. From a daily high of $305, it dropped all the way down to $272 yesterday. Most other large and mid-capped cryptos also followed suit. It's a known fact that Binance is the top exchange globally on the volume front. Coinbase stands right after. Both exchanges settle billions in volume on a daily basis.

Unsurprisingly, Coinbase's stock was another victim of the lawsuit development. It closed at $58.71 yesterday after a significant 9.05% correction. The broader stock market was comparatively stable. For context, the Nasdaq Composite Index dropped by merely 0.09%, while the S&P 500 shed only 0.2% of its value in the same timeframe.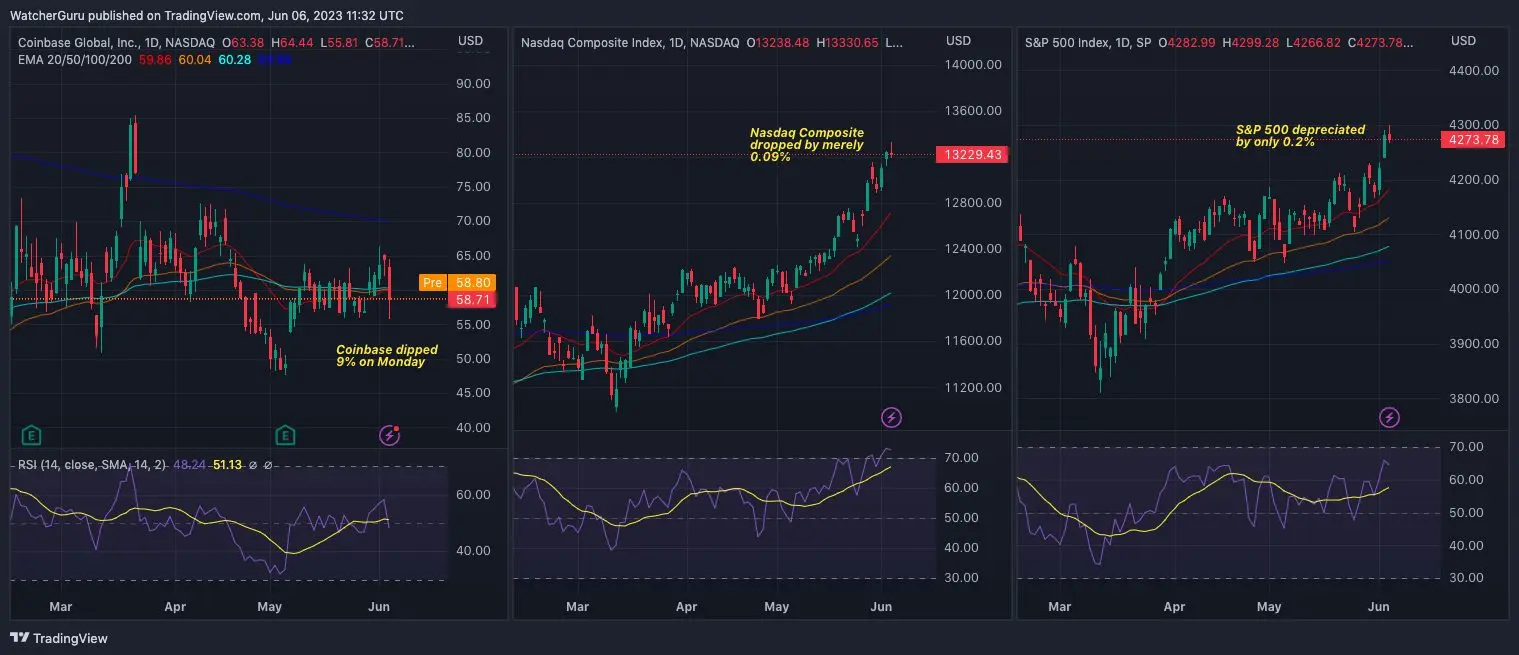 The crypto industry unites to become one
SEC's lawsuit against Binance took the whole industry aback. At this stage—right from traders and investors, to competitors and adversaries—almost everyone has Binance's back. In fact, several calls for unison are also being made. Commenting on the current situation, a particular gaming enthusiast recently tweeted,
"The SEC going harder at Binance/Coinbase/Kraken/Ripple than it ever did at FTX. That about says all you need to know about the situation."
Tron founder Justin Sun expressed his unwavering support for Binance and CZ. Alongside, Cardano founder Charles Hoskinson asserted that this "does seem like this event is a perfect opportunity for the entire industry to set aside its fragmented nature and unite for a common sense set of rules and guidelines."
In fact, crypto exchange Coinbase is also batting for clear rules for crypto at this stage. According to the company's Chief Legal Officer Paul Grewal, crypto is solving real-world problems. In effect, the space needs "a clear path forward" to protect responsible innovation. The executive recently wrote in a blogpost,
"Digital assets do not collectively fit into any single existing regulatory box: some are commodities, some are securities, some are neither, and some simply don't map onto existing categories. With more than 20 percent of Americans owning and using crypto, we need a regulatory framework that will protect consumers and enable the critical uses of this new technology to continue and grow."
Also Read: Coinbase Sues SEC, Seeking Regulatory Clarity For Crypto