Ark Invest has been on a buying spree of late. On Tuesday, Cathie Wood's investment firm reportedly bought 33,756 Coinbase shares. Based on the press time price of COIN, the purchase was approximately worth $1.4592 million.
Coinbase's share price had consistently been creating new lows over the past few months. After closing around rock bottom in 2022, it further stooped to $31.59 in the first week of January.
However, as the crypto market noted a recovery this week, Coinbase tagged along. Over the past five days, COIN has risen in value by almost 22%.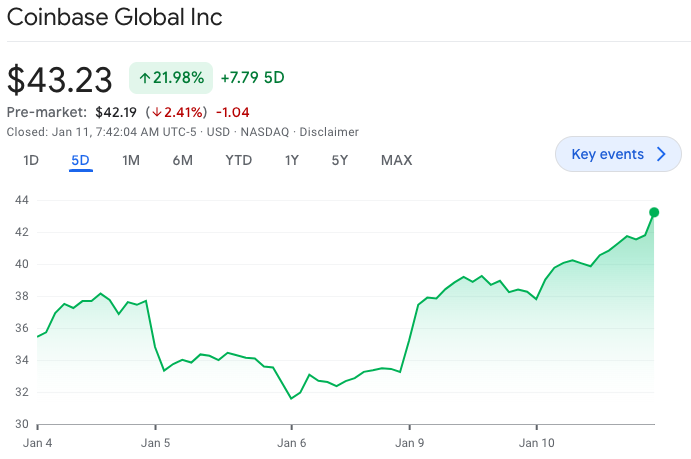 Shares from Ark's latest purchase were allotted to the ARK Innovation ETF (ARKK) fund. Prior to the aforementioned buy, Ark added 172.2k shares of Coinbase to two of its funds, ARKF and ARKW, on January 5.

At the moment, Ark holds around 8.596 million COIN shares in its ARKK, ARKW, and ARKF funds. They together account for 2.92% of the firm's total investments.
Also Read: Coinbase CEO Says a Competitor Falling Will Ultimately Help the Exchange
Coinbase Layoffs
Just a day back, Coinbase announced that it was firing a fifth of its workforce to remain afloat amid the turbulent market conditions. Around 950 employees were impacted by the said move.
Prior to this, around 60 employees were asked to leave the company in November 2022, while in June, the exchange fired 18% of its workforce. These layoffs also stemmed from the prolonged bear market conditions that stunted the company's growth.
However, experts are reportedly "encouraged" by the job cuts. Wedbush analyst Dan Ives said that the cuts are "an important first step, but not necessarily the end." He further opined that there could still be more cuts, but asserted that the latest move showed that the management was "focused on cash preservation."
Read More: Coinbase Indulges in 3rd Round of Firing in 6 Months: Cuts 950 Jobs in January