Exactly a week back, the Celsius Network had halted withdrawals, swaps, and transfers, citing "extreme market conditions." Since then, users have been distressed, and community members have been concerned. Alongside, independent investigations against the network have been going on.
On Monday, the network released a note to the community outlining where things stand at the moment. It went on to assert that acting in the community's interest remains their priority, and they will continue to "work around the clock" to deliver.
Concerning their prime objectives, the blog post noted,
"We want our community to know that our objective continues to be stabilizing our liquidity and operations. This process will take time."
Celsius also asserted that since its inception, it has always prioritized maintaining an open dialogue with regulators and officials. It wants to continue to do so, work in conjunction with them, and come up with a resolution.
"We plan to continue working with regulators and officials regarding this pause and our company's determination to find a resolution."
Speculative interest w.r.t. CEL on the rise
People had out rightly started equating CEL to LUNA last week. However, since the initial halt of services announcement, Celsius' native token has consistently been pulling its socks up. Last week it was trading in the $0.18-$0.24 bracket, but now, it has already crossed the $0.6 threshold.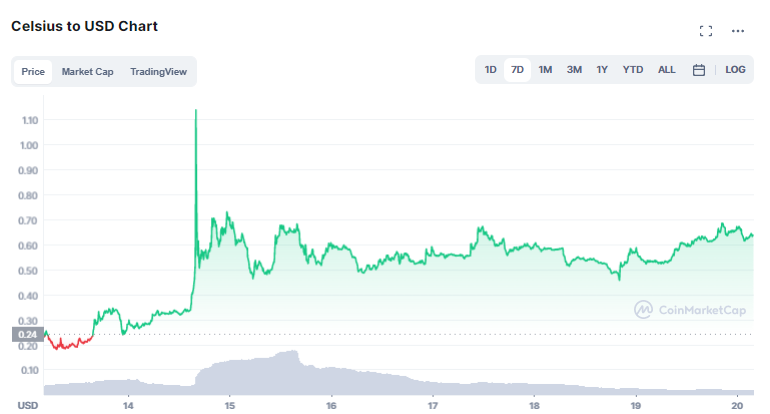 Notably, 20% of the appreciation occurred over the past 24 hours. One might argue that CEL is merely riding the wave and benefitting from the broader relief rally just like other alts.
Nevertheless, there has been an increase in the number of Celsius HODLers over the past week. The same indicates that the speculative interest concerning CEL is on the rise, despite the network not being able to come up with a concrete solution till now.