With the bearish sentiment still prevalent in the market, top coins continued shedding value even on Wednesday. The market was seen submerged in a sea of blood at press time. The aggregate valuation of all cryptos in the market dropped down to a level as low as $889.7 billion, after noting a significant 9.5% decline over the past day.

How did Baby Doge Coin react?
Meme coins were not spared. Shiba Inu and Dogecoin paved the path and shed roughly 11% and 17% on the daily. Others like Baby Doge Coin also followed suit and were trading in red. After registering a 9% dip in just the past 24-hours, the fourth largest meme coin was trading at $0.000000001239 at press time.
Before bearishness crept into the market, Baby Doge was in quite a comfortable position. Since the latter half of October, the meme coin's price kept inclining consistently. By November 6, Baby Doge was trading at high levels at par with where it was in August.
Now that the said uptrend streak is broken and the price has slipped below all its crucial MAs on the daily, there are odds of the asset re-visiting its September-October lows as highlighted below.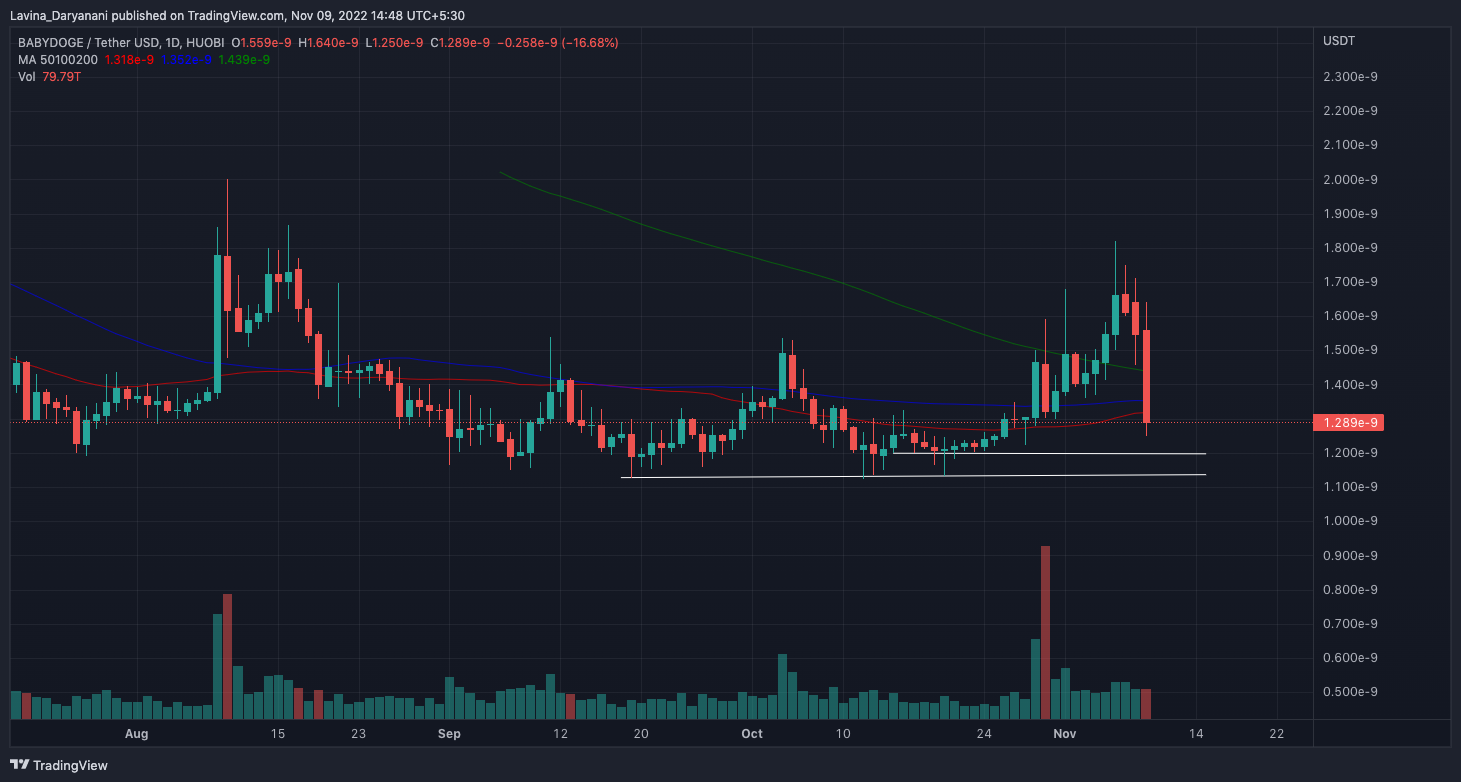 However, if other coins from the meme boat pose a recovery, even this coin can be expected to tag along and gradually negate its recent losses.
Fundamentals paint an encouraging picture
Baby Doge Coins continue to be removed out of the supply via burns. A burning tracker revealed that over 194.5 billon coins were sent to a dead wallet in just the past hour.
Alongside, the number token HODLers also continued to rise. The same hinted at the entrance of new participants into the Baby Doge playing field. Post welcoming over 17 new entrants, the cumulative number of Baby Doge Coin investors stood north of 1.63 million at press time.
BabyDogeSwap also, on its part, consistently been seeing inflows into its platform over the past few days, indicating that users were depositing assets. As a result, the total value locked here stood at a high of $32.5 million on November 8. The recent catastrophe did lead to substantial outflows. However, at press time on Wednesday, a slight recovery was noted, with the metric back to the positive territory.