BabyDoge has been trending on Twitter for quite some time. The community is all geared up for BabyDogeSwap. As revealed in a recent article, the swap will entail farming and staking services. Chalking out the same, BabyDoge had recently tweeted,
"Our swap is not just a swap it will also have innovation such as Farming and Staking as well as a service so any project can create a farm or staking adding utility to their project! Holding baby doge for lower fees. Complimentary FREE token locker for regular and LP tokens!"
Read More: Here's what Baby Doge Swap is all about
Now, in what is the latest development, BabyDoge has received a new farm sponsorship. Along with announcing the same, the project's official Twitter handle revealed that they already have 3 sponsors for farms on board.
Further, it is worth noting that there's a lot of chatter going on around the 0% swap fee. Per BabyDoge,

"Projects will have to provide liquidity on the swap in the form of 50% their own token and 50% of the paired token, such as BNB/USDC/USDT"
BabyDoge community elated, but price doesn't react
Owing to the said hype, the social sentiment associated with BabyDoge has refined of late. Per LunarCrush, BabyDoge's social mentions have risen by 47% over the past week, while the social engagement has inclined by close to 20%.
Furthermore, it is also worth noting that the community has been speculating a listing on Binance, and has been talking about it on platforms like Twitter. The same has likely played a role in elevating the social stats.

BabyDoge was trading in green at $0.000000001351 at press time, after noting a 1% rise over the past day. However, HODLers' RoI remains to be negative on the weekly [-7.13%]. In fact, the declining Sharpe ratio confirmed the same.
Per Messari's data, the said metric created a monthly peak at 7.85. Nonetheless, at press time, it stood at a low of 1.05, indicating that HODLers have not been fetched with enough returns for the risk borne by them.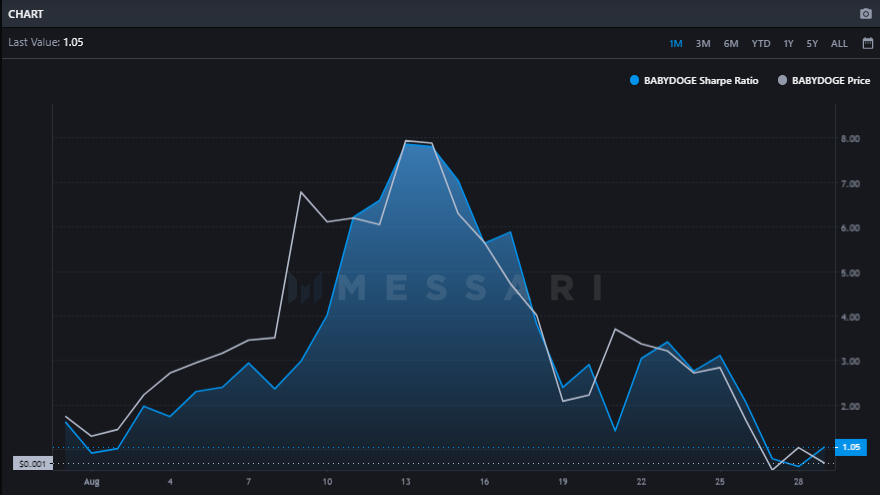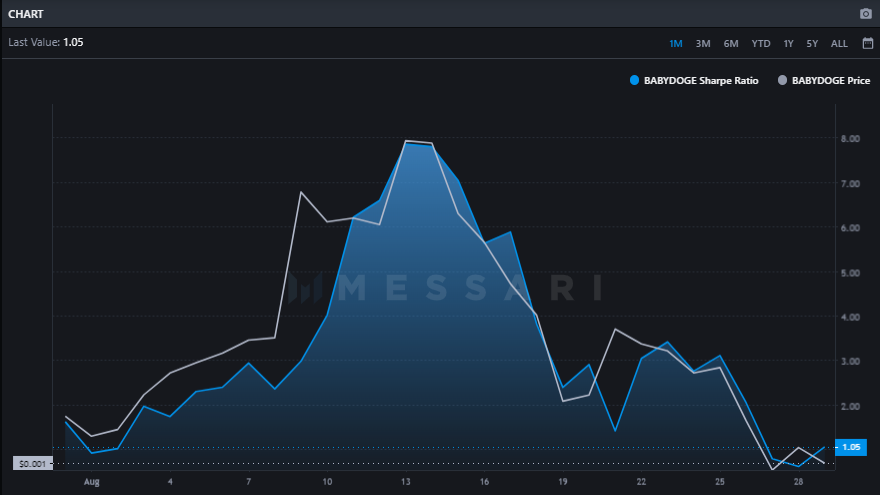 Apart from the broader bearish sentiment, there's not much to blame at this point. And given the fact that BabyDoge shares a high correlation with top coins, it has been following their path. So perhaps, when the broader market pulls off a recovery, BabyDoge will replicate the same, for it has already checked most other boxes already.