Inspired by Elon Musk's favorite coin, Dogecoin [DOGE], BabyDoge Coin entered the market in 2021. The relatively new coin did not wait up for anyone. Hoping on to the meme coin fervor, BabyDoge managed to acquire a significant number of holders. Now, the meme coin has been making headlines almost every day. Earlier today, the meme coin flipped the second-largest cryptocurrency, Ethereum [ETH] on the Binance Smart Chain rich list.
With a market cap of $298.15B, Ethereum [ETH] stands as the second-largest cryptocurrency in the market. The altcoin is the largest one to exist and was valued at $2,511, during press time. This was no biggie for the BabyDoge coin. Several times throughout 2021, the meme coin flipped ETH and bagged the top spot as the most traded token among the top 1000 BSC wallets.
READ ALSO: BabyDoge up by 13% today; another all-time high in the making?
Continuing this pattern in 2022, the meme coin was once again seen overthrowing ETH. WhaleStats brought this to the community's notice as they tweeted, "JUST IN: #BabyDoge @babydogecoin had flipped #ETH to be most traded token by the top 1000 #BSC whales #BabyDoge price ups 7.9% in the past 24hrs with a current price of $0.000000004072. Will #BabyDoge follow in the footstep of #SHIB?"
This contest between ETH and BabyDoge coin has been going on for a while now. However, the novelty of the meme coin is what caught the attention of the crypto community.
BabyDoge Coin trends in Turkey
While the BabyDoge community awaits appropriate verification on CoinMarketCap, the meme coin was already verified on CoinGecko. The meme coin was ranked as the 114th largest cryptocurrency on the platform. Despite not being part of the coveted top ten crypto assets, the meme coin was seen trending as the #1 coin in Turkey.
READ ALSO: Baby Doge Coin Price Prediction: Rally to continue after short pullback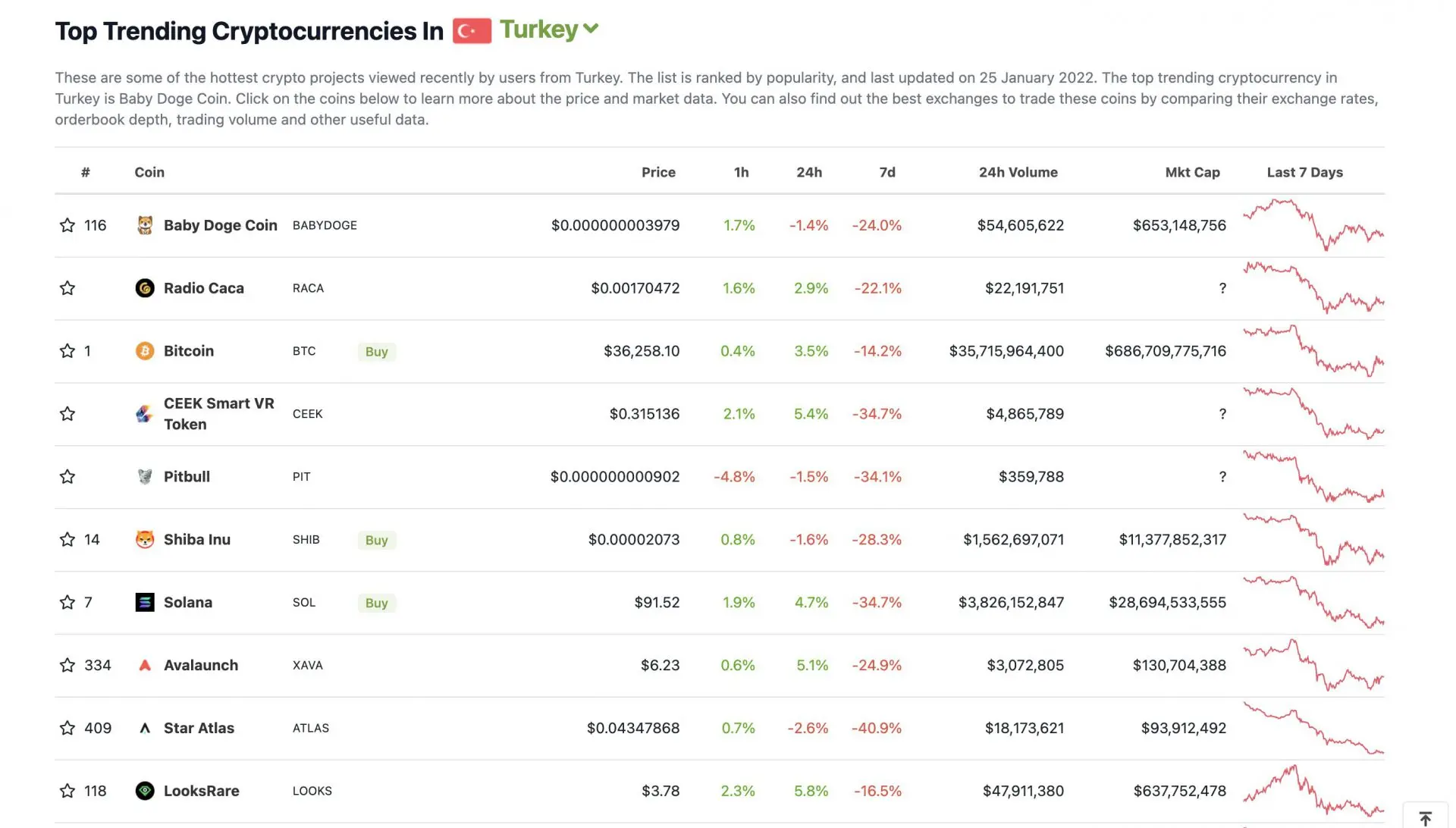 Similarly, the meme coin was among the top trending assets in Brazil as well as India.
Additionally, at press time, BabyDoge coin was trading for $0.000000004155 with a 3.1% surge over the previous 24-hours. The last couple of days were visibly bad for the coin as the entire market crashed. Regardless, the meme coin was up by 100% over the last 30 days.