The drama around Voyager has been taking several twists and turns. The North American crypto broker's deal with Binance.US came through despite which a plethora of tokens was dumped. This list included Shiba Inu, Ethereum, Chainlink, and others.
Blockchain sleuth, Lookonchain, took to Twitter and revealed that a whopping $56 million worth of crypto assets was sold over the last 24 hours. This list entailed a wide range of assets. However, Shiba Inu topped the list with Voyager selling 400 billion SHIB tokens. This sale alone was worth $4.4 million.
In addition to this, 27,255 ETH worth $42 million, 160,000 LINK which amounted to $1 million, and 11 million VGX tokens worth $6.3 million were sold.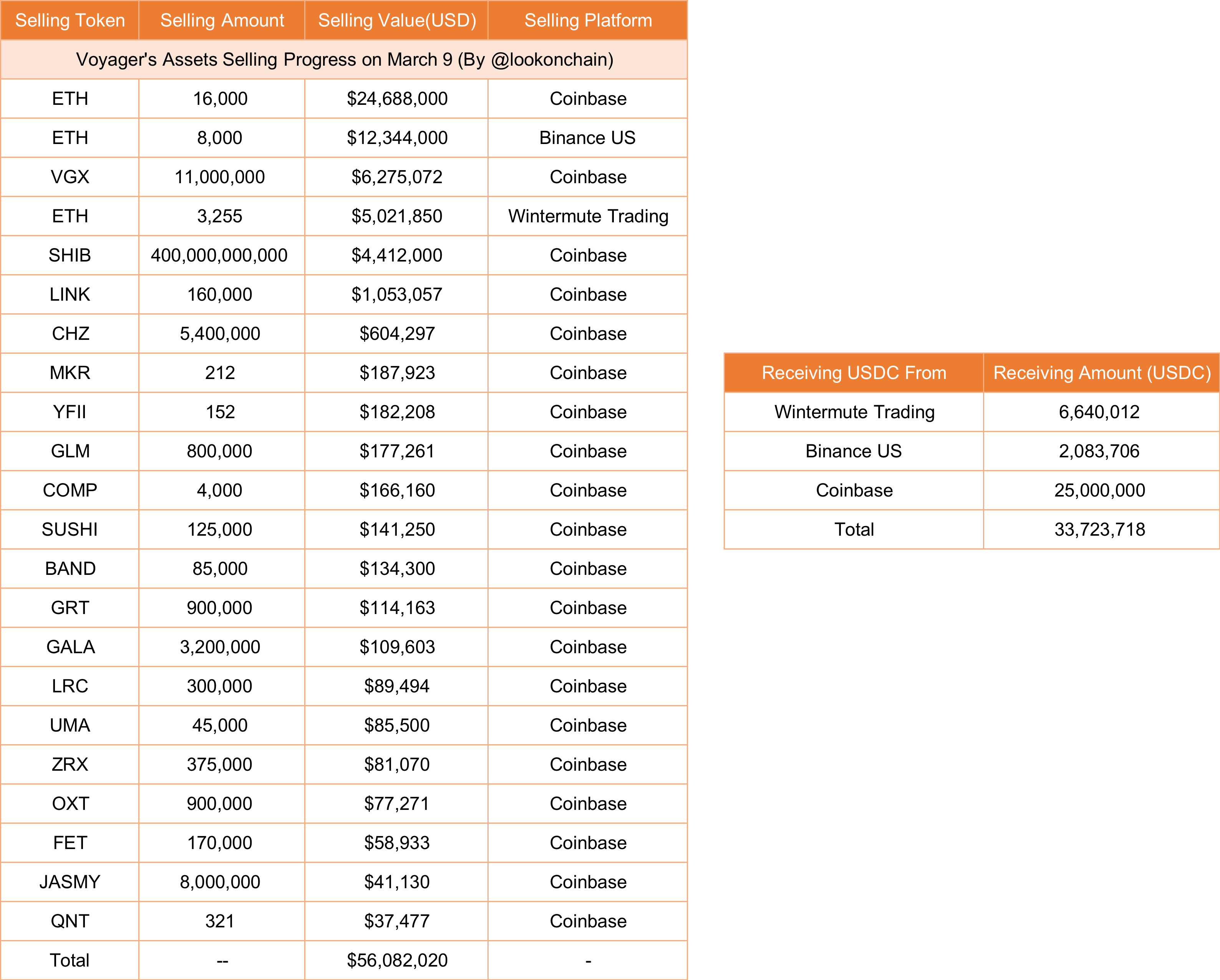 This wasn't the first time that Voyager was getting rid of its Ethereum, Shiba Inu & Chainlink holdings. Towards the end of February, the firm sold $24.7 million ETH, $12.2 million SHIB, and $2.5 million LINK.
Furthermore, Voyager bagged 33.7 million USDC from Wintermute Trading, Binance.US as well as Coinbase.
Despite this massive sale, Shiba Inu was trading for $0.00001089 with a 0.21% daily drop. This plummet was much lesser than the rest of the market.
4 trillion SHIB tokens continue to reside in Voyager
Voyager continues to remain one of the largest Shiba Inu holders. According to recent data, the crypto broker currently holds $757.8 million worth of cryptocurrencies. Out of which, it entails 4 trillion SHIB tokens worth $44.2 million. This also made the meme coin the most held token by the firm.
Along with this, ETH worth $157.7 million, and LINK worth $8.5 million continue to reside in Voyager.
The latest series of sell-offs were associated with the bankrupt firm's deal with Binance.US. As mentioned earlier, the U.S. bankruptcy judge recently gave a green signal to the sale of Voyager. The deal is expected to amount to $1.3 billion.