Regulators around the world are quite cautious when its comes to digital assets. On one hand, regions like Europe are focusing on the regulatory aspect. On the other, regions like China have issued a complete crypto crackdown. The International Monetary Fund recently released a paper highlighting how banning crypto assets might not essentially be an effective long-term measure to ward off risks. Specifically, the paper noted,
"While a few countries have completely banned crypto assets given their risks, this approach may not be effective in the long run."
Also Read: JPMorgan Launches Euro Blockchain Payments via JPM Coin
Crypto Regulations

Contrarily, the international body wanted countries to instead focus on "addressing the drivers of crypto demand." That could include citizens' digital payment needs, the urge for transparency improvement, etc. Furthermore, the bank went on to recommend recording crypto asset transactions in national statistics. This will help in the consistent evaluation of demand and traffic.
Citing a Chainalysis report, the IMF pointed out that in 2022, Latin American countries like Brazil, Argentina, Colombia, and Ecuador ranked among the top 20 regions in terms of global adoption of crypto. The report pointed out,
"They seek the benefits that digital assets claim to offer, including protection against uncertain domestic macroeconomic conditions, circumvention of capital controls, improved financial inclusion for unbanked populations, cheaper and faster payments, and stronger competition."
However, it should be noted that Argentina subsequently went on to ban crypto purchases in May 2022. The IMF stated that such economies have prohibited the use of crypto assets due to "concerns." They revolved around "their impact on financial stability, currency and asset substitution, tax evasion, corruption, and money laundering."
Nevertheless, regulations could come to the rescue in such a scenario. Twelve out of nineteen jurisdictions in the region surveyed in the IMF's paper in mid-2022 "either already have a special regulatory framework in place or are in the process of creating one."
According to the bank, regulations in place are proving to be fruitful, for they are helping address risks pertaining to financial stability, currency substitution, corruption, etc.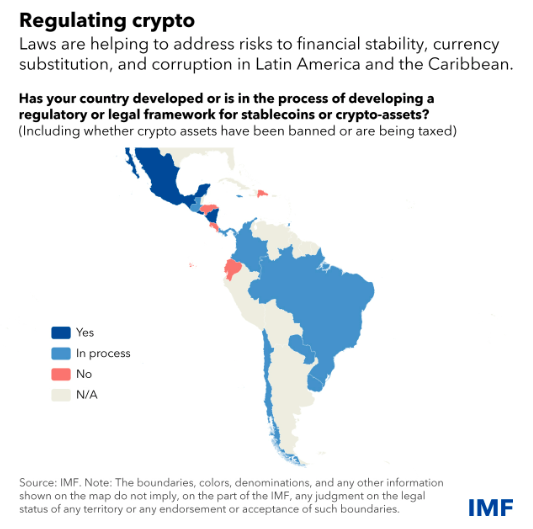 Also Read: Japan's Largest Bank Looking to Issue Global Stablecoins