Despite being in the midst of a war, ill-doers were trying to feed off crypto donations sent to Ukraine.
The world has been witnessing the Russia-Ukraine war. With Russia deploying armed forces into the European country along with an array of sanctions, Ukrainians were seeking a way out. While several continue to fight against Russian troops, the economy of the country had taken a hit. With almost every place under lockdown, Ukrainians resorted to crypto.
Donations in crypto poured into the country. Millions of dollars worth of crypto were finding their way into war-struck Ukraine. Amidst this, YouTube was infiltrated with scammy videos of the Ukrainian government pursuing crypto donations. Impersonators of President Volodymyr Zelenskyy shared QR codes of their respective wallets seeking funds.
While Ukraine continues to perish, perpetrators were trying to pocket easy money.
During the previous weekend, the country took to Twitter and affirmed that would be accepting donations in three major cryptocurrencies, Bitcoin [BTC], Ethereum [ETH] as well as Tether [USDT]. The only addresses that the government was accepting crypto through were
"BTC – 357a3So9CbsNfBBgFYACGvxxS6tMaDoa1P
ETH and USDT (ERC-20) – 0x165CD37b4C644C2921454429E7F9358d18A45e14″
In addition to the YouTube scam, an Indian lawmaker's Twitter handle was subject to a hack following which a tweet seeking crypto donations was shared. However, the hackers were trying to raise funds for Russia and not Ukraine.
Jagat Prakash Nadda, a member of the BJP party briefly fell prey to hackers who wanted crypto.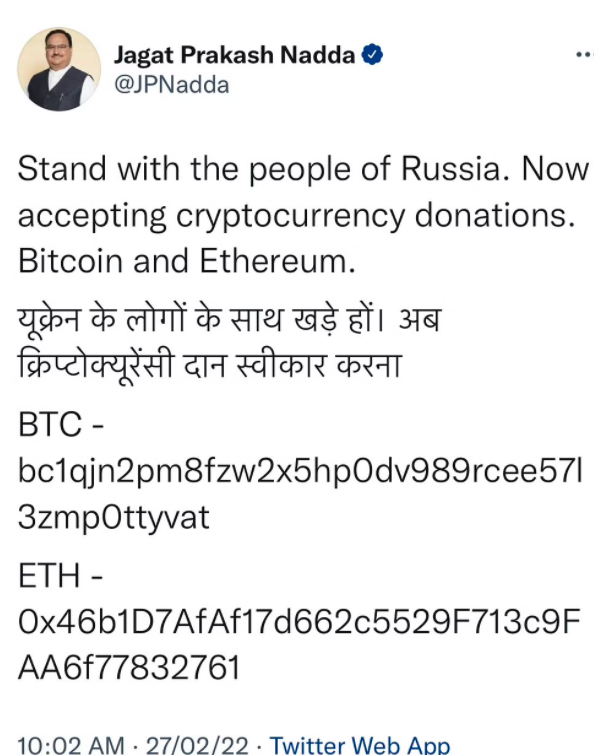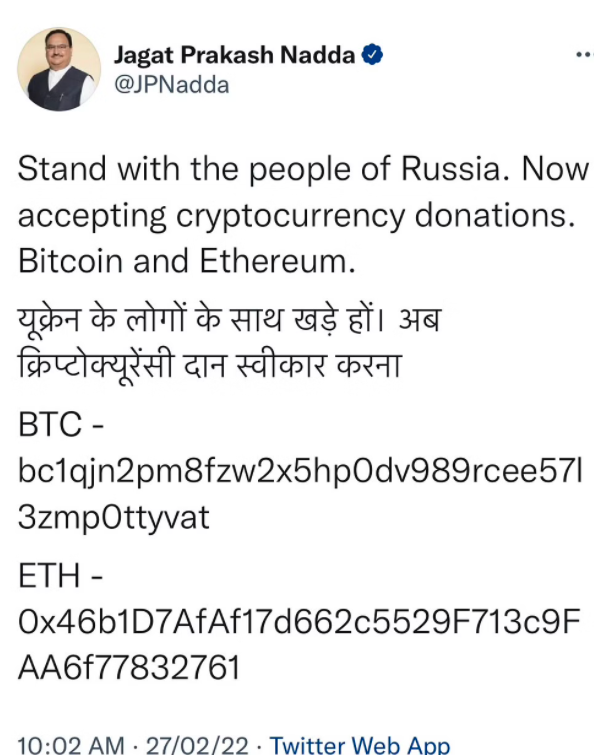 This incident, however, was quickly resolved and the lawmaker's account was restored back to safety.
Will Ukraine lose out on donations because of scammers?
Even though Ukraine has managed to secure crypto donations of more than $14 million, the country requires all the aid that it gets. However, scammers across different platforms were trying to steal these funds.
In a similar attempt, a Twitter account impersonating prominent NFT influencer @champtgram was making the rounds on the social media platform. The scammer, @champtgraam had already amassed about 10k followers on Twitter and continued seeking donations for Ukraine. However, the real NFT influencer called the fake one and affirmed that he would never ask people for money.