With Bitcoin and Ethereum creating lows of around $25,100 and $1,550, more than $1 billion worth of crypto positions were liquidated in the market over the past day. Alongside derivatives traders, even a hacker fell victim to the liquidations. A recent post by PeckShield Alert revealed that a crypto wallet containing more than $63 million worth of collateral on the lending platform Venus Protocol was liquidated. PeckShield revealed that $10.4 million was wiped out. Right after, it was pointed out that another $53.2 million liquidation followed.
The wallet was associated with a multi-million dollar heist of Binance Coin [BNB] that took place in October 2021. Notably, the hacker pledged the stolen assets as collateral to get a $30 million Tether loan. As soon as BNB slipped below $220, the collateral positions tied to the wallet were instantly liquidated.
Also Read: $1 Billion Wiped Out Of Crypto Market Amid Bitcoin, Ethereum Crash
Hacker deposited 900,000 BNB Tokens
To date, the identity of the hacker who initiated the bridge exploit remains unknown. At the time of the hack, the attacker had deposited over $200 million into Venus Protocol. Consequently, the protocol's TVL sharply rose. Venus's official Twitter handle clarified that it experienced no exploit. However, it went on to note that the possible BNB threat actor might have used the Venus platform to open an overcollateralized position of ~$254 million and borrow ~$147.5 million against 900,000 BNB Tokens. Now, PeckShield confirmed to Bloomberg News,
"In total, the hacker had borrowed $147.5 million worth of stablecoins like USDT, USDC and BUSD by depositing 900,000 BNB from the October heist—worth about $197 million at Friday's market price—as collateral on Venus."
BNB lost 6% of its value yesterday. Despite a brief recovery registered, it was trading below $220 at press time, a level reminiscent of mid-December 2022.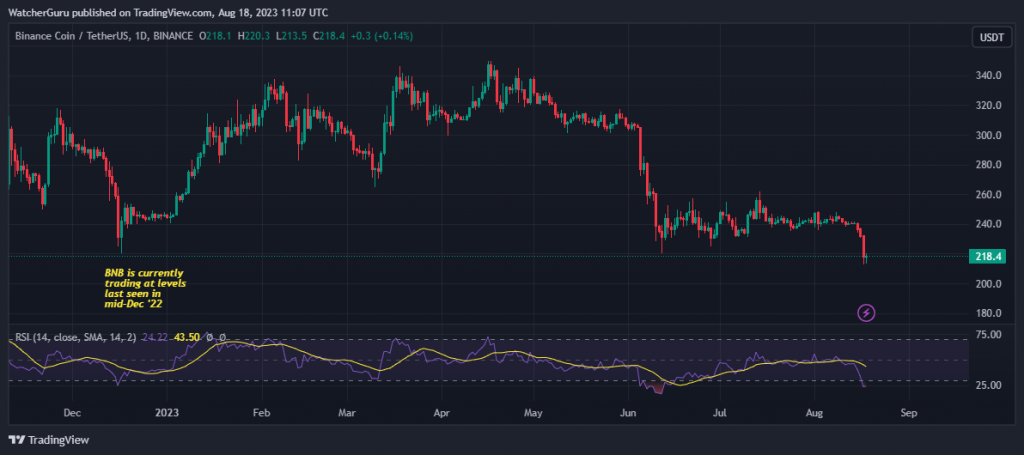 Also Read: Coinbase: Base Scammers Earn $2 Million Profit From 500 Scam Tokens