Ever since the SEC targeted Binance in its lawsuit, traders have been increasingly trading the exchange's native crypto asset. The rising open interest is an indication of the trend. OI inclines usually hinted that new money is flowing into the marketplace. More often than not, this ends up making ongoing trends even more concrete. With respect to BNB, the OI stood at $377 million at press time. The same marked a significant 16.28% rise over the past day.

When zoomed out, it can be seen that the OI is currently hovering around its 2023 peak. Only during a couple of instances so far this year, has the number been higher. One was on May 1, when the number peaked at almost $397 million. Prior to that, the number hovered around $385 million on the first day of the year.

Also Read: SEC Sues Coinbase, Citing U.S. Securities Law Violations
BNB market sentiment check
Based on the current state of the OI, it can be contended that the BNB playing field is quite magnetic. In fact, traders are placing directionally obvious bets at the moment. The funding rate of the asset is in the negative territory, around its 1-month low.

Specifically, the rate on Bybit was at -0.125%. On Binance it was at -0.074%, while on Gate and Bitget, it flashed a similar value of -0.07%. This means, short position traders are dominant and are willing to fund long traders.
Furthermore, the long-short ratio has also been oscillating below 1. At press time, 51.33% of the bets were bearish. Consequentially, the ratio flashed a reading of 0.94. So, with bearish traders trying to assert their dominance, it can be contended that a major chunk of traders are not optimistic about the short-term prospects of BNB.
Also Read: Solana, Cardano, MATIC, Targeted by SEC Down 31%
TVL and Price dip alongside
Alongside the dented market sentiment, it should be noted that other fundamentals have also started weakening. Users have started pulling out funds from the Binance ecosystem. The total value locked on the BNB Chain has dropped by more than 3.5% over the past day. At press time, it flashed a value of $3.46 billion. For context, the TVL revolved in the $5-6 billion bracket during the initial few months of the year.

On the price front, BNB's valuation has rolled down the cliff. From the day the SEC filed the lawsuit, the price of the asset is down by more than 26%. In fact, the market is oversold, and BNB is currently trading at levels reminiscent of mid-December 2022.
Thus, given the current pessimistic sentiment of traders and investors, BNB can be expected to further shed value over the short term, before bulls rise to the occasion and help the asset cap its losses. At press time, BNB was trading at $224.8, down from last Monday's high of $305.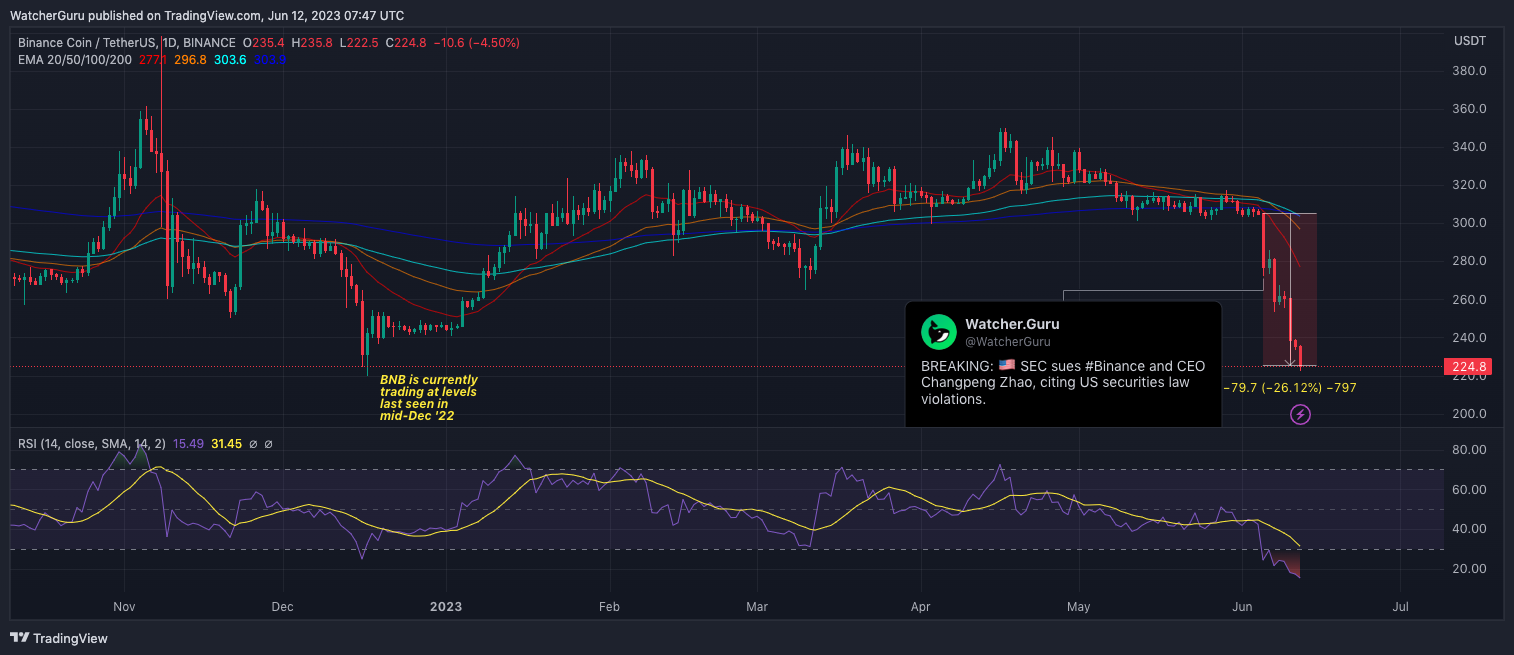 Also Read: Cardano Foundation Disagrees With SEC's 'Security' Claim: ADA Down 27%